All The Oscars That Parasite Won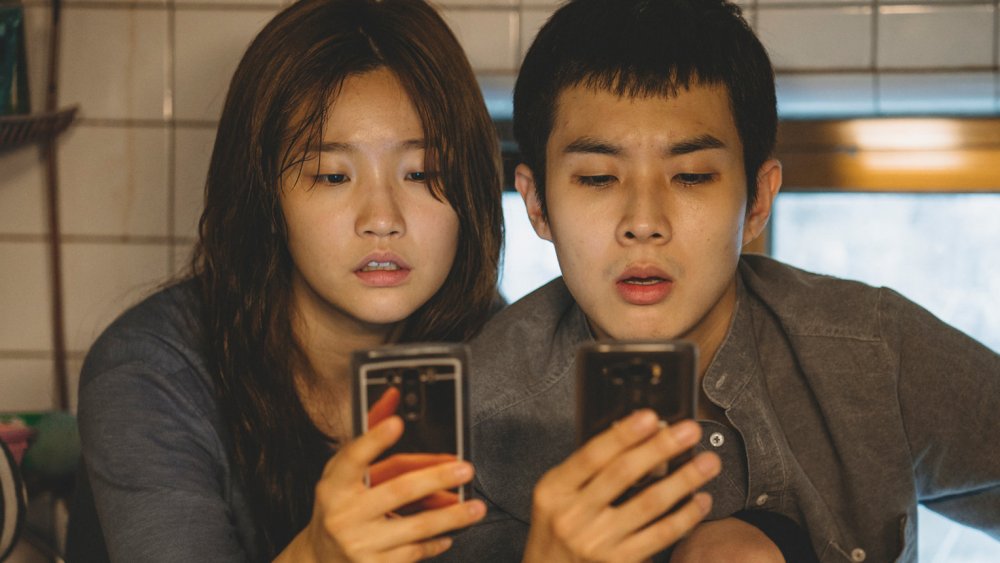 "Jessica, only child. Illinois, Chicago. Classmate Kim Jin-mo, he's your cousin." That jingle, delivered with flawless style by actress Park So-dam, was just one of many, many reasons why the world fell in wide-eyed love with the South Korean black comedy thriller Parasite in 2019. 
Directed by Bong Joon-ho — the visionary behind Memories of Murder, The Host, Snowpiercer, and Okja – the film centers around the members of the lower-class Kim family who use their skills in scheming and general shenaniganry to infiltrate the household of the wealthy Parks, becoming their employees by tricking them into thinking they're qualified professionals. As the narrative unravels, delivering insightful commentary on social inequality and class conflict with ease, the action grows increasingly absurd.
Parasite picked up countless nominations for the 2019-2020 awards season, and it received no shortage of attention at the 2020 Oscars. Going into the ceremony on Sunday, February 9, the delightfully baffling film was in contention for a heaping handful of Academy Awards: Best Picture, Best Director, Best Original Screenplay, Best Film Editing, Best Production Design, and Best International Feature Film. 
With six nominations lingering above its head, Parasite had the chance to make major waves at the 2020 Oscars. Here are all the awards it took home during the event.
Parasite won Best Original Screenplay at the 2020 Oscars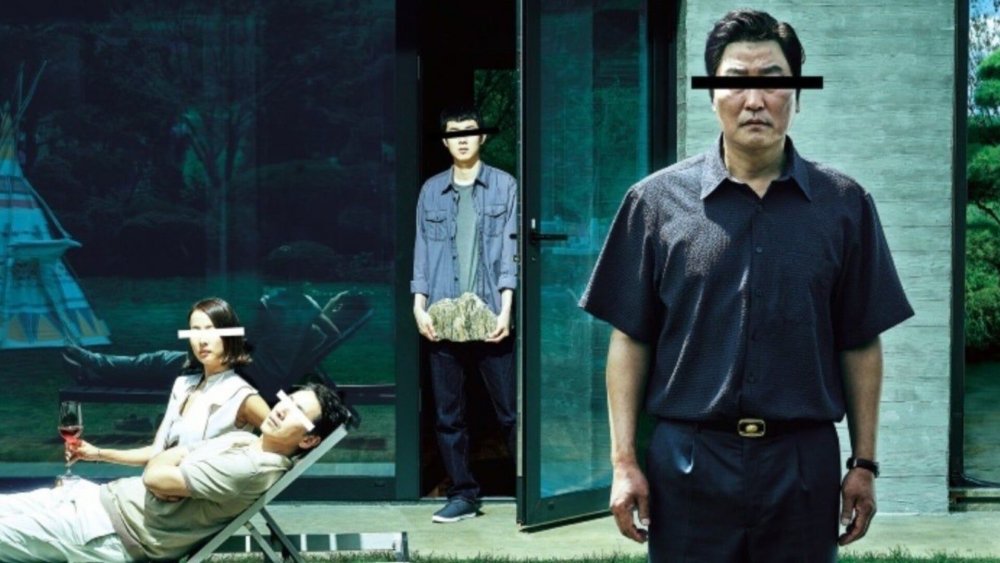 CJ Entertainment
The first win for Parasite at the 2020 Oscars came early on in the evening, when the film took home the golden statue for Best Original Screenplay. Parasite beat out weighty competition for the Oscar: 1917, written by Sam Mendes and Krysty Wilson-Cairns; Knives Out, written by Rian Johnson; Marriage Story, written by Noah Baumbach; and Once Upon a Time in Hollywood, written by Quentin Tarantino.
Taking the stage to accept the coveted award from presenters Diane Keaton and Keanu Reeves, Parasite co-screenwriters Bong Joon-ho and Han Jin-won both thanked the Academy, then gave out their own thanks. Bong stated, "Writing a script is always such a lonely process. We never write to represent our countries [...] This is very personal for South Korea [...] I thank my wife for always being an inspiration to me. I thank all the actors who are with me today for bringing this film to life." After thanking Bong, Han gave a shoutout to the "storytellers and filmmakers" of South Korea, who make up the country's equivalent of Hollywood.
Parasite is the first Asian-language film in history to win the Academy Award for Best Original Screenplay. 
Parasite also picked up the Oscar for Best International Feature Film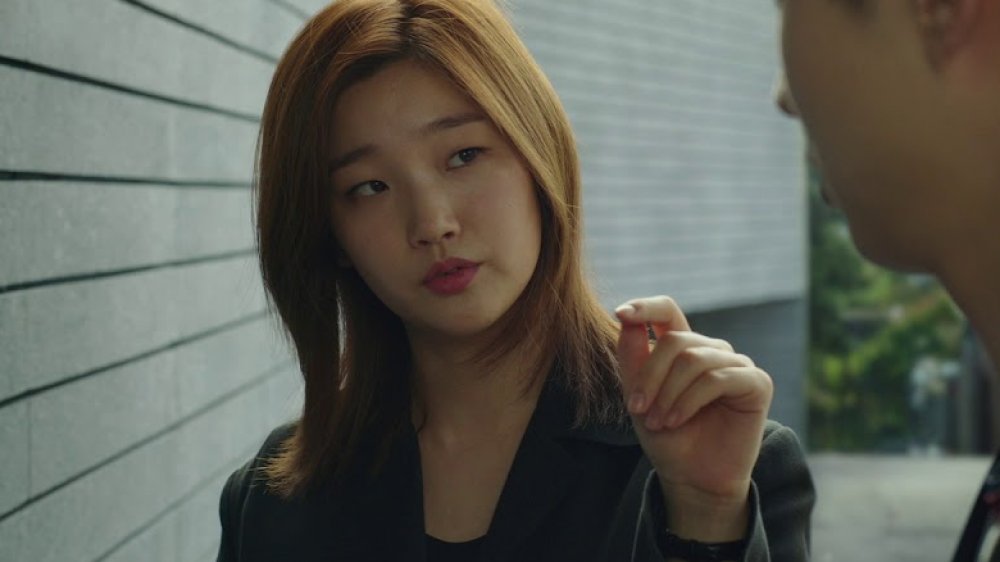 Parasite also won the Academy Award for Best International Feature Film, the newly-named category that replaces the Best Foreign Language Film category. Penélope Cruz presented the award, for which Jan Komasa's Corpus Christi, Tamara Kotevska and Ljubomir Stefanov's Honeyland, Ladj Ly's Les Misérables, and Pedro Almodóvar's Pain and Glory were also nominated.
Bong Joon-ho said during his acceptance speech, via his translator Sharon Choi, "I'm so happy to be the first recipient under the new name. I applaud and support the new direction this change symbolizes. All our loving crew members and cast members are here today. Please send a round of applause to the actors and crew members of Parasite." He then went on to congratulate "all the great artists here tonight," before saying in English, "Thank you, I'm ready to drink tonight."
Parasite helmer Bong Joon-ho won Best Director at the 2020 Oscars ceremony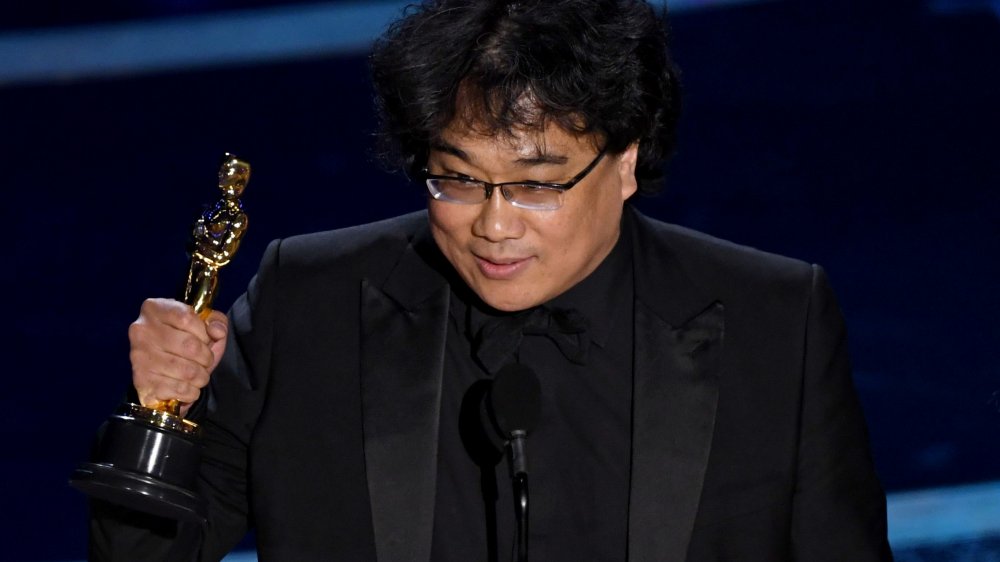 Kevin Winter/Getty Images
The third Academy Award that Parasite won was even bigger than Best Original Screenplay and Best International Feature Film. It was for Best Director, and it went to Bong Joon-ho, who was visibly shocked at hearing he'd won and even admitted that he thought he was "done for the day." While accepting the award, presented by BlacKkKlansman filmmaker Spike Lee, Bong quoted a line from Martin Scorsese, his fellow Best Director nominee. Those in attendance burst into applause for both filmmakers, then gave their attention to Quentin Tarantino, whom Bong also thanked while up on stage.
"Thank you. After winning best international feature, I thought I was done for the day and was ready to relax. Thank you so much. When I was young and studying cinema, there was a saying that I carved deep into my heart, which is that 'the most personal is the most creative.' That quote is from our great Martin Scorsese. When I was in school, I studied Martin Scorsese's films," Bong said via his translator. "Just to be nominated was a huge honor. I never thought I would win. When people in the U.S. were not familiar with my films, Quentin always put my films on his list. He's here, thank you so much. Quentin, I love you."
He continued, "And Todd and Sam, great directors that I admire. If the Academy allows, I would like to get a Texas chainsaw, split the award into five, and share it with all of you. Thank you. I will drink until next morning. Thank you."
Parasite made history again by winning Best Picture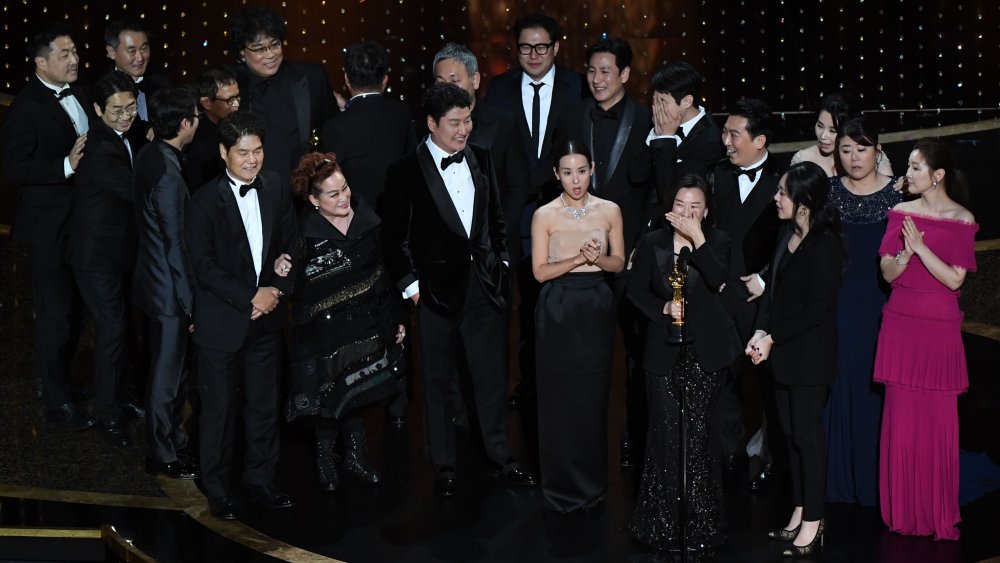 Mark Ralston/Getty Images
Presented by Jane Fonda, the Academy Award for Best Picture at the 2020 Oscars ceremony went to Parasite, marking the first time in history that a non-English-language film has received the accolade. In years past, five foreign-language films were nominated for both Best Picture and Best International Feature Film, just as Parasite was. Z; Life is Beautiful; Crouching Tiger, Hidden Dragon; Amour; and Roma. While those films did win in the latter category, they lost out to competitors for Best Picture. 
Other films in contention for the Best Picture Oscar at this year's ceremony were 1917, Ford v Ferrari, Jojo Rabbit, Joker, Little Women, Marriage Story, Once Upon a Time in Hollywood, and The Irishman.
Along with the film's cast — which includes Song Kang-ho, Choi Woo-shik, Park So-dam, and Jang Hye-jin — and many members of its creative team, Parasite co-producer Kwak Sin-ae took the stage and accepted the Best Picture Oscar. 
"I'm speechless. We never imagined this to ever happen, we are so happy. I feel like a very opportune moment in history is happening right now," said Kwak. "I express my deepest gratitude and respect for all the members of the Academy for making this decision."
Then, fellow Parasite co-producer Miki Lee gave thanks to director Bong, saying that she likes "everything about him" — especially "the way he directs" and the fact that he doesn't take himself too seriously. She continued, "I really, really, really want to thank our Korean film audiences, our moviegoers, who never hesitated to give a straightforward opinion on what they think of our movies [...] Without you, our Korean film audience, we are not here."