The Surprising Role Zazie Beetz Wants To Play Again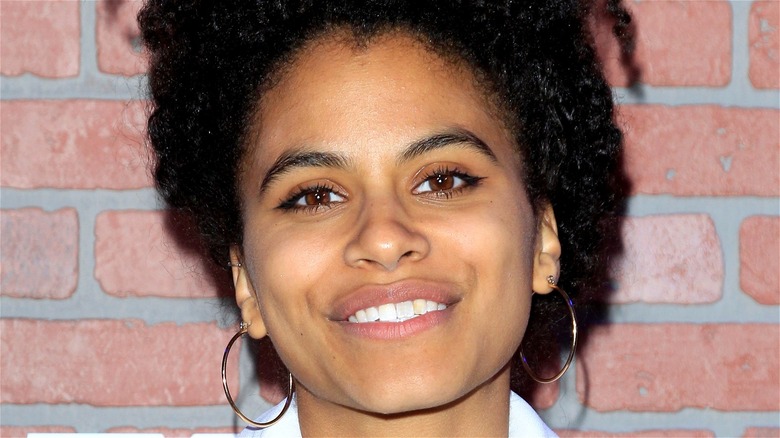 Kathy Hutchins/Shutterstock
When "Deadpool" arrived in the early days of 2016, it revealed itself to be a foul-mouthed, hyper-violent, hilariously self-aware superhero flick the world didn't know it needed. The deliriously over-the-top film went on to make a legit blockbuster star of Ryan Reynolds, break the box office to the tune of nearly $800 million in worldwide ticket sales (via Box Office Mojo), and even score some awards season love with a pair of Golden Globe nominations. Needless to say, "Deadpool" was a massive hit beyond everyone's expectations, which made a sequel not just inevitable but essential.
"Deadpool 2" arrived a couple of years after its predecessor, bringing with it new levels of crass humor, shocking violence, and fourth-wall-breaking cheekiness. The movie also features a rogue's gallery of new, would-be supers looking to join the Merc With a Mouth on a deadly new mission. Most of those supers met fates as gruesome as they were, well, laugh-out-loud funny. One of the few new heroes to make it through was the very lucky, very tough Domino, whose flippant attitude and razor-sharp wit made her a most welcome addition to Team Deadpool.
Domino is portrayed by Zazie Beetz, who so wholly embodied the character it's virtually impossible to imagine anyone else ever playing the part. And if the "Atlanta" breakout has her way, no other actor ever will. 
Zazie Beetz would happily play Domino in more than one Deadpool movie
Zazie Beetz opened up about reprising her "Deadpool 2" character while promoting her Netflix Western "The Harder They Fall" in a recent interview with ComicBook.com. Prompted about her future as Domino in the forthcoming "Deadpool 3," the actor was quite candid about wanting to play the X-Force team member for as long as the "Deadpool" franchise will have her. "I would love to revisit Domino. I would love to do a Deadpool 3, 4, 5, 7, 19." If you've seen the "Deadpool" sequel, you know Beetz's return is almost certain as her chemistry with co-star Ryan Reynolds and the rest of the cast was positively electric. The only question is how Wade Wilson's entry into the MCU might affect which characters go with him.
But, even if Domino doesn't return to fight and quip alongside Deadpool, Beetz claims she'll seek to reprise the party by any means necessary, "I've also wanted to be like, 'Maybe I could just do my own origin story.' I feel honored to have been able to depict her on screen and to have played with her, as her. I love her and so I would be more than happy to revisit her on camera. And I think I will." 
She continued, "If Disney doesn't make it happen, I'll make it happen." With any luck, Disney and Marvel bosses will read these comments interview and ensure "Deadpool 2" was just the beginning of the actor's tenure in the role.