Here's Where You Can Watch Venom For Free At Home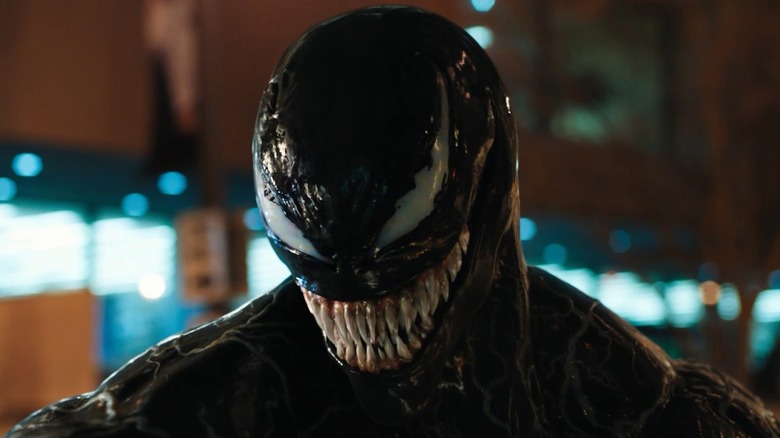 Sony Pictures
A standalone film based on the "Spider-Man" sometimes villain, sometimes anti-hero, "Venom" came out in 2018 to surprise box office success, making over $850 million worldwide (via Box Office Mojo). "Venom" became a surprise hit thanks to its campy quality and strong overseas numbers, though critics were pretty negative towards the film, giving it a 30% "rotten" rating on Rotten Tomatoes. 
In the film "Venom," investigative journalist Eddie Brock (Tom Hardy) discovers that a bioengineering company, led by CEO Carlton Drake (Riz Ahmed), is experimenting on alien symbiotic life-forms by combining them with human hosts. Brock breaks into the facility housing the experiments only to be possessed by a symbiote in the process. Feeling some strange symptoms, Brock soon meets his possessive symbiote named Venom, whose alien race wants to take over Earth. Despite his misgivings, Brock starts to like the powers Venom gives him. The bonded pair then have to work together to stop Drake from helping the other symbiotes and ending life as we know it.
The character of Venom has remained popular since debuting in Marvel Comics in 1988, even appearing in the 2007 misfire "Spider-Man 3" as portrayed by Topher Grace, and now he's got two solo films of his own. Before (or after) you see the new sequel, "Venom 2: Let There Be Carnage," here's how you watch see the first "Venom" at home.
You can watch Venom on FuboTV and DirecTV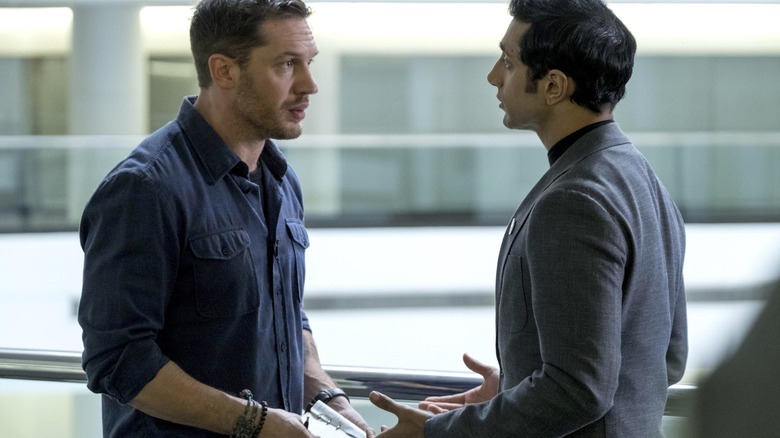 Sony Pictures
Currently, the only place you can stream "Venom" for free (or without an additional charge) is on FuboTV and DirecTV, as long as you have a subscription to either service. This may change from month to month, however, as streaming services often drop and add new films to their roster.
If you don't have either of these services and want to watch "Venom," you can also rent the superhero film from a number of digital services. "Venom" is available to rent from $2.99 on Amazon or Vudu. Other services are charging $3.99 for a rental, including iTunes, Google Play, YouTube, the Microsoft Store, Redbox, DirecTV, and AMC On Demand.
Viewers can also choose to purchase a digital copy of the film from several services. You can buy a copy for $13.99 from Redbox or AMC On Demand. Other services, including iTunes, Amazon, Google Play, YouTube, Vudu, the Microsoft Store, and DirecTV, are charging $14.99 for the movie. Otherwise, you can also purchase the film through physical media such as DVD or Blu-ray.