How The Making Of Star Wars Nearly Launched A Real-Life War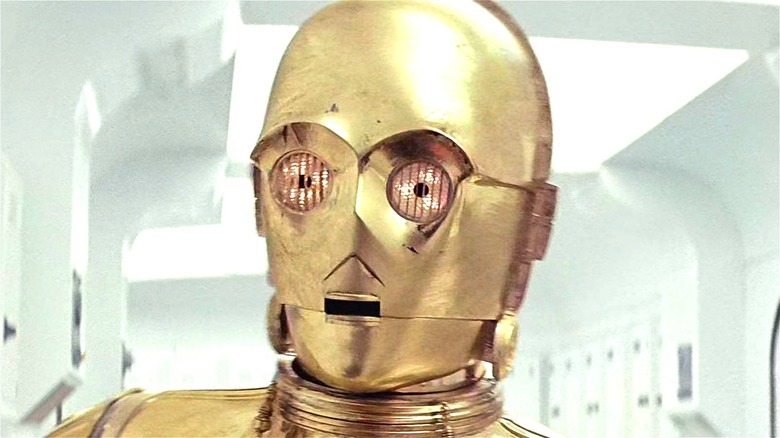 Disney/Lucasfilm
"Star Wars" is one of the biggest pop culture behemoths of all time, and it's only growing bigger under the direction of Disney. Sure, the sequel trilogy is still a hotly debated topic among fans, but the House of Mouse is still pushing the franchise in bold new directions. "The Mandalorian" is the first live-action "Star Wars" TV series, and it has been met with rave reviews since its 2019 debut, boasting a 93% critic rating on Rotten Tomatoes. There are several other live-action shows in production and development for Disney+ because of its success like "The Book of Boba Fett," "Obi-Wan Kenobi," "Andor," and "Ahsoka."
All this is to say that the franchise has come an incredibly long way since 1977 when "Star Wars" first arrived in cinemas. The film didn't get the title "A New Hope" until it was re-released in 1981, clearly telling audiences (at the time) that the universe was much bigger than they thought. However, when George Lucas first started shooting "Star Wars" in 1976, the production almost caused a real-life war, which is pretty problematic since there weren't any Jedi around to smooth over an international incident.
Libya thought Tunisia was starting a conflict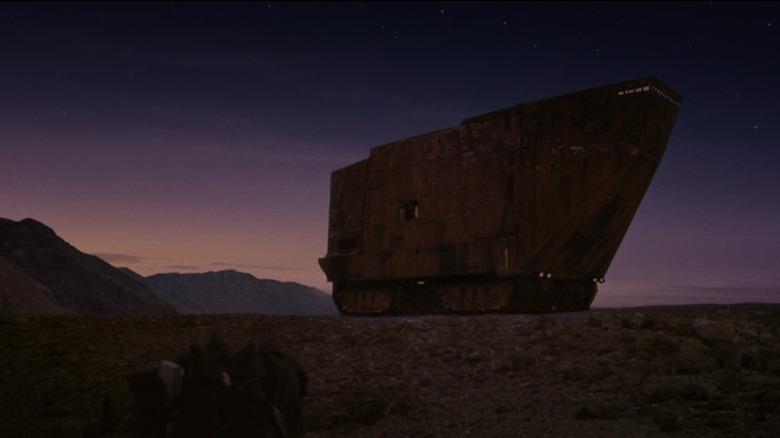 Disney/Lucasfilm
Most of the scenes on Tatooine in "Star Wars" were originally filmed in Tunisia near the Sahara desert, and the crew spent just over two weeks shooting in the North African country. But it was during this time that George Lucas accidentally caused tension between Tunisia and its neighboring country, Libya, when production was taking place near the border. Surprisingly, it all comes down to the Jawas — yes, those pesky scavengers inadvertently caused political uproar.
The Jawas' iconic Sandcrawler was the problem, as Libya thought the set was actually a Tunisian military vehicle. The crew didn't build the Jawas' moving warehouse to scale, although they did build its tank tracks, and it's easy to see why it was mistaken for an actual vehicle. It was enough for Muammar Gaddafi to threaten Tunisia with "inevitable military action" (per InsidetheMagic).
Lucas made the smart choice to move production away from the border to decrease the chances of a possible conflict, which was definitely a smart move. For reshoots, "Star Wars" didn't return to Tunisia — instead, it moved to Death Valley, California. The Mojave desert was also used again in "Star Wars: Return of the Jedi" when Luke Skywalker (Mark Hamill) returns to his homeworld to help free Han Solo (Harrison Ford) from Jabba the Hutt.