The Law & Order: LA Scene That Went Too Far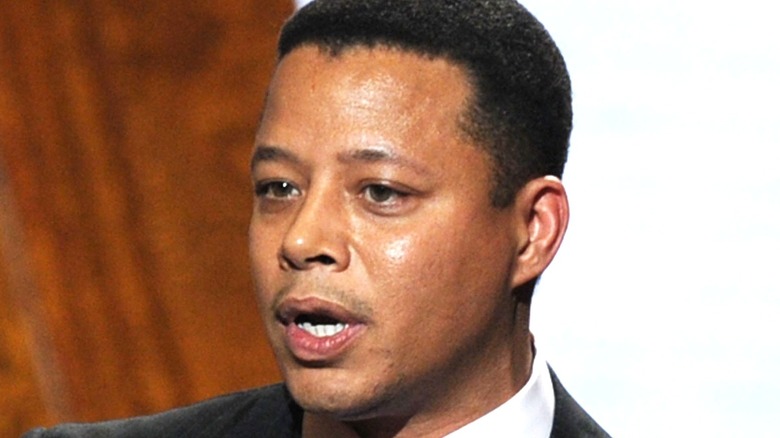 Kevin Winter/Getty
Back in 2010, Dick Wolf made an admirable — if short-lived — endeavor to once again recreate the success of the original "Law & Order" with a spin-off, this time moving the show's characteristic, ripped from the headlines topicality from New York City to Los Angeles. The series initially cast Skeet Ulrich (most famously of "Scream," but also "The Craft" and "Riverdale") and then-"NCIS" regular Corey Stoll (now of "The Strain" and "Billions") as the show's lead detectives, and Rachel Ticotin as the obligatory task master lieutenant. 
Unfortunately, the series was plagued by casting, creative, and production issues, and even underwent a full reboot during its pilot season. At various points, the series also starred a pre-"The Blacklist" Megan Boone, a pre-"Empire" Terrence Howard, and the original "Law & Order" cast member Alana De La Garza reprising her role as fan-favorite Junior D.D.A. Connie Rubirosa. Rounding out the cast was Peter Coyote (the voice of several Ken Burns documentaries) as politically-motivated D.A. Jerry Hardin, and Regina Hall ("Nine Perfect Strangers") as yet another D.D.A. 
One of the series' longer-lasting stars, Alfred Molina (forever remembered as Doctor Octopus in "Spider-Man 2"), was originally cast as a D.D.A., but rejoined the "order" side of things as a detective after becoming disillusioned with the politics governing the justice system. In reality, the series needed to replace Detective Rex Winters after killing off Skeet Ulrich, and in its effort to create a narrative dramatic enough to force Molina's character to switch sides, it took things a little too far.
Law & Order: LA's gratuitous child murder scene was unnecessary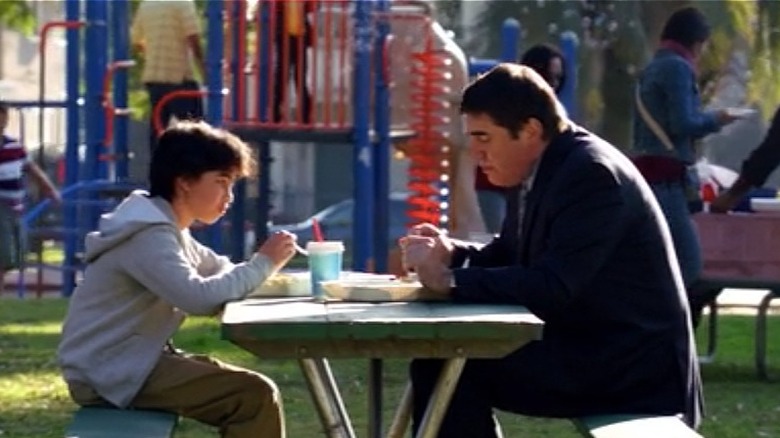 NBC/Amazon
The old, unspoken rule that you never show a murdered child in popular media had already been broken numerous times by 2010, and in all kinds of dramatic fashions, particularly in horror films (via Bloody Disgusting). Thus, the fact that "Law & Order: LA" was positively littered with dead kids (in episode 4, two of them are incinerated in a meth lab explosion, and in episode 15, another dies in a mass shooting) isn't necessarily the issue. The NBC franchise, after all, has never shied away from its attempt to realistically reflect some of the more horrific real-life crimes that have forced society to face and discuss some seriously complex, ugly issues. That said, in Episode 9, "Zuma Canyon," the show's decision to linger on a particularly gruesome child death in an attempt to justify its cast rearranging was, at best, gratuitous, and at worst, just plain gross.
In "Zuma Canyon," Detective Rex Winters (Ulrich) is gunned down and murdered in front of his wife and young daughter in a drive-by ordered by gang-leader and drug cartel big wig, Caesar Vargas (Jose Pablo Cantillo). Vargas then begins taking out witnesses to the crime for which he was originally indicted, including Fernando Ramirez (Quinton Lopez), a young farm boy whom he'd kidnapped from Mexico and then forced to become a kind of child soldier for the cartel.  
In traditional "Law & Order" fashion, D.D.A Morales (Molina) and his team find out that their star witness has been killed minutes before he's slated to appear in court. The team immediately goes to the juvenile detention center where the young boy was being held, ostensibly for his own protection, where a panicked guard says, "I came back to get the kid out, and..." before the camera pans to Ramirez lying on the cell floor in a pool of his own blood, throat slit, bloody utility knife still laying next to his head.
Law & Order: LA should have trusted Molina's acting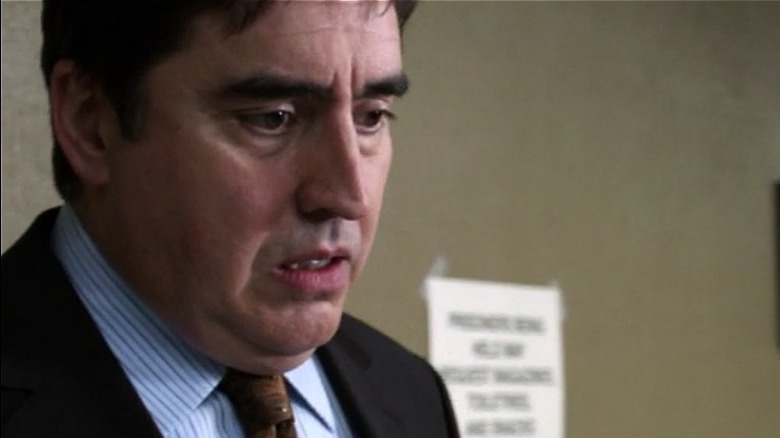 NBC/Amazon
One shot of the gruesome murder would have been enough — though fairly unnecessary, in and of itself — but the camera lingers on the boy's body not once, but twice. There's the initial slow pan through the bars over the corpse, and a secondary closeup of the bloodied child following a shot of Morales and his team's reaction. Presumably, the high-drama of the young boy's murder is meant to serve as motivation for Morales' ultimate rejection of D.A. Hardin's political grandstanding. 
After the D.A.'s office loses their case following Ramirez' death, Vargas flees to Mexico. Then, in a move that defies all reason, D.A. Hardin refuses to bring in the F.B.I. in to extradite Vargas, claiming that it would "humiliate" the D.A.'s office if "the U.S. cavalry" were to swoop in and "save (their) bacon." Understandably, Hardin's bonkers logic — and his willingness to let a mass shooter, serial murderer, drug kingpin, and cop and child killer get away in order to "save face" — is the last straw for Morales, who resigns as D.D.A. and becomes a detective again (oh yeah, conveniently enough, he was previously a detective). 
Morales spent the majority of the episode bonding with the young boy, so his office letting Ramirez' murderer go free was a clever way to move Alfred Molina into Skeet Ulrich's old position. That said, Molina's facial expression upon seeing the boy's body the first time — even if the camera hadn't shown the body at all — would have been more than enough to demonstrate his rage and frustration.