They Haven't Acted Since Criminal Minds Ended. Here's Why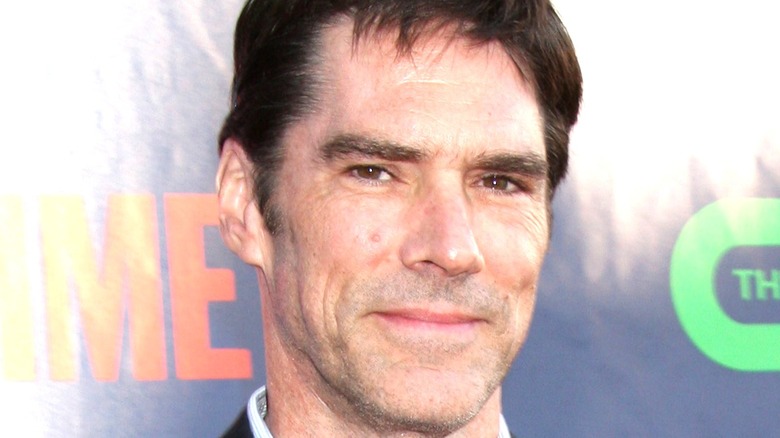 Kathy Hutchins/Shutterstock
"Criminal Minds" has been one of the most talked-about and praised police procedurals since it debuted on TV screens back in 2005. For 323 episodes, the popular crime drama has entertained its fans with nail-biting, suspenseful storylines and frustrated them with subplots that disappeared without explanation. "Criminal Minds" did not let a few flaws hamper its massive success. The show has become so prominent in popular culture that it inspired two spinoffs and even a mobile game.
Over the CBS drama's 15-year run, myriad remarkable talents joined its cast. "Criminal Minds" has been graced by the presence of venerable veteran performers like Mandy Patinkin and Joe Mantegna. Actors like Shemar Moore and Matthew Gray Gubler gained considerable fame by starring in the series. While many "Criminal Minds" cast members have projects in the works, some have not acted since the crime show's last episode aired on February 19, 2020. These individuals prove that being on one of the most beloved TV shows of the 21st century does not always lead to more substantial acting work.
A. J. Cook - JJ Jareau
A. J. Cook first gained significant attention as an actress when she starred in Sofia Coppola's critically acclaimed debut feature film "The Virgin Suicides." A few years before the premiere of "Criminal Minds," she appeared in the comedic mountain movie "Out Cold" in 2001 and in the frightful "Final Destination 2." Cook started playing Supervisory Special Agent Jennifer "JJ" Jareau in the series' second episode "Compulsion," which aired on September 28, 2005. She was in 302 episodes of "Criminal Minds" and appeared as Jareau until the procedural's final season in 2020.
According to Cook's IMDb page, she has no current projects in production. Her most recent acting credit is the penultimate episode of "Criminal Minds" entitled "Face Off." The actress' Twitter account indicates that she has been dedicating her time to helping put real-life criminals behind bars. Cook is on the Board of Directors for the Innocent Lives Foundation, which works to reveal the identities of online predators so they can be appropriately punished by law enforcement.
Thomas Gibson - Aaron Hotchner
Before he was widely recognized for playing Aaron "Hotch" Hotchner on "Criminal Minds," Thomas Gibson was best known as one-half of the hip and hot '90s sitcom couple "Dharma & Greg" alongside Jenna Elfman. Other popular programs Gibson appeared in include the soap opera "As the World Turns" and the hospital drama "Chicago Hope," where he starred as Daniel Nyland from 1994 to 1998.
Gibson played Hotch, the BAU's superior, in a little over 250 episodes of "Criminal Minds" until 2016. According to Entertainment Weekly, an aggressive squabble between Gibson and a writer instigated his firing from the hit crime series. In August 2016, ABC Studios and CBS Studios released a statement declaring that Gibson had "been dismissed from Criminal Minds." Meanwhile, Hotch's lackluster exit, where the character entered the Witness Protection Program off-screen, was widely criticized by fans. 
The actor has appeared in a handful of movies and TV episodes since his termination from "Criminal Minds." Gibson's IMDb page reveals that he is a star and co-writer of the film "The Writer's Bible," which is in post-production and is the only current project he is involved with as of this writing, but technically, he hasn't acted since "Criminal Minds" ended.