John Krasinski's Thanksgiving Fantasy Comedy Just Added A Major Talent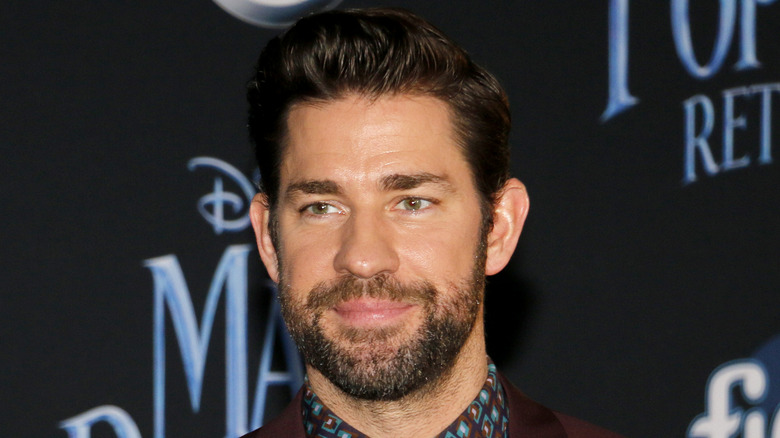 Tinseltown/Shutterstock
Production on the long-awaited fantasy comedy based on an idea from John Krasinski, which will also star Ryan Reynolds, is finally set to begin moving forward. Reports indicate that the film has settled on a proposed release window and added one of the hardest working actresses today to its cast list.
Fans of "The Office" alumnus Krasinski found out that he would team up with Reynolds for a new film back in 2019. At that time, The Hollywood Reporter described the production as having the title "Imaginary Friends" and added that Krasinski and Reynolds sold the film to Paramount after an intense bidding war between some other major studios, including Sony and Lionsgate.
When news of the project first circulated, it was described as a film in which Krasinski would star as an individual with the ability to see abandoned imaginary friends. Krasinski and Reynolds would then team up to try and keep those abandoned imaginary friends from falling into despair and potentially turning evil.
However, the announcement of the film's new cast members noted that the film was untitled and included a different logline for the project, although the fact that even more big-name stars have joined the project is a strong indication that things are back on track. So who's the big-name talent who just signed on to appear in John Krasinski's upcoming Thanksgiving comedy?
Phoebe Waller-Bridge will be joining John Krasinski and Ryan Reynolds in the upcoming film
According to The Hollywood Reporter, Phoebe Waller-Bridge and her occasional collaborator Fiona Shaw will appear in the upcoming film from John Krasinski. The announcement also included a prospective release date, November 17, 2023, which means the film will open one week before Thanksgiving, and noted that filming will begin in the summer of 2022.
Waller-Bridge first came to prominence starring in the show she created and wrote, "Fleabag." While the critically acclaimed series ended its run in 2019 after two seasons, the actress has kept extremely busy. She has appeared in massive films such "Solo: A Star Wars Story," made changes to the "No Time to Die" script, and even become involved in the production of "Indiana Jones 5," which some have speculated could lead to her taking over the iconic role.
As pointed out by THR, Fiona Shaw appeared on "Fleabag" as a counselor and also had a role on "Killing Eve," a BBC America spy thriller on which Waller-Bridge served as head writer for the first season. However, her most widely known role might be her performance as Aunt Petunia in the "Harry Potter" series.
In addition, the recent announcement from THR does seem to imply that some changes might have been made to the title and possibly the premise of the upcoming John Krasinski movie. The film's description simply states that it is about "a child's journey to rediscover their imagination" and indicates that "Imaginary Friends" is no longer the film's title.