Ryan Reynolds And John Krasinski Are Teaming Up For A New Film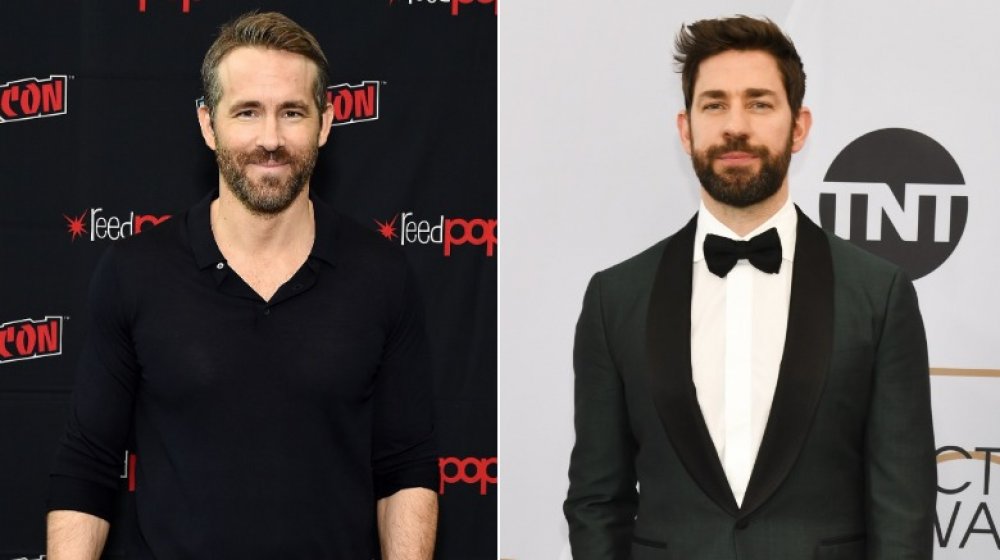 Ilya S. Savenok, Rodin Eckenroth/Getty Images
Two of Hollywood's most dapper and deadpan actors are teaming up for an exciting new project.
Ryan Reynolds, who revived his career with the massive superhero hit Deadpool, and John Krasinski, still best known for his constant direct-to-camera mugging on The Office, will join forces for Imaginary Friends. Paramount recently picked up the project after what's been described as an intense bidding war. 
This news comes to us courtesy of The Hollywood Reporter. 
Once the deal is fully finalized, Krasinski will wear multiple hats for the film, starring alongside Reynolds as well as writing, producing, and directing the movie. Reynolds will also produce under his company Maximum Effort.
There's not a ton of information about Imaginary Friends available just yet, but THR reports that it will tell the story of a man (played by Reynolds) who can actually see all of the invisible friends that still exist throughout the world. However, when some of those friends turn evil, it's up to Reynolds to save the world from the unlikely threat of imaginary friends that adults no longer need in their lives.
The pair will certainly, well, pair perfectly thanks to their signature styles of humor. After a string of flops — including the infamously terrible Green Lantern adaptation — Reynolds struggled to find his footing in Hollywood's A-list. He finally struck gold with Deadpool, making the Merc with a Mouth his own iconic role and embodying the character in a way that nobody else possibly could. Meanwhile, Krasinski will probably always be most closely associated with the uniquely funny Jim Halpert, whom he played for nine seasons on The Office. Both men are also in high-profile marriages to other huge Hollywood players; Reynolds is married to Blake Lively and Krasinski is married to Emily Blunt, and both couples are quite open about their relationships and shared senses of humor. Sounds like a match made in heaven, huh?
Reynolds and Krasinski: Hollywood MVPs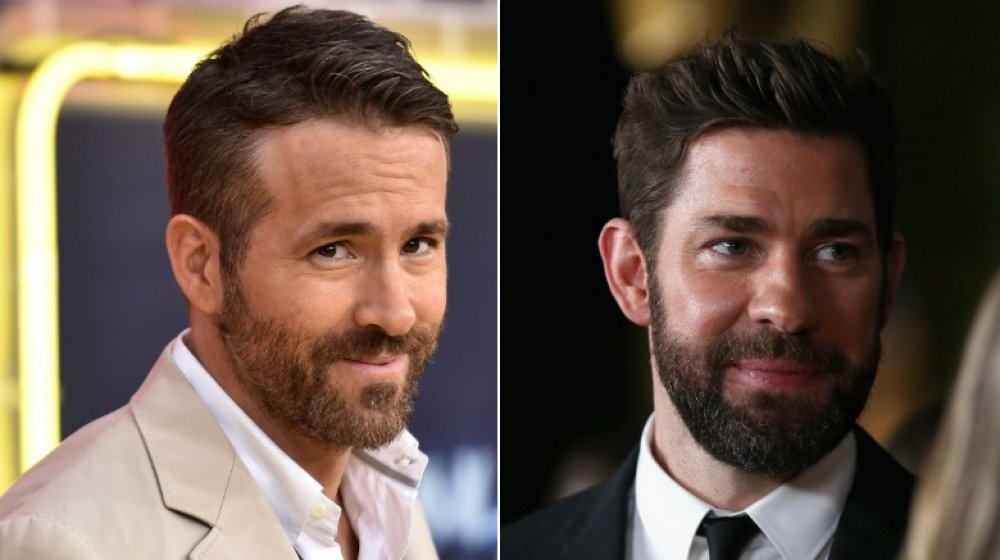 Steven Ferdman, Phillip Faraone/Getty Images
Imaginary Friends certainly won't be Krasinski's first time behind the camera. Though his directing resume is small, he's already become quite accomplished in his brief stint as a feature filmmaker. In 2018, Krasinski struck horror gold with the universally acclaimed film A Quiet Place – which he also wrote, produced, and starred in alongside real-life wife Blunt, playing characters living within a dystopian world full of monsters that attack if they hear the smallest noise. The sequel to A Quiet Place recently wrapped as well — and is eyeing a release date of March 6, 2020 — which proves that beyond his acting credits, Krasinski's directing skills carry some serious weight in Hollywood.
Meanwhile, ever since Deadpool, Reynolds certainly hasn't been hurting for work, and his upcoming slate of projects was already piled high before Imaginary Friends came along. Reynolds is set to star in Michael Bay's forthcoming 6 Underground as well as the upcoming Free Guy, an action-comedy directed by Shawn Levy. He'll also write and star in a Clue reboot alongside Deadpool scribes Rhett Reese and Paul Wernick. It's also possible Deadpool 3 may be on the horizon, but as of now, that's pure speculation.
There's no doubt that any effort from Reynolds and Krasinski will yield some pretty incredible results. Though there's no further information about or a release date for Imaginary Friends just yet, audiences can certainly "imagine" what a movie from these two minds might look like once it does hit theaters.