Riverdale EP Explains Shocking Finale Twist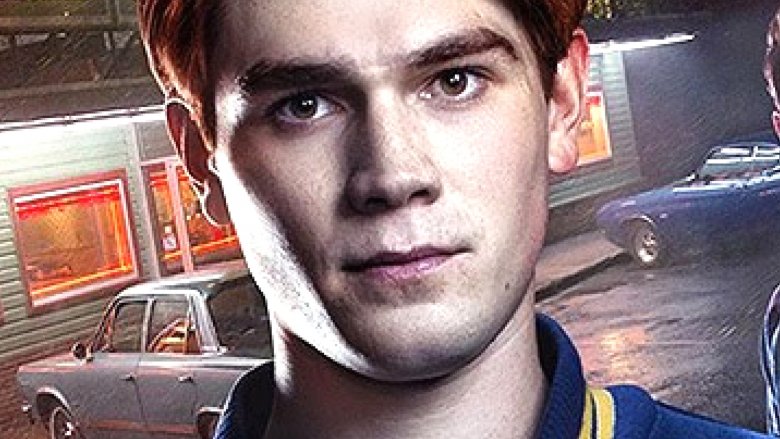 Warning: this article contains spoilers for the season 1 finale of Riverdale.
There may not have been any zombies in Riverdale's season 1 finale, but there was still plenty going on. The finale, which saw Cheryl (Madelaine Petsch) try to kill herself (and then burn down her house!), Betty (Lili Reinhart) learn that she has a secret brother, and Archie (K.J. Apa) and Veronica (Camila Mendes) go all the way, was one of the series' most dramatic and jam-packed episodes yet, but, luckily EP Roberto Aguirre-Sacasa is here to break it all down, and preview season two, for you.
One of the finale's biggest moments came with the final scene, showing Fred Andrews (Luke Perry) being shot in Pop's Diner. The attack, which happened after an episode showing the Lodges pressuring him to back out of his development deal, opens up a whole new mystery for next season– but Aguirre-Sacasa won't reveal whether or not it will be a murder mystery. When asked if Fred survived the attack, the showrunner remained coy, telling Entertainment Weekly, "The only thing I can say is you will definitely see Fred in the season premiere of season 2."
While he wouldn't confirm anything, Aguirre-Sacasa offered up some hints that really don't really seem good for Fred. The showrunner says that he sees Fred getting shot as a defining moment in Archie's heroism, comparing it to the moment Bruce Wayne saw his parents getting killed or when Peter Parker learned about Uncle Ben's death. (Never good things to be compared to!) "It's such a huge mythic moment for Archie," he said. "I think we have to play it, and I think we have to see what happened to Fred in real-time, almost."
Aguirre-Sacasa also wouldn't reveal if his attack will be in any way connected to the introduction of Hiram Lodge (Mark Consuelos), who will show up in Riverdale as a series regular for season 2 after he gets out of prison. "Hiram has caused a lot of chaos in Riverdale for someone who wasn't even in Riverdale," Aguirre-Sacasa said, adding that Hiram will seem like "a young Michael Corleone" when he finally hits town. Aguirre-Sacasa says that the show plans to full play into– and subvert– the Hiram and Archie rivalry from the comic books, developing a "much more complex version" of what's established in the show's source material. "There's going to be an interesting triangulation between Archie and Veronica and Hiram that's going to be one of our big engines [in season 2]," he said. Despite that, though, Aguirre-Sacasa warns against automatically blaming Fred's attack on Hiram, noting that there are a few possible suspects and it still could just be a random robbery. "Hopefully, the reveal will be very, very surprising," he said.
Cole Sprouse's Jughead also had a big role to play in the finale, with his dad FP (Skeet Ulrich) still in jail for tampering with evidence in Jason's murder. FP refused to give away any of the other Serpents, even though it could have freed him, leading the rest of the gang to pledge loyalty to Jughead– something which Aguirre-Sacasa says will open up a lot of new possibilities for the character next season. "Referencing The Godfather, there's that great shot of Diane Keaton looking at Al Pacino as the door closes," he said. "That's kind of the last moment for Betty and Jughead. She's looking out, and he's put on this symbol. You think if FP was the king of the Serpents, is Jughead the crowned prince of the Serpents now?"
As for Betty, don't automatically assume that Jughead's pairing with the Serpents will mean the end of their relationship. Aguirre-Sacasa has quite a few dark plans for the character, noting that a lot of season 2 will deal with her "owning and harnessing" her dark side. "Without saying too much, the idea of Jughead joining the Serpents is very provocative," he said. "Even more of a Riverdale subversion would be the perfect girl-next-door joining the Serpents, so that's something we're going to play with as well!"
While we wait for Riverdale season 2 to premiere, see how the show's characters compare to the comics.