The Real Reason Pawn Stars Called Stan Lee Into The Shop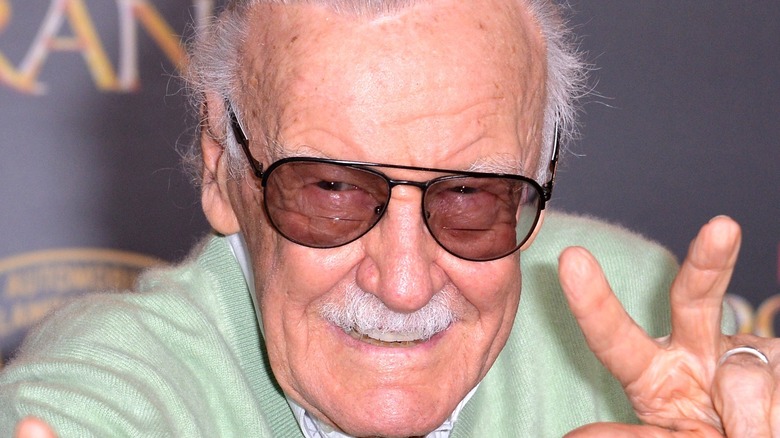 Featureflash Photo Agency/Shutterstock
On History Channel's "Pawn Stars," Rick Harrison and his fellow pawnbrokers at World Famous Gold & Silver Pawn Shop in Las Vegas see all kinds of rare, interesting items pass through their shop on a daily basis. From vintage waffle makers to a submarine, the cast of this reality show never knows what to expect regarding the items hope sellers bring through their door.
Since the show's premiere on the History Channel in 2009, "Pawn Stars" has aired over 400 episodes, so it's safe to say there's been plenty of drama and unique items to hit the pawnshop. One way the show switches things up is to bring in celebrity guests, including "The Office" alum Steve Carell, journalist Katie Couric, and former '80s rocker Bret Michaels. Sometimes, these celebrities even provide their expert knowledge to help authenticate an item for the "Pawn Stars" boys. In one particularly memorable episode, pawnbroker Austin "Chumlee" Russell went to visit with the incredible Marvel creator Stan Lee.
Stan Lee authenticated his own signature on Pawn Stars
The Season 14 episode "Spider Pawn" (via IMDb) involved "Pawn Stars" cast member Austin "Chumlee" Russell going to Marvel Comics alum Stan Lee to consult on a piece of "Spider-Man" memorabilia. This arc kicks off when a seller brings in a 1977 "Spider-Man" comic strip. Chumlee is excited by the piece and takes a closer look. The comic strip's owner, listed as Vince on the show, says he purchased the comic strip directly from the illustrator, John Romita. The panel features "Spider-Man" character Mary Jane in the bathtub, which is racy for the time it was published and undoubtedly adds to its value. More intriguing to Chumlee is the fact the comic panel appears to be signed by Marvel mastermind Lee, which Vince dutifully points out.
As the sole owner of the comic strip, which remains in pristine condition by the time it reaches Chumlee, Vince hopes to get an offer of around $10,000. However, the "Pawn Stars" alum isn't ready to cough up that much cash without authenticating the signature. As seen in a YouTube clip from this episode, in order to have the piece authenticated, Chumlee and Vince seek out Lee at the Avengers Station on the Las Vegas Strip. Thankfully for Vince, Lee confirms the signature is his own, adding to the comic strip's value. Even after all of this effort, Chumlee isn't willing to spend $10,000 on the strip. After a short haggle with the owner, the pawnbroker buys the authentic comic strip for $5,000.