Lessons In Chemistry Release Date, Cast, Trailer, Plot And More Details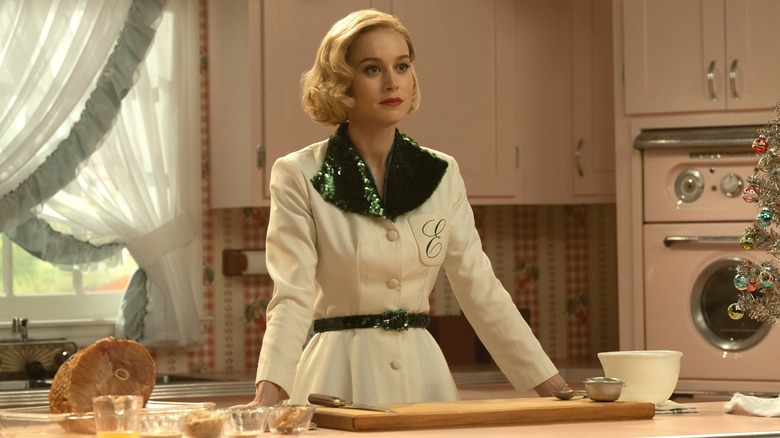 Apple TV+
Hollywood absolutely loves turning novels into blockbuster movies. Right off the bat, you can probably think of several notable titles, a la "Harry Potter" and "Lord of the Rings." But even in the world of television, creatives are constantly adapting books for the small screen, and we're not just talking about "Game of Thrones." "The Queen's Gambit," "Dexter," and "You" are all based on the published word, and now, Apple TV+ is turning a bestseller into what might be their next big hit.
Written by Bonnie Garmus, "Lessons in Chemistry" landed on bookshelves in 2022, quickly becoming a New York Times bestseller. It's a tale of science and sexism, courtship and cooking. And now, it's getting a TV adaptation starring an Oscar-winning actress in the lead role. So when can we expect to see all this chemistry in action, and who will be showing up in this 1950s period piece? Read on for everything you need to know about Apple TV+'s "Lessons in Chemistry."
When will Lessons in Chemistry be released?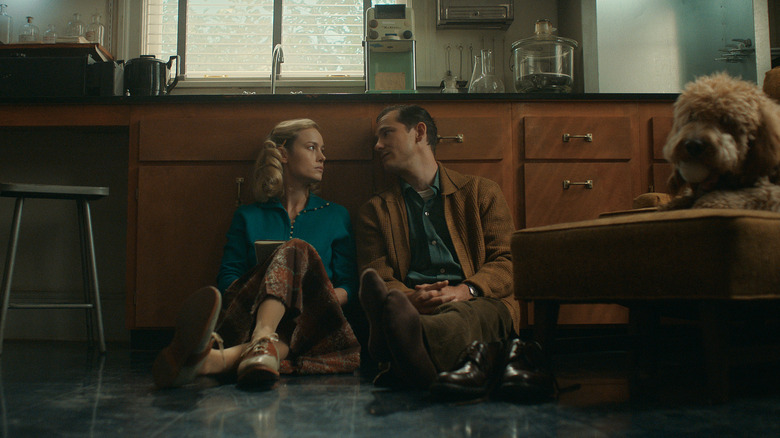 Apple TV+
Apple TV+ is having an incredibly strong 2023. It's releasing two major movies this year — Martin Scorsese's "Killers of the Flower Moon" and Ridley Scott's "Napoleon" — and has had a string of well-received shows, such as "Silo," "Hijack," and "Ted Lasso" Season 3. (The less said about "The Crowded Room," the better.) And the streamer hopes to keep things going strong with "Lessons in Chemistry," which hits the site on October 13. In fact, the eight-episode series will kick off with two episodes on the same day, with subsequent installments dropping weekly until the finale airs on November 24.
What is the plot of Lessons in Chemistry?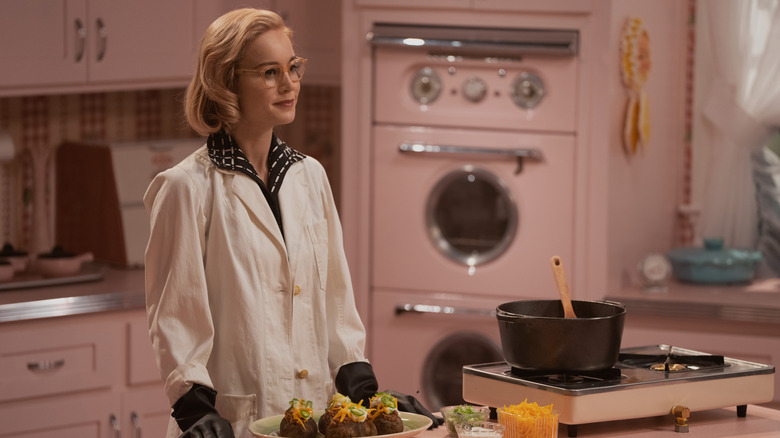 Apple TV+
"Lessons in Chemistry" is a period piece, set in the 1950s. The '50s was a decade of rapid scientific achievements, but the world still had a long way to go in regards to equality. Into this era steps Elizabeth Zott, a woman who longs to be a scientist. However, as the official plot synopsis tells us, her dream "is put on hold in a patriarchal society. When Elizabeth finds herself fired from her lab, she accepts a job as a host on a TV cooking show and sets out to teach a nation of overlooked housewives — and the men who are suddenly listening — a lot more than recipes."
If we want to dive a bit deeper into the plot, we can go off the description of Bonnie Garmus' book. We know there will be a romantic relationship between Elizabeth and fellow scientist Calvin Evans, a Nobel prize nominee who becomes enamored with Elizabeth's mind. We also know that Elizabeth will be hosting a series called "Supper at Six," where she uses cooking as a vehicle for chemistry. However, as the book description tells us, "As her following grows, not everyone is happy. Because as it turns out, Elizabeth Zott isn't just teaching women how to cook. She's daring them to change the status quo."
Who is starring in Lessons in Chemistry?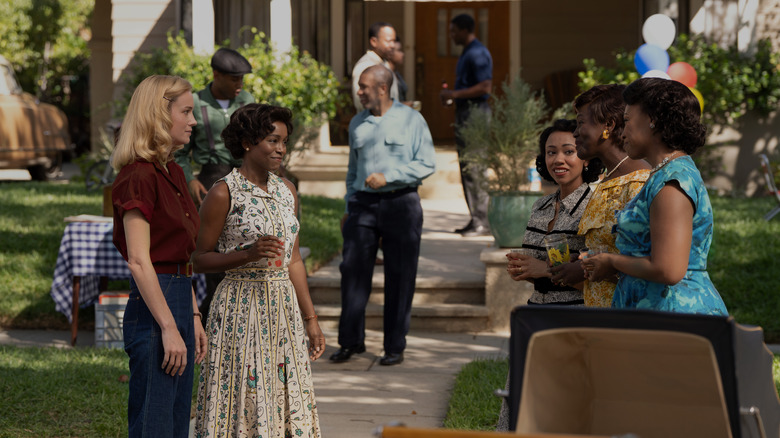 Apple TV+
As you've probably noticed by now, the lead role of Elizabeth Zott will be played by the Oscar-winning Brie Larson. Best known for playing Carol Danvers in the Marvel Cinematic Universe, Larson won the Academy Award for best actress thanks to her devastating turn in "Room." The year 2023 promises to be a big one for Larson, who not only stars in "Lessons in Chemistry" but in the superhero team-up film "The Marvels."
Joining Larson in this delicious experiment, we've got Lewis Pullman as Calvin, the scientist who's smitten with her. If you're wondering about the last name, yep, Lewis is indeed the son of Bill Pullman, although the younger actor is making a name for himself in his own right. In addition to playing in projects like "Bad Times at the El Royale" and "The Strangers: Prey at Night," Pullman portrayed Lt. Robert "Bob" Floyd in the second highest-grossing movie of 2022 — "Top Gun: Maverick."
Rounding out the cast, there's Aja Naomi King ("How to Get Away with Murder"), Rainn Wilson ("The Office"), Stephanie Koenig ("The Flight Attendant"), Patrick Walker ("The Resident"), Thomas Mann ("Halloween Kills"), and Kevin Sussman ("The Big Bang Theory"). And lending some veteran actor gravitas to the proceedings, we have Beau Bridges, the multi-award winning actor who's best known for titles such as "Masters of Sex," "The Fabulous Baker Boys," and "The Descendants."
Who is producing, showrunning, and directing Lessons in Chemistry?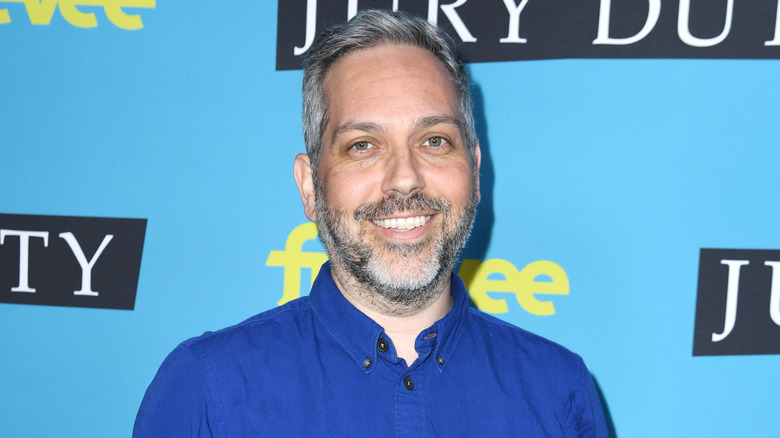 Jc Olivera/Getty Images
In addition to starring as Elizabeth Zott, Brie Larson will serve as an executive producer for "Lessons in Chemistry," along with a long line-up of names that includes the Oscar-nominated Susannah Grant ("Erin Brockovich") and Jason Bateman of "Ozark" and "Arrested Development" fame. But as for who's actually running the show, those duties have gone to Lee Eisenberg, who's earned six Emmy nominations for his work in the world of TV.
Eisenberg is perhaps best known for creating "Jury Duty," the popular show that found the unaware Ronald Gladden serving on a fake jury full of actors. Eisenberg has also created Apple TV+'s "Little America" and "WeCrashed," along with co-creating Stephen Merchant's "Hello Ladies." Additionally, Eisenberg was involved with "The Office," penning episodes such as the classic "Dinner Party" and directing episodes such as "Michael Scott Paper Company."
As for who's directing, we know the first two episodes will be helmed — and executive produced — by Sarah Adina Smith. While Smith has worked on everything from TV shows like "Legion" and "Hannah" to movies such as "The Midnight Swim" and "Birds of Paradise," she's probably best known for directing the Rami Malek mystery film "Buster's Mal Heart."
Is there a trailer for Lessons in Chemistry?
Apple released the official trailer for "Lessons in Chemistry" in September 2023, promising a tale of culinary perfection, scientific exploration, and civil disobedience. Set to Harry Styles' "Sign of the Times," the trailer focuses on Elizabeth Zott as she tries to navigate through the male-dominated world of chemistry. However, she soon winds up fired by her chauvinistic bosses, even as she's on the verge of a major scientific breakthrough. However, Elizabeth finds a new opportunity as the host of "Supper at Six," a cooking show she uses to push back against the sexist attitudes of the day.
The trailer also highlights the passionate love affair between Elizabeth and Calvin, with the two meeting over an immaculately prepared lunch. "I like to cook," Elizabeth tells him. "It's just chemistry." We also see Elizabeth protesting against a freeway being built through a Black neighborhood, and we see her get pushback on her empowering worldview by Rainn Wilson's TV executive. "Politics don't belong in the kitchen," he says. "A man wants his wife to make him a drink after a long day at work." Of course, Elizabeth shoots back, "Why do you assume his day was longer than hers? Why don't you make the drink?"
Combining powerful messages with food, science, and chemistry between two lovers, we can't wait to see "Lessons in Chemistry" when it hits AppleTV+ on October 13.