Napoleon Release Date, Cast, Trailer, Plot And More Details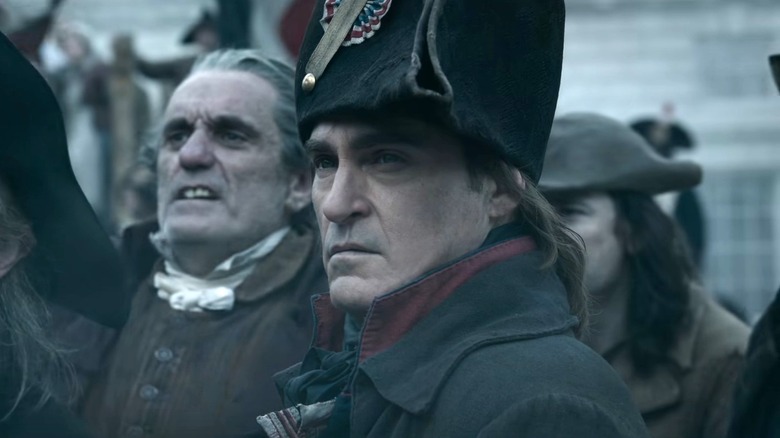 Apple TV+
Whether you know him as the funny little guy who liked sticking his hand inside his jacket or as the French emperor who nearly conquered all of Europe, Napoleon Bonaparte is one of the most famous people in the history of the world. But while Napoleon had a massive historical footprint, he hasn't had much of an impact on pop culture. While actors have played him in comedies like "Time Bandits," "Bill & Ted's Excellent Adventure," and "Night at the Museum: Battle of the Smithsonian," there have been very few straight-up dramas about the man. Sure, there are films like Abel Gance's 330-minute silent film "Napoléon," the Greta Garbo vehicle "Conquest," and Marlon Brando's "Désirée," but those were all made over 60 years ago, and they aren't exactly widely discussed.
Of course, that isn't for a lack of trying. Before Adolf Hitler's rise to power, Charlie Chaplin planned on skewering the French general with "The Great Dictator," and for years, Stanley Kubrick was developing a Napoleon movie before giving up on the project — resulting in one of the greatest movies never made. However, if you love bicorne hats and global domination, your moment is almost here because the definitive Napoleon film is heading to theaters. With a legendary director calling the shots and an Oscar-winning actor portraying the infamous emperor, the film promises to be one of the best movies of 2023, and here's everything you need to know about the upcoming "Napoleon."
When will Napoleon be released?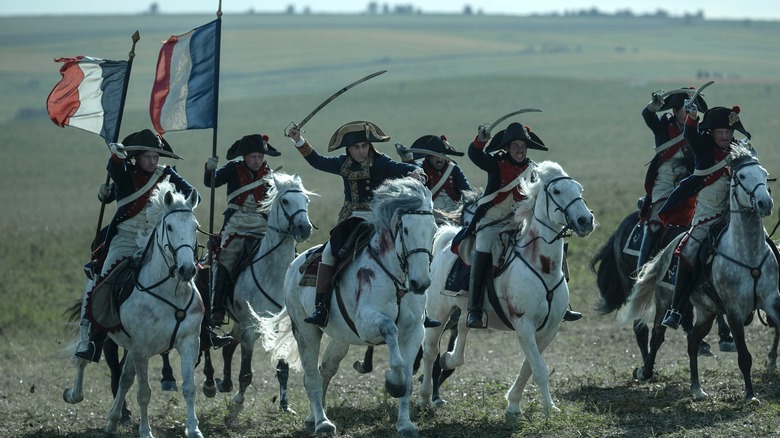 Apple TV+
In October 2020, it was announced that director Ridley Scott's next project would be a Napoleon Bonaparte biopic titled "Kitbag." If you're wondering why anyone would name a Napoleon movie "Kitbag," it's because there's an old-timey expression that goes, "There is a general's staff hidden in every soldier's kitbag." Napoleon, while born into nobility, wasn't born into wealth, and he had to rise through the military ranks and establish himself on the battlefield before securing the throne of France, reflecting the sentiment of that aforementioned saying. However, the title was eventually changed to the much simpler and straight-forward "Napoleon."
The film comes courtesy of Sony and Apple TV+, the latter of which has been involved with some truly big deal films, a la Martin Scorsese's "Killers of the Flower Moon." Their investment in "Napoleon" will pay off on November 22, 2023, when the film hits theaters. That same month, the film will find itself up against some serious competition, such as "The Marvels," "Dune: Part Two," and Disney's "Wish." While we don't think "Napoleon" will conquer those movies at the box office, there's a good chance it might defeat them when it comes to critical reviews and awards recognition.
Sometime after playing in theaters, "Napoleon" will make its way to the Apple TV+ streaming service.. Once it appears online, we'll be treated to the director's cut, which will be quite a hefty movie. Speaking to Total Film (via GamesRadar+), Scott said we could expect this extended version of the movie to run for 4 hours and 10 minutes.
What is the plot of Napoleon?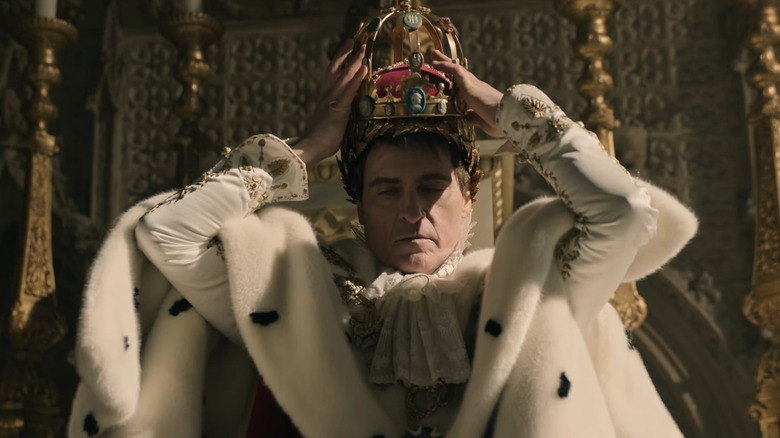 Apple TV+
In the grand tradition of epic biopics like "Malcolm X" and "Lawrence of Arabia," it appears that Ridley Scott's "Napoleon" will look at the entirety of Napoleon's life, from his rise to power to his ultimate defeat at Waterloo. As the official plot synopsis puts it, "'Napoleon' is an original and personal look at Napoleon's origins and his swift, ruthless climb to emperor, viewed through the prism of his addictive and often volatile relationship with his wife and one true love, Joséphine. The film captures Napoleon's famous battles, relentless ambition and astounding strategic mind as an extraordinary military leader and war visionary."
In 2021, Scott spoke to Deadline about the kind of "Napoleon" movie he was going to make, really emphasizing the central relationship between the titular emperor and the most important person in his life, Joséphine. As the filmmaker explained, "Napoleon is a man I've always been fascinated by. He came out of nowhere to rule everything — but all the while he was waging a romantic war with his adulterous wife Josephine. He conquered the world to try to win her love, and when he couldn't, he conquered it to destroy her and destroyed himself in the process."
Who is starring in Napoleon?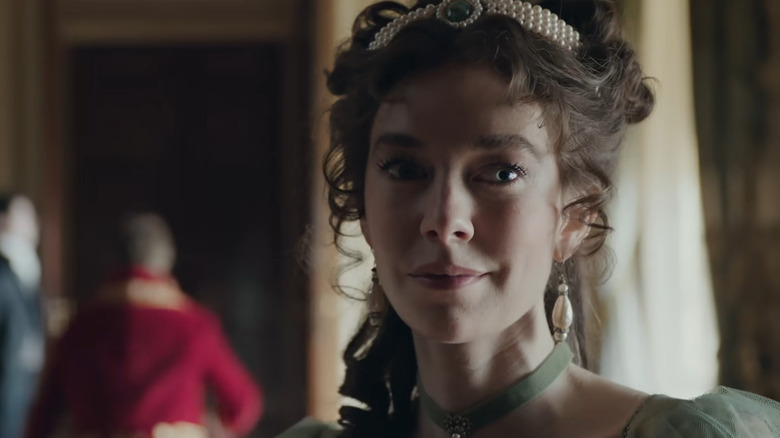 Apple TV+
Two decades after teaming up for "Gladiator," Ridley Scott and Joaquin Phoenix are reuniting for "Napoleon." The 2000 sword-and-sandal epic earned Phoenix an Oscar nod for his portrayal of the slimy emperor Commodus, and we have a feeling he might get another nomination for playing one of the most powerful men in European history. Of course, Phoenix already earned an Academy Award for best actor thanks to his memorable turn in "Joker," and he's earned rave reviews for performances in movies like "You Were Never Really Here," "The Master," and "Beau Is Afraid."
Joining Phoenix, we'll see Vanessa Kirby as Napoleon's great love and confidante, Empress Joséphine. Jodie Comer — who'd previously worked with Scott in "The Last Duel" — was originally meant to play this part but had to step away due to scheduling conflicts. However, Kirby is a fantastic choice for this key role, wowing critics and audiences in films such as "Pieces of a Woman" and the "Mission: Impossible" franchise. Additionally, we'll see any incredibly talented supporting cast comprised of Tahar Rahim ("A Prophet"), Ben Miles ("The Crown"), Ludivine Sagnier ("Lupine"), Matthew Needham ("House of the Dragon"), Youssef Kerkour ("Home"), Phil Cornwell ("I'm Alan Partridge"), Edouard Philipponnat ("The Runner"), Paul Rhys ("A Discovery of Witches"), John Hollingworth ("1917), Gavin Spokes ("The Ipcress File"), and Mark Bonnar ("Guilt").
Who is writing and directing Napoleon?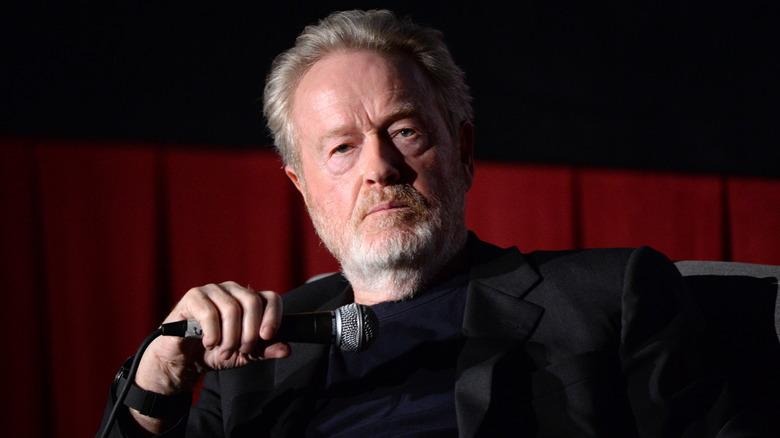 Michael Kovac/Getty Images
It should go without saying that Ridley Scott is one of the most talented directors working today. The man became a legend thanks to films like "Alien" and "Blade Runner," and over the years, he's directed all-time classics like "Thelma and Louise," "Black Hawk Down," and "The Martian."
Even more recently, he's helmed bangers like "House of Gucci" and "The Last Duel," and after "Napoleon" hits theaters, we can look forward to another massive epic with the sequel to 2000's "Gladiator." Clearly, Scott has big things on his mind, and we love seeing the esteemed filmmaker making must-watch dramas with A-list actors, huge sets, and impressive action scenes.
On the writing side of things, Scott will be working off a screenplay by David Scarpa. The two previously collaborated on "All the Money in the World," the film most famous for swapping Kevin Spacey with Christopher Plummer at the very last minute. Scarpa has also penned scripts for movies like 2008's "The Day the Earth Stood Still" and the vastly underrated "The Last Castle," as well as several episodes of "The Man in the High Castle."
Is there a trailer for Napoleon?
Released in July 2023, the trailer for "Napoleon" promises to be Ridley Scott's most ambitious movie to date. Starting with the execution of Marie Antoinette, the trailer follows the rise of Napoleon through the chaos of the French Revolution, rising through the military ranks and ascending all the way to the throne.
With sumptuous cinematography courtesy of Dariusz Wolski ("The Crow," "The Last Duel," "Pirates of the Caribbean: The Curse of the Black Pearl"), we witness Napoleon's exploits on massive battlefields, complete with exploding cannons, charging horses, and walls of gunfire. We also see his strategic mind on full display — luring enemy soldiers onto a frozen lake before opening fire on the ice — and we witness his intense relationship with Joséphine play out with real passion. We also get to watch a man with a serious god complex, firing upon the Pyramids of Giza for target practice and telling us in no uncertain terms, "I'm the first to admit when I make a mistake. I simply never do." 
The second trailer, which debuted in October 2023, is just as intense. We glimpse further moments of his rise to power, including his coronation, explosive battle sequences, and his early encounters with Joséphine. Napoleon's thirst for dominance is at its most intense here, especially when he places a crown atop his own head and locks eyes with an Egyptian mummy. He caps it all off by declaring France to be, simply and entirely, his. 
What is Napoleon rated?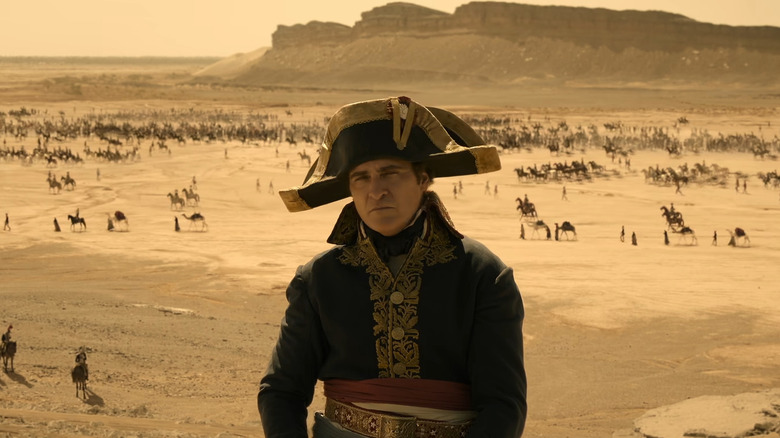 Apple TV+
Ridley Scott rarely makes family-friendly fare, and "Napoleon" is no exception. If you've seen the trailer, then you can probably already guess there's going to be a lot of battlefield carnage and a lot of Napoleon getting frisky with Joséphine. As a result, the biopic has been rated R for "strong violence, some grisly images, sexual content, and brief language." If you've got kids under 13, you might want to consider leaving them at home for this one. Of course, if you've got kids who are eager to see a Ridley Scott-directed biopic about a historical figure from over 200 years ago, we have to applaud you for raising them right.