Killers Of The Flower Moon Release Date, Cast, Trailer, Plot And More Details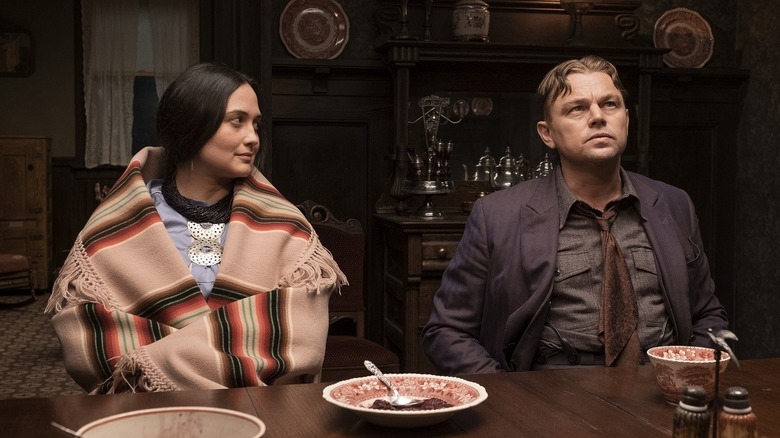 Apple TV+
In 2017, author David Grann made the New York Times' best sellers list with his nonfiction mystery "Killers of the Flower Moon: The Osage Murders and the Birth of the FBI." A tale of greed, murder, and betrayal, "Killers of the Flower Moon" became a hot Hollywood property before it even hit bookshelves, drawing the attention of big stars and huge studios. (Grann is probably used to this by now, as he also penned the source material for "The Lost City of Z," "Trial by Fire," and "The Old Man & the Gun.")
However, "Killers of the Flower Moon" has had quite the journey to theaters, with the filmmakers involved taking a very different approach to the material than the book, a subsequent cast switcheroo, and different studios coming and going. And now, this tragic tale is almost here, courtesy of an A-list cast and an all-time director in Martin Scorsese. If you want to know more about what's sure to be one of the best films of 2023, then read on for everything you need to know about "Killers of the Flower Moon."
When will Killers of the Flower Moon be released?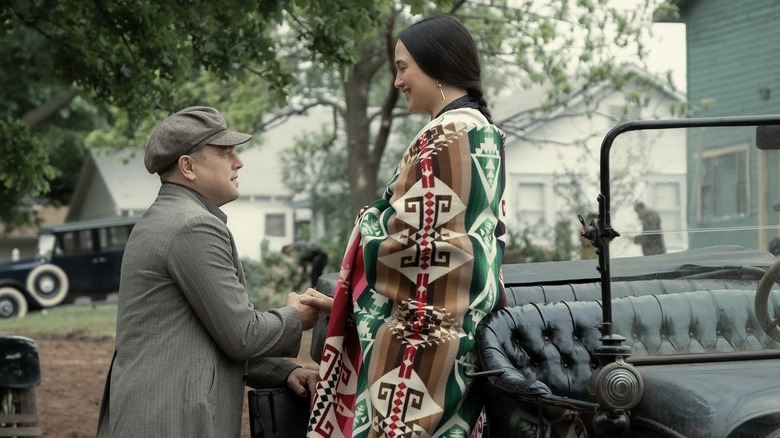 Apple TV+
According to a profile by Deadline, everybody wanted a crack at "Killers of the Flower Moon." Big players like Brad Pitt and J.J. Abrams were circling the project in 2016, before the book had even been released, and Paramount eventually picked it up for $5 million. However, after Leonardo DiCaprio joined the cast, the actor wanted to make a significant change to the story — switching the main character from an upright FBI agent to a much more complex character: a murder suspect.
Reportedly, this freaked Paramount out a bit, and they decided not to finance the movie. That's when Apple Studios stepped in, willing to put up the money for a film with obvious critical potential. While it's relatively new in the Hollywood game, Apple already has a pretty strong track record of backing celebrated films and series, becoming the first streamer ever to win a best picture Oscar with "CODA." So when will we actually get to see "Killers of the Flower Moon?"
For a brief moment, it looked like the movie might hit theaters in 2022. That year, Apple was originally planning on making a big Oscar play with the Will Smith drama "Emancipation." Of course, Smith kind of derailed those plans with his infamous slap at the 94th Academy Awards. So for a moment there, it looked like the studio was going to release "Killers of the Flower Moon" early, as a major contender for the 95th Oscars.
However, according to Variety, the movie wasn't ready for a 2022 release. Of course, "Killers" will get its shot at Oscar glory with the 96th Academy Awards, as it's coming out in 2023. Specifically, we'll see "Killers of the Flower Moon" on October 20. Thanks to some Hollywood negotiations, Paramount will still be distributing the film, and yes, the movie will eventually wind up streaming on Apple TV+, although we don't know exactly when.
What is the plot of Killers of the Flower Moon?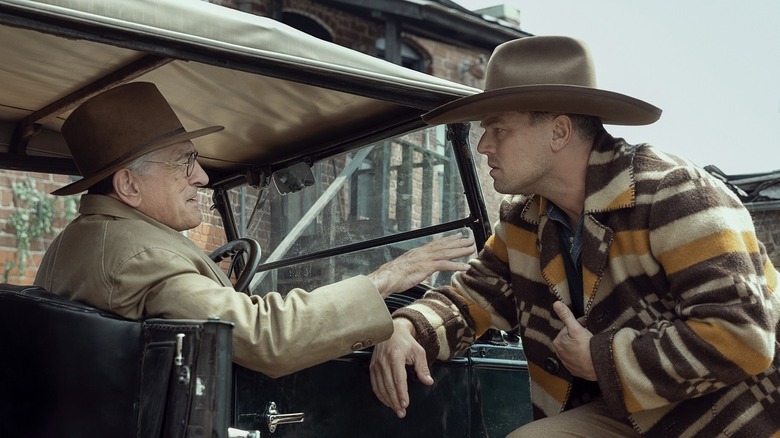 Apple TV+
Based on David Grann's nonfiction book of the same name, "Killers of the Flower Moon" is set in 1920s Oklahoma, where — as the official plot synopsis puts it — "oil brought a fortune to the Osage Nation, who became some of the richest people in the world overnight. The wealth of these Native Americans immediately attracted white interlopers, who manipulated, extorted and stole as much Osage money as they could before resorting to murder."
With so many of their people dying under suspicious circumstances, the Osage Nation called on the FBI for help, and the agency responded by sending straight-shooter Tom White, who dedicated himself to ending the "Reign of Terror." However, while the movie will focus on all these events, it will take a different tack than Grann's book. Wanting to avoid a stereotypical white savior narrative seen in so many movies, star Leonardo DiCaprio decided the script should focus on one of the suspects, Ernest Burkhart, plunging the movie into murkier, more ambiguous territory and addressing what humans can be capable of when greed is involved.
However, at the heart of all this murder and conspiracy, there's an incredibly complicated love story. As the plot synopsis puts it, the movie is "told through the impossible romance of Ernest Burkhart and Mollie Kyle," a Native American woman who's married to Ernest and has come into quite a bit of money thanks to the recently discovered oil fields. The result is an "epic Western crime saga, where real love crosses paths with unspeakable betrayal."
Who is starring in Killers of the Flower Moon?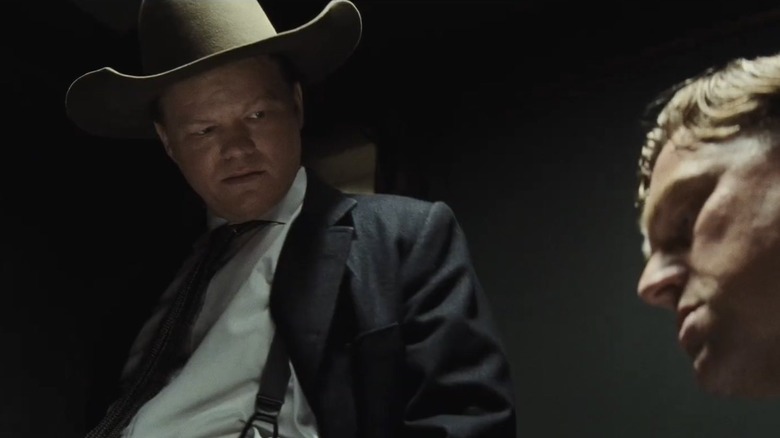 Apple TV+
"Killers of the Flower Moon" features a who's who of Hollywood talent, and perhaps most impressively, it stars two of Martin Scorsese's biggest collaborators. Leonardo DiCaprio was originally set to play FBI agent Tom White, but after altering the focus of the screenplay, he stepped into the role of Ernest Burkhart — the nephew of a powerful rancher who's also married to an Osage woman and who becomes a murder suspect. Not counting "Killers," DiCaprio has made five feature-length movies with Scorsese, including "The Departed," "The Wolf of Wall Street," and "Shutter Island."
Then there's Scorsese's other major player — Robert De Niro. It goes without saying that Scorsese and De Niro are one of the most iconic actor/director pairings in cinematic history, with the two collaborating on classics like "Taxi Driver," "Raging Bull," and "Goodfellas." In total, the two have made nine movies together ... well, better make that 10 with "Killers of the Flower Moon." Here, De Niro plays rancher William Hale, the uncle to DiCaprio's character and a powerful figure who might have some pretty dark secrets he's hiding behind his smile.
As for the role of FBI agent Tom White, that goes to Jesse Plemons of "Friday Night Lights" and "Breaking Bad" fame. With an Oscar nod under his belt for "The Power of the Dog," Plemons is in demand these days, and he actually had to give up a big-deal project to make "Killers of the Flower Moon." Originally, Plemons was meant to star in both "Killers" and Jordan Peele's "Nope," but the timing just didn't work out. He'll be joined here by Lily Gladstone as Mollie Kyle, the wife of DiCaprio's character. While Gladstone has yet to find mainstream fame, she received a ton of critical raves for her turn in Kelly Reichardt's "Certain Women," and perhaps "Killers of the Flower Moon" will give her the worldwide attention she deserves.
Rounding out the cast, we've got Oscar winner Brendan Fraser ("The Whale"), Scott Shepherd ("El Camino: A Breaking Bad Movie"), John Lithgow ("3rd Rock from the Sun"), Pat Healy ("Better Call Saul"), Louis Cancelmi ("The Irishman"), Michael Abbott Jr. ("The Dark and the Wicked"), Gary Basaraba ("Brooklyn South"), and musicians Jason Isbell and Sturgill Simpson. The movie also features a ton of Indigenous talent. In addition to Lily Gladstone, there's Tantoo Cardinal ("Dances with Wolves"), Cara Jade Myers ("Rutherford Falls"), JaNae Collins ("Reservation Dogs"), Jillian Dion ("Legion"), William Belleau ("Blood Quantum"), and Tatanka Means ("Tiger Eyes").
Who is writing and directing Killers of the Flower Moon?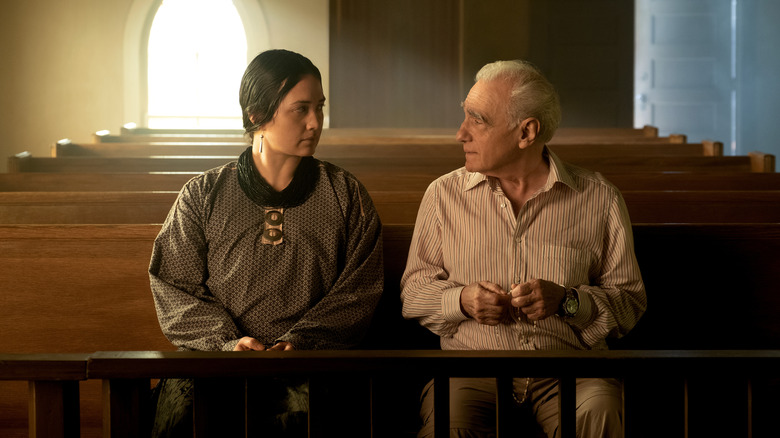 Apple TV+
One of the biggest reasons to get excited about "Killers of the Flower Moon" is because it's being directed by Martin Scorsese. Here is a man who needs no introduction, as he's one of the finest filmmakers who's ever stepped behind a camera.
Over the years, Scorsese has directed some truly classic films — like "Taxi Driver" and "Raging Bull" — and he's explored all sorts of genres. He's made popcorn sequels like "The Color of Money," tragic character studies like "The Irishman," and heart-wrenching stories of faith like "Silence." He's made a kids' movie ("Hugo"), documentaries ("George Harrison: Living in the Material World"), mysteries ("Shutter Island"), and period romances ("The Age of Innocence"). In short, the man has range, and everything he touches turns to gold.
"Killers of the Flower Moon" also marks the first time that Scorsese has worked on a feature-length film with his two biggest actors — Leonardo DiCaprio and Robert De Niro. (The three did previously collaborate on a short film, "The Audition.") Scorsese also co-wrote the script with Eric Roth, who's penned celebrated titles such as "Forrest Gump," "The Insider," and 2018's "A Star Is Born." However, Scorsese gives DiCaprio quite a bit of credit in shaping the movie into its current form.
Speaking with Deadline, Scorsese said, "Leo DiCaprio looked at me and said, 'Where's the heart in this movie?' This was when Eric Roth and I were writing the script from the point of view of the FBI coming in and unraveling everything. ... I said, 'The only person that has heart, besides Mollie ... is her husband Ernest, because they're in love." The result is a movie that focuses both on greed and treachery and an incredibly complex romance, and Scorsese is the perfect person to bring such an intricate story to the screen.
Is there a trailer for Killers of the Flower Moon?
To date, we've seen two incredible trailers for "Killers of the Flower Moon." With the teaser trailer, we're promised a haunting, beautiful experience thanks to Martin Scorsese's assured direction, Rodrigo Prieto's gorgeous cinematography, and powerful performances from a stacked cast. It begins with the Osage people celebrating their newfound wealth as oil sprays from the ground, but their happiness is short-lived. As white intruders move into town, we hear Leonardo DiCaprio's Ernest Burkhart reading a children's book, saying, "There are many, so many hungry wolves. Can you find the wolves in this picture?"
The wolves are everywhere — something the official trailer heavily emphasizes. This one opens with the Osage people celebrating their riches while Robert De Niro's William Hale watches with greedy eyes. "This wealth should come to us," he says. "Their time is over." We then watch as a series of murders are carried out, with white assassins picking off various members of the Osage tribe. We also see Hale trying to bring Ernest over to the dark side, manipulating his nephew into joining his evil plot.
However, perhaps the most important part of both the teaser and official trailers is the relationship between Ernest and Lily Gladstone's Mollie. Across these trailers, we witness their star-crossed romance, from tender scenes to absolute tragedy, setting up a movie that will be incredibly heartbreaking.
How long is Killers of the Flower Moon?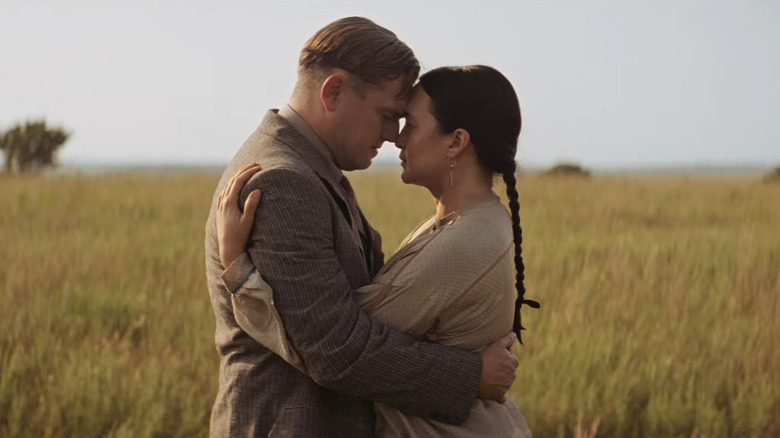 Apple TV+
Buckle up, folks, because "Killers of the Flower Moon" is going to be an epic. The movie runs for a whopping 3 hours and 26 minutes. While that might be shorter than Martin Scorsese's previous movie, "The Irishman," that's longer than a whole lot of other films famous for their expansive runtimes, a la "Avengers: Endgame," "Avatar: The Way of Water," and "Titanic."
However, Martin Scorsese promises that it's worth it. Speaking to Deadline, the director explained, "I say to the audience out there, if there is an audience for this kind of thing, 'Make a commitment. Your life might be enriched. This is a different kind of picture; I really think it is. Well, I've given it to you, so hey, commit to going to a theater to see this.'"