Nick Torres's Entire NCIS Backstory Explained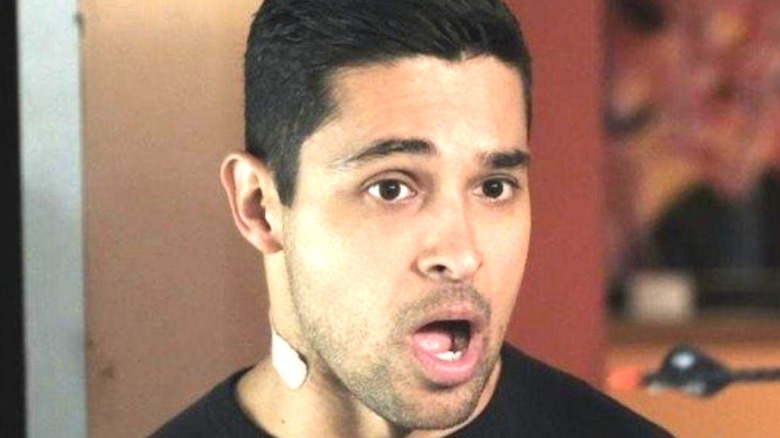 CBS
After the recent exit of Leroy Jethro Gibbs (Mark Harmon) in Episode 4 of Season 19 of "NCIS," fans are divided on Alden Parker (Gary Cole) stepping up to fill the void that Gibbs left. Since Anthony DiNozzo (Michael Weatherly) isn't around anymore to take up the mantle that Gibbs had seemingly been grooming him for, the options left for the position are few and far between. Immediately, Timothy McGee (Sean Murray) would seem like an obvious choice; he's a Senior Field Agent and one of the only remaining members of the original group from Season 1. However, Special Agent Nick Torres (Wilmer Valderrama) has gained a lot of experience during his time with the NCIS team, and much of it directly from Gibbs himself.
Torres joined the team in Season 14 of "NCIS" back in 2016 immediately after DiNozzo's departure at the end of the previous season. It was announced prior that Torres would be added to the team, one of the only fresh faces that fans hadn't seen before at other points in the series, unlike Clayton Reeves (Duane Henry) who was said to be returning at the time. Now a competent member of the team in Season 19, here's what we know about Torres's backstory before joining up with Gibbs.
Torres was first introduced in Season 14
Nick Torres was born in Colón, Panama back in 1984, according to the NCIS fandom site. He grew up close with his sister, Marine Lucia Campbell, but lacked a father figure since his own, Miguel Torres, had seemingly left the family and then passed away sometime after. As we know though, courtesy of an episode in Season 18 of "NCIS," Miguel Torres is actually alive — he left when Nick was a child to do some undercover work with the CIA. Nick's brother-in-law was Navy Commander George Campbell, but Campbell was the murder victim in the first case of Season 14 — the episode that first introduced us to Nick Torres.
It is revealed in that episode, titled "Rogue," that Special Agent Nick Torres had been missing for six months in Argentina whilst undercover and pursuing businessman Leo Silva, however, evidence suggests that he might still be alive. Torres' cover is blown after his sister comes to search for him, and Torres in turn asks Gibbs to let him help finish the case and remove Silva from power because otherwise, Torres' family will be in danger. The "NCIS" team successfully closes the case, and Gibbs' search for new agents ends with Torres becoming a permanent member of the team alongside Alexandra Quinn (Jennifer Esposito).
What else we've come to know from Torres' time on the team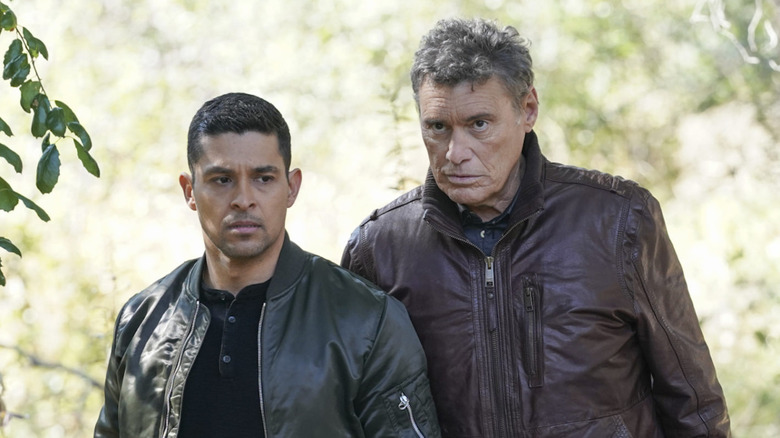 Sonja Flemming/CBS
Not a whole lot more has been revealed about Torres' background aside from his introduction in Season 14 and the discovery of his father being alive. We do know from Episode 18 of Season 14 that Torres had been previously engaged before his time undercover and before joining the current NCIS team. Her name was Sophia and she died of cancer. In the sixth episode of Season 16, titled "Beneath the Surface," Torres recognizes the victim as someone he had a rivalry with during Marine training, showing that Torres has always been competitive. Besides these small tidbits, very little else has been revealed about Torres' background before joining up with Gibbs.
Given that Torres has now been a recurring main character on "NCIS" for six seasons, the writers will likely dive deeper into his background in future episodes. "NCIS" has always done this well in regard to its main team, whether it's Gibbs, DiNozzo, McGee, or the rest of the original cast. That's why it's always so hard to see them leave — because we know so much about them. Surely, we will only come to know Special Agent Nick Torres even better moving forward.