The Law & Order SVU 500th Episode Kiss That Has Fans Freaking Out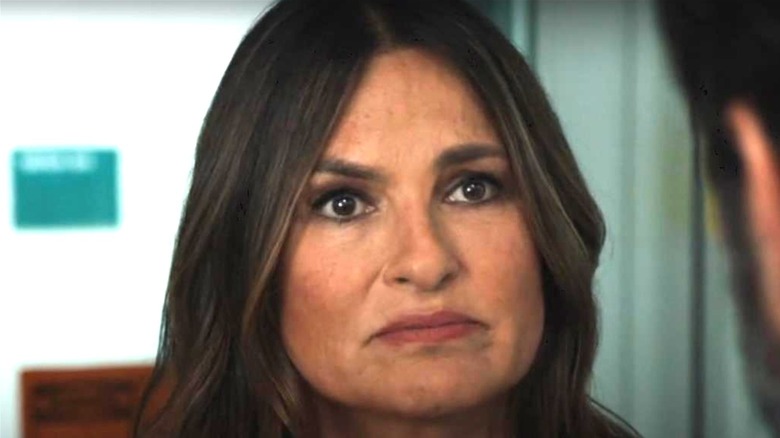 "Law & Order: SVU" is in its 23rd season now and still going strong. The most recently aired Episode 6, aptly titled "The Five Hundredth Episode," marks a rare milestone in the show's history that not many TV programs ever get to celebrate. Most shows consider it a celebration-worthy event if they hit as many as 200 episodes. But when a program manages to more than double that? That's how you know you have something really special on your hands.
This episode dealt with some heavy topics — yes, even heavier than a regular episode of "Law & Order: SVU." The storyline hit a little closer to home than usual when one of the main characters rekindled their romance with someone who didn't exactly have their best interests at heart. The reunion even led to a kiss which disturbed some viewers, who were quick to comment about it on social media.
Fans lost it when Detective Benson kissed her sexual groomer
During the 500th episode, a blast from Olivia Benson's past shows up out of nowhere: Burton Lowe, her former fiancé. But there's something very sinister about their relationship; they were engaged back when Burton was 21 and Olivia was 16. Back then, Benson felt like her interloping mother was standing in the way of true love — but as fans eventually find out through the course of the episode, Burton was not her true love. In reality, he's nothing more than a sexual predator who used Olivia the same way he uses all women.
Many of the tweets that mention the Olivia/Burton kiss — most likely posted before the truth about Burton was revealed later in the episode — were from fans upset that Olivia was kissing somebody other than Detective Elliot Stabler (Christopher Meloni), who is no longer on the show. @Jaewillisx, for example, tweeted "Don't mind that kiss y'all, Liv just did that to get Elliot off her mind. 😭 #SVU #SVU500." But a few astute viewers were rightfully creeped out by the smooch.
@hulyayksl started things off by pointing out that it was weird Olivia was flirting with "her groomer." @captainsstabler tweeted, "if there's one thing that i hope the entire svu fandom can agree on it's that watching olivia benson kiss her groomer is not what was on our bingo card for the 500th." And there were many more echoing similar sentiments. It's unfortunate that Burton didn't get legal justice by the end of the episode, but fans can at least take solace in the fact that he did suffer some pretty awful social and professional consequences.