Why Thufir Hawat From Dune Looks So Familiar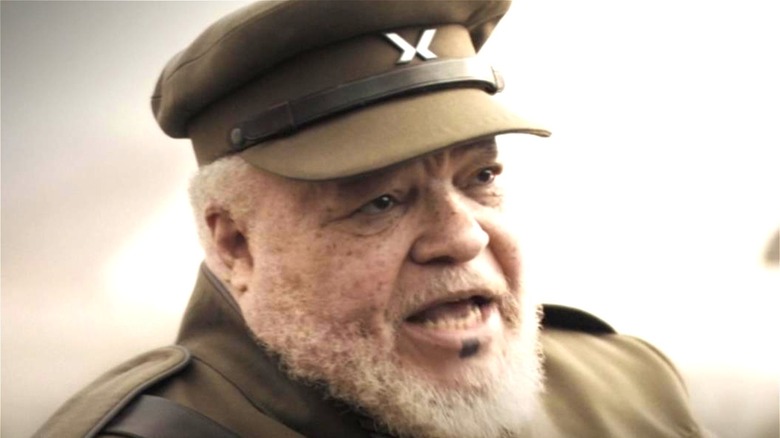 Warner Bros.
"Dune" is finally among us, bringing full circle a procession of fan hype and press anticipation that started all the way back in 2017, when Denis Villeneuve was officially confirmed as its director.
Fans of the source material and the director will surely remember the way the hype exploded in the following months, as cast announcements began to roll out: First Timothée Chalamet, then Rebecca Ferguson, then a whole combo of A-listers including Oscar Isaac, Dave Bautista, Zendaya, Charlotte Rampling, Javier Bardem, and Stellan Skarsgård. It was clear from the jump that Denis Villeneuve intended his adaptation of the classic Frank Herbert novel to be a high-prestige, star-studded affair.
As we all finally get to pore over the performances of the film's glamorous ensemble, a moment must be taken to celebrate Villeneuve's use of lesser-known, yet equally proficient, supporting performers. One "Dune" character who's been drawing a lot of attention is Thufir Hawat, the Mentat Master of Assassins who trains Paul Atreides (Chalamet) in the arts of war. Here's where you may have seen this brilliant veteran actor before.
Stephen McKinley Henderson guest-starred as a judge on Law & Order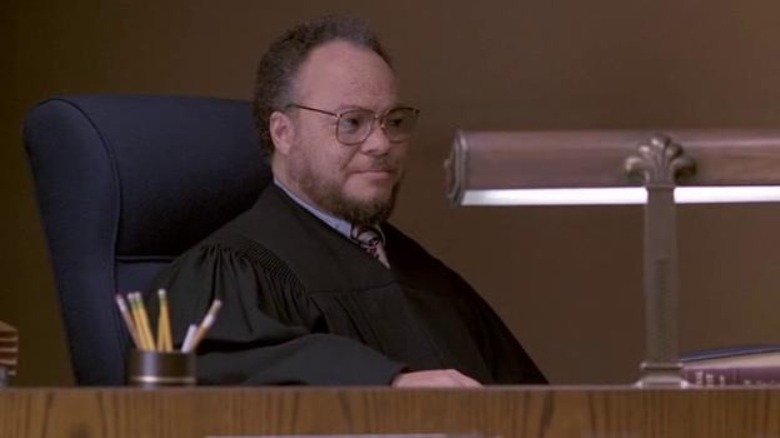 NBC
Kansas City-born actor Stephen McKinley Henderson is a legend of the American stage, having appeared in countless notorious theater productions over a 40-plus-year career. Although he's mostly identified with the theater — and, particularly, with the oeuvre of the great playwright August Wilson — Henderson has also made his fair share of TV and film appearances.
Like many actors of his generation, he often found work on the soundstage of NBC's "Law & Order," a show that brought on more illustrious guests than you could name throughout its history-making 20-year run. Starting in 1995, Henderson began to guest-star on the show as Judge Marc Kramer, a role he reprised with new spots in 2002, 2006, 2008, and 2010. In 1997, before Kramer had been established as a recurring presence in the show's universe, Henderson also appeared as another judge, one by the name of Gerald Mowat. This kind of role switcheroo wasn't unheard of for "Law & Order" — even star Jerry Orbach had previously guested as a defense attorney before taking on the permanent role of Detective Lennie Briscoe.
Henderson had one of the main roles on Fox's New Amsterdam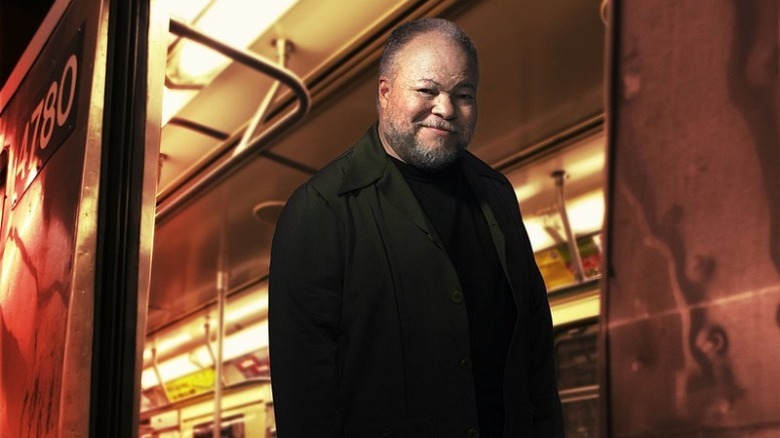 Fox
Before he was Jaime Lannister, Nikolaj Coster-Waldau had the opportunity to star on another fantasy drama series with a historical bent. But Fox's short-lived "New Amsterdam" — not to be confused with the ongoing NBC medical series — couldn't be more different from "Game of Thrones," starting with the fact that it was a police procedural, set in our world in the present day.
Coster-Waldau starred as John Amsterdam, an immortal NYPD detective born in 1607, back when New York City was still known by its former Dutch name. As with every show about immortality, "New Amsterdam" took advantage of its time-bending premise by wringing it for unusual dramatic scenarios, and one of them was the relationship between John and his 65-year-old son, Omar York, played by Stephen McKinley Henderson. The only one of his descendants who knew John's secret and stayed in touch with him, Omar was, in many ways, the heart of "New Amsterdam," and the scenes set at his jazz club, Omar's Bar & Grill, were among the few in which John allowed himself to open up about his woes.
He reprised his Tony-nominated work in the film adaptation of Fences
Stephen McKinley Henderson has particularly specialized in the works of August Wilson in his stage career (via The New York Times); his only Tony nomination so far came belatedly, in 2010, for the role of Jim Bono in the celebrated 2010 Broadway revival of Wilson's "Fences."
Along with Denzel Washington, Viola Davis, Russell Hornsby, and Mykelti Williamson, Henderson reprised his role in Washington's 2016 film adaptation of "Fences." Washington opted for as faithful an approach as possible in adapting the text to screen, and so, much like the play, the movie of "Fences" offered actors an opportunity to flex their acting muscles mightily, with sustained scenes of emotionally charged dialogue and numerous impassioned monologues. As the fellow garbage collector and best friend of protagonist Troy Maxson (Washington), Henderson offset Washington's tragic, imperious maximalism with a warm, subtle turn that illustrated the heartbreak Troy's behavior lay upon his loved ones. Much like Washington and Davis, he received several awards and nominations for the performance (via IMDb).
He had a small but brilliant part as Father Leviatch in Lady Bird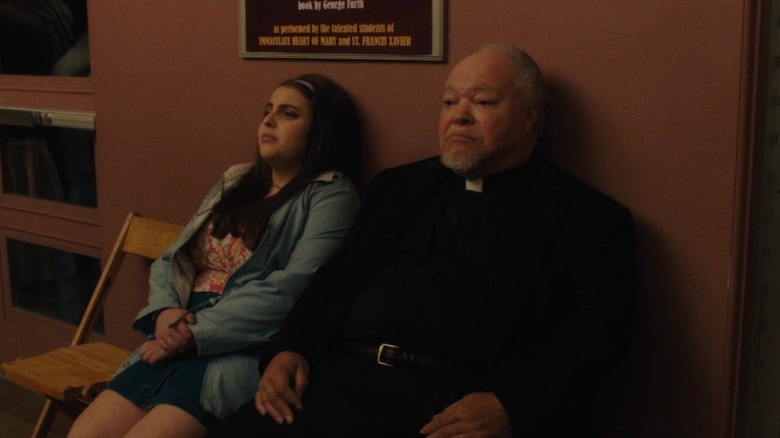 A24
It's no secret to anyone that Greta Gerwig's "Lady Bird" is one of the best-cast movies of the past decade, from the long-deserved dramatic showcase it provided for Laurie Metcalf to the coup de génie of casting the very Irish Saoirse Ronan as a born-and-raised Sacramento girl. But the best example of the brilliance of casting directors Heidi Griffiths, Allison Jones, and Jordan Thaler may have been the recruitment of Stephen McKinley Henderson.
Henderson had a relatively small part in the movie, appearing in only a handful of scenes as Father Leviatch, the teacher who's in charge of Immaculate Heart of Mary Catholic High School's theater program. Plagued by depression and unidentified personal troubles, Fr. Leviatch overcompensated by putting on a cheerful, energetic persona that didn't take long to crumble: "They didn't understand it," he mournfully scoffed at the play's audience of parents, in one of the film's most memorable lines.
Despite his limited screentime, Fr. Leviatch was, in a sense, one of the film's key characters; his scene with Lady Bird's mom provided crucial context for the two women's relationship, and the fact that we never learned much about his life added greatly to "Lady Bird'"s sense of messy reality. The movie needed the exact right actor to make the role sing with just a few lines, and Henderson pulled it off and then some, infusing his every little moment with multiple shades of drama and comedy.
He played a veteran member of the Devs team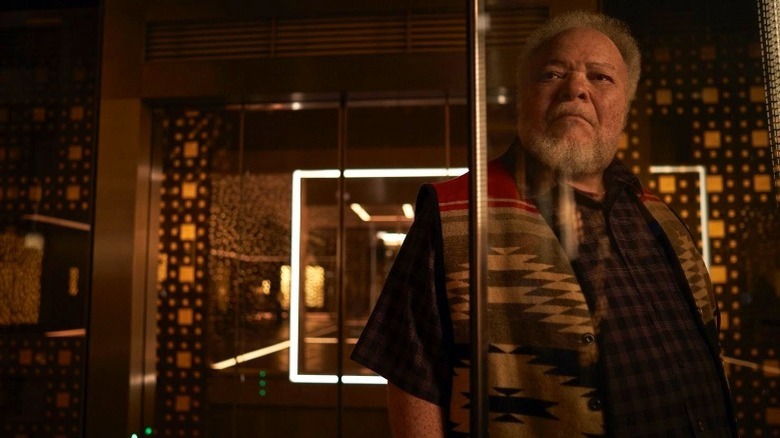 FX on Hulu
"Devs" was a visionary sci-fi miniseries that didn't receive nearly as much fanfare as it deserved when it aired on Hulu's FX hub in March-April 2020. Created, written, and directed by Alex Garland (of "Ex Machina" and "Annihilation" fame), and starring Sonoya Mizuno as a software engineer investigating the mysterious inner workings at her quantum computing company, "Devs" brought the tech-savvy and philosophical verve of Garland's film work into the time-tested realm of conspiracy thriller television.
Stephen McKinley Henderson starred on all eight episodes as Stewart, the oldest member of the dev team at Amaya and a close associate of its CEO, Forest (Nick Offerman). A highly cultured man and master coder, Stewart played a surprising role in the development of the series' intricate plot, while also providing plenty of moments of levity and grace through his intergenerational camaraderie with Lyndon (Cailee Spaeny).
Henderson loved the role, describing it as "something very special and rare" to Assignment X. "I read the theory of quantum physics and that ... but, really, the text is so great," the actor said. "Everything that you need to know, Alex has written it there, and it unfolds in such a wonderful way that the text was the best research you could have."