The Queen Victoria Period Piece Everyone's Loving On Netflix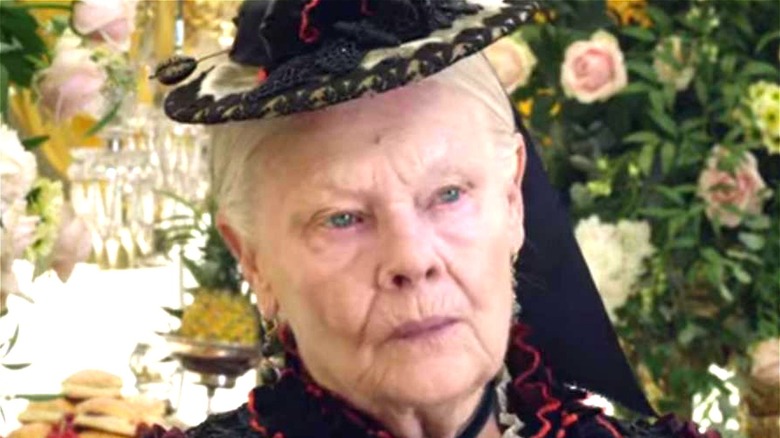 Focus Features
She's been a working actor since the late-1950s, but many film and television lovers outside of the United Kingdom didn't really become aware of the great Dame Judi Dench until the mid-90s. That is, after all, when the fiery actor made her first appearance as M in the James Bond franchise in 1995's "Goldeneye." She'd go on to play that role six more times and star in some of the most critically-adored movies. She's earned a whopping seven Academy Award nominations, scoring a Best Supporting Actress win with a show-stopping, almost comically brief turn as Queen Elizabeth I in 1998's "Shakespeare in Love." 
While Dench is only in "Shakespeare In Love" for just under eight minutes, her work as the Queen remains a legitimate highlight of the film. It wasn't the first time Dench had portrayed a royal on screen though. In fact, just the year before she'd earned a Best Actress Oscar nomination for her turn as Queen Victoria in the stirring biographical drama "Mrs. Brown." Almost 20 years later, Dench would again play the regal Queen Victoria in the 2017' film "Victoria & Abdul," which fans have been delighting in since it arrived on Netflix.
Victoria & Abdul is a charming tale of unexpected friendship based on actual events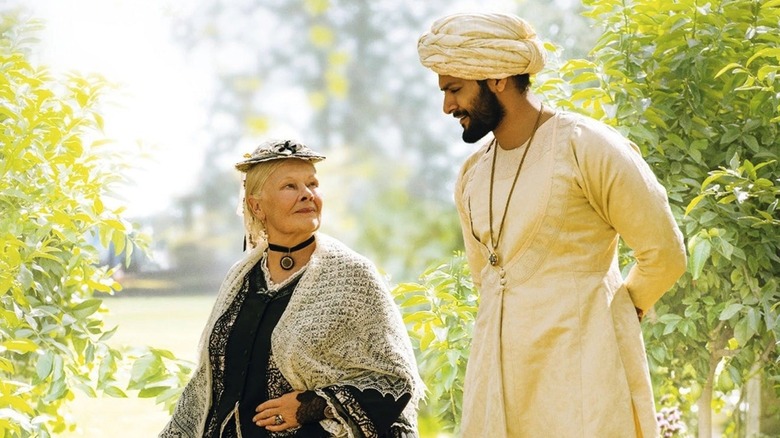 Focus Features
Whereas "Mrs. Brown" found Judi Dench portraying a younger, recently-widowed Queen Victoria struggling with her duties amid inconsolable grief, "Victoria & Abdul" centers on a lonely, fading monarch as weary of her position as she is her boorish courtiers. Into that insulated English drama arrives Abdul Karim (Ali Fazal), a charming prison clerk dispatched from British-ruled India to offer Her Majesty an opulent coin minted in honor of the Queen's Jubilee.
An outsider if ever there was one, Victoria is instantly taken with Abdul, and as the pair get acquainted, casual curiosity soon blossoms into a powerful friendship that threatened to turn the Queen's court on its head. Adapted from Sharbani Basu's historical novel of the same name and directed by Stephen Frears ("The Grifters," "High Fidelity," "The Queen"), "Victoria & Abdul" focuses much of its narrative on the unexpected central relationship, with Dench and Azal each delivering performances far more worthy of awards season attention than either received in 2017. Ditto for many in the film's supporting cast, which includes Eddie Izzard, Michael Gambon, and Olivia Williams.
While "Victoria & Abdul" fared well enough at the box office  (per Box Office Mojo) and holds a 66% Fresh rating on Rotten Tomatoes, it still feels like not enough people have seen this charming drama. Thankfully, a healthy Netflix run is now righting that particular wrong.