What AHS Fans Really Think Of Death Valley's Finale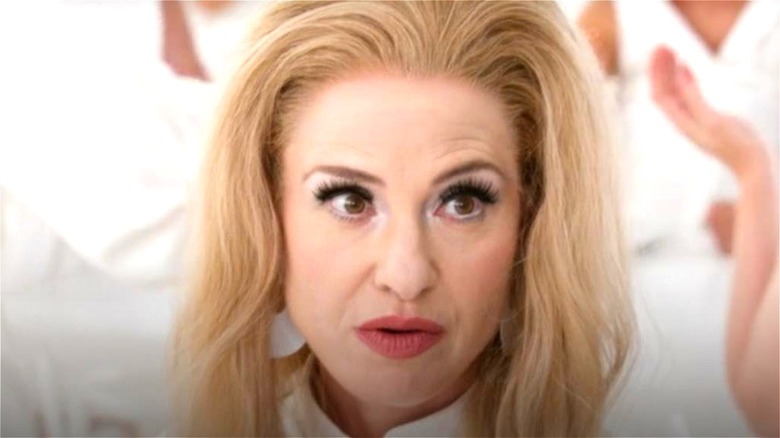 FX
Another season of "American Horror Story" is officially in the books. The anthology series' latest offering, titled "Double Feature," was its first attempt at splitting a season in half and exploring two separate themes in one go.
"Red Tide," the name for the season's first six episodes, traces the side effects of a military-grade, talent-enhancing pill as it is distributed throughout a quiet beachside community. Although a select few thrive after taking the pills, most users become pale, bloodthirsty vampires. Meanwhile, the season's last four episodes, known collectively as "Death Valley," explore political conspiracies about the moon landing, Marilyn Monroe's death, and the existence of aliens. Ultimately, the season reveals that its politicians and aliens are working together to create a perfect hybrid of their species, which they manage to achieve at the end of the season, by abducting and impregnating American citizens.
With the season over, reviews continue to roll in for the latter half of "Double Feature," and fans on the show's subreddit have been quick to share their reactions to the season's last installment on a discussion thread dedicated to the episode. So, what do "American Horror Story" fans think of the "Death Valley" finale?
Death Valley left American Horror Story fans wanting more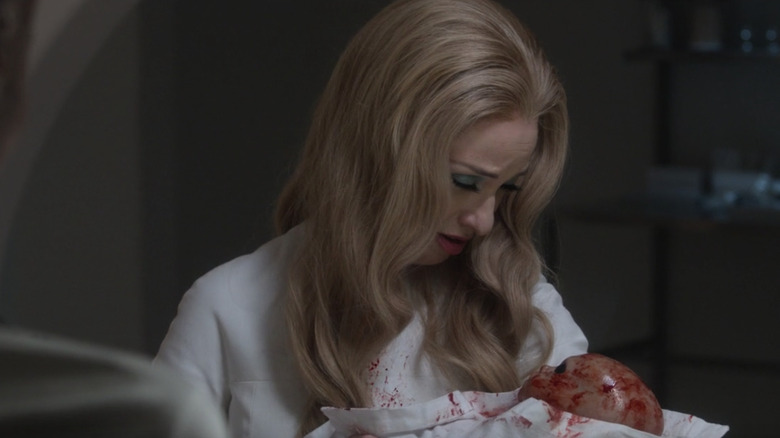 FX
"Was that ending... an accident?" asked u/charlesluka94. "Like did they accidentally cut the rest of the episode?"
Questions like this kept popping up all over the "American Horror Story" subreddit's discussion thread for the "Death Valley" finale. Indeed, "American Horror Story" fans have been left in disbelief over how abrupt the season's ending was, asking questions like, "Is there another episode next week?" and "Did I miss the ending?" 
It's not hard to see why fans feel this way about the episode. "American Horror Story" Season 10 concludes with Calico (Leslie Grossman) helping deliver one of the season's "perfect" hybrid babies, and the finale's last shot is of her holding the creature while its massive wet eyes blink up at her. It's an undeniably unsettling scene, but fans found the episode's lack of an epilogue or more dramatic final moment to be jarring, especially coming off the lengthy monologue about fame and success that was given at the end of "Red Tide."
"I feel like I just got stood up on a date," wrote u/Nitsua-Nat, while some fans joked that they can't believe they keep coming back to "American Horror Story" after several admittedly disappointing season finales. Other Redditors questioned how "Death Valley" was connected to "Red Tide," with some users speculating that the season's second half is secretly a bad script written by Harry Gardner (Finn Wittrock). To that theory, u/MKoz628 responded, "There's no way this was written by someone on the pill." Meanwhile, u/terminaljive joked, "It feels like the finales for both parts this season were written by pales."