Finn Wittrock Reveals The Biggest Influence On His AHS: Double Feature Role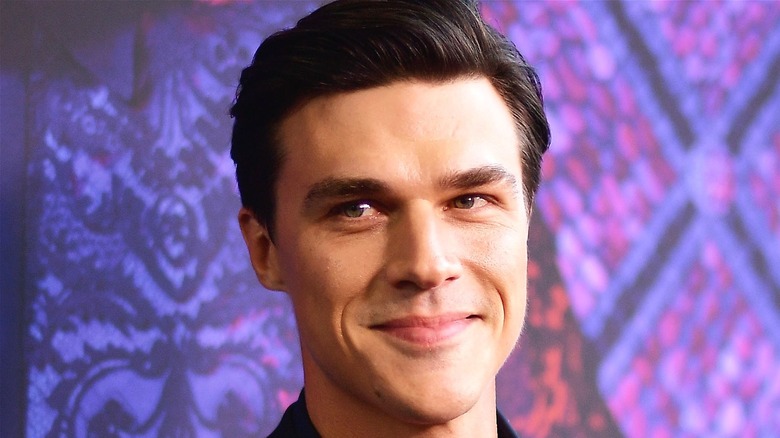 Matt Winkelmeyer/Getty Images
"American Horror Story," the long-running FX horror anthology series created by Ryan Murphy and Brad Falchuk, is mere days away from the premiere of its tenth season. The upcoming season, titled "Double Feature," will be split into two parts — "Red Tide" and "Death Valley" — which will each have their own storylines, which is a first for "American Horror Story" in terms of their format.
While the details of "Death Valley" have been kept under wraps, we do have some information about "Red Tide," which will premiere on August 25, 2021. The trailer, which was released mid-August, revealed some insight into the plot of "Red Tide," which will focus on a young family moving to a beach town so that the father, Harry Gardener (Finn Wittrock), can better focus on his screenwriting career. As expected with "AHS," things quickly turn sinister and strange. Other cast members include many returning "AHS" players — such as Lily Rabe, Evan Peters, Adina Porter and Billie Lourd — as well as some new faces, including former child star Macaulay Culkin.
The actor at the center of the plot, Wittrock, recently gave an interview about his time working on "American Horror Story: Double Feature," including which film served as the biggest inspiration for him.
Wittrock cites a horror classic as his inspiration
In an interview with Entertainment Weekly, Finn Wittrock discussed his major inspiration for getting into the mindset of a devoted writer and family man (possibly in that order), who moved to an isolated location — and cinephiles can likely guess what the actor said.
Wittrock told EW, "'The Shining' is one of my favorite movies of all time, so it's never far off my mind. I don't think I gave it a specific rewatch for this, but it was definitely in my thoughts as I was working on [the season]. The type of fear that 'The Shining' induces is the type of fear we're going for, which is, I guess, fear of the unknown."
Even the trailer feels reminiscent of the classic 1980 film, so fans who enjoy both "The Shining" and "AHS" will likely be completely sucked into "Red Tide" as soon as it premieres. Wittrock also described that this upcoming season of the series will align more with psychological horror than previous seasons have, which is also in line with the tone of "The Shining."
Wittrock concluded, "There's monsters outside and then there's monsters inside. Which one is scarier? It's a good question."
"American Horror Story: Double Feature" will premiere this Wednesday on FX.