Robert Pattinson Wasn't The Only One To Don Val Kilmer's Batsuit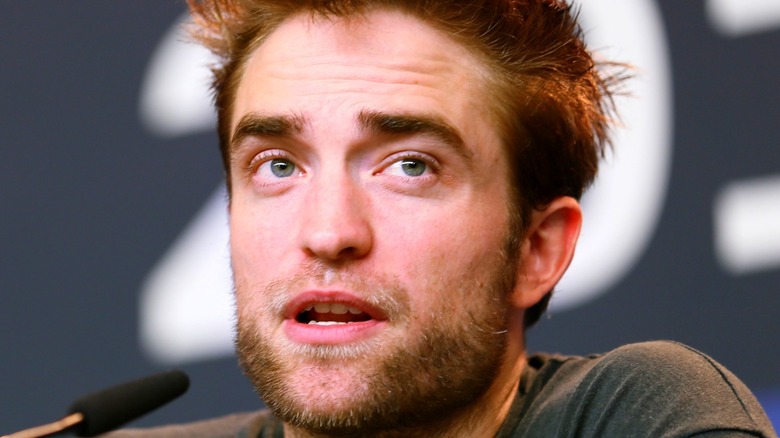 Denis Makarenko/Shutterstock
DC FanDome recently gave fans their best look yet at Matt Reeves' upcoming reboot, "The Batman" — which follows a young Bruce Wayne (Robert Pattinson) as he goes up against the Riddler (Paul Dano) in a grimy, noir version of Gotham City. He's joined by the likes of Zoe Kravitz's Catwoman, and Andy Serkis as his faithful butler, Alfred Pennyworth. The dramatic new trailer also teased how durable the hero's costume is, as he fends off multiple gunshots from attackers in one visually stunning tunnel fight, and he also uses his gauntlets to shock a skull-faced goon mid-brawl. Pattinson is definitely bringing some ferocity to his performance.
Matt Reeves told audiences at DC FanDome 2021 that the star did his first screen test wearing a previous Batsuit. "[Rob] was wearing, I believe, Val Kilmer's Batsuit. Which by the way, the moment you put it on was kind of a crazy moment" (via Polygon). 
It's definitely a little strange, since Kilmer's version of Batman prowled a much wilder, fantastical version of Gotham City, whereas Pattinson's take on the character is very much a product of this grungy new world. However, the former "Twilight" star wasn't the only Batman actor who has stepped into Val Kilmer's Batsuit for their screen test.
Christian Bale, Cillian Murphy and Eion Bailey all wore Kilmer's costume
When casting a new Batman, Warner Bros. obviously needs to see how a potential Bruce Wayne looks wearing the cape and cowl. And when it came to casting the hero for Christopher Nolan's trilogy, there were several actors who stepped into the suit — yes, the Val Kilmer suit — to see if they fit the bat-bill. 
A compilation of these screen tests can be seen on YouTube, and they're fascinating to watch. First up is the man who wound up landing the role, Christian Bale, who shows off his brooding intensity opposite Rachel Dawes — before growling in a goon's face to prove he can be an intimidating force of justice. Clearly, this screen test paid off.
Next is Cillian Murphy, who clearly impressed Christopher Nolan with his auditions — since he's worked with him on a number of projects since "Batman Begins." The Scarecrow star briefly got a chance to growl at the same goon from the scene where the Dark Knight assaults the docks (although most of the footage shows what his Bruce Wayne would've been like). Finally, "The Stand" star Eion Bailey dons Val Kilmer's Batsuit for the same scene, directly telling the thug to "Swear to me!" The line is familiar, though it isn't quite as intense as Bale's guttural threat.
Hopefully, when "The Batman" eventually arrives on home video, the DVD and Blu-Ray will feature similar behind-the-scenes footage of the film, including Robert Pattinson's screen test. But for now, fans will just have to wait until March 4, 2022 to see more from "The Batman."