The Ending Of You Season 3 Explained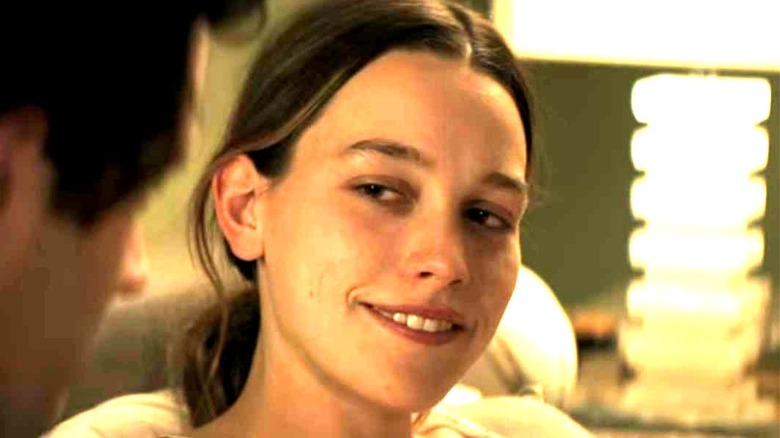 Netflix
Hello, "You" fans. Season 3 of the Netflix psychological thriller has finally arrived, giving viewers even more suspense-fueled drama than ever. This time, the series finds Joe Goldberg (Penn Badgley) and his wife, Love (Victoria Pedretti), acclimating to life in the suburbs while dealing with being new parents and simultaneously trying to put their dark pasts behind them. Of course, their efforts are all for naught when Joe's obsessive nature and Love's violent impulses drive their lives into a tailspin, threatening to burn down everything they've built together. Marriage is hard work, as Joe and Love soon discover — but what's even harder is trying to hide your psychopathic tendencies from your new neighbors.
The third season of "You," like the two seasons before, is a roller coaster ride of high emotions and hair-raising tension. In true "You" fashion, the final episodes of the new season also leave viewers with a shocking conclusion that already has them begging for more.
Now, it's time to break things down and explain how the end of "You" Season 3 changes things for the series going forward.
A crazy thing called Love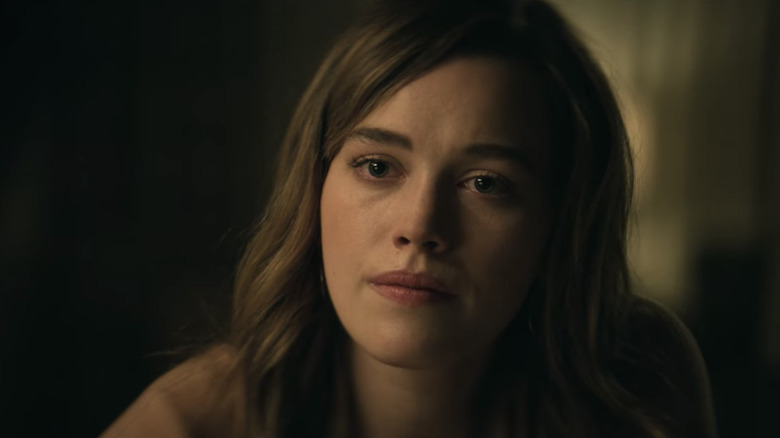 Netflix
In "You" Season 2, Love Quinn is introduced as a young woman born from wealth and privilege. Her skills in the kitchen and eccentric personality are what first draw Joe to her, but in the end, she reveals herself to be just as much of a mess as Joe is, which, in a kind of sick way, makes them perfect for each other.
Fast forward six months later to the beginning of "You" Season 3, when Love and Joe are busy adjusting to their new life in Madre Linda, a cozy suburb filled with some of the most elite members of the pretentious and privileged. All Love wants to do is fit in and she tries to do just that — making friends with one of the Alpha members of the pack, a social media guru named Sherry Conrad (Shalita Grant). Meanwhile, the stepson of their neighbor — a young man named Theo (Dylan Arnold) — is drawn to Love, and gives her the attention she feels she is sorely lacking. Ultimately, Love has an affair with Theo (ew), a relationship that's just even more complicated by the fact that Love murdered his stepmother, Natalie (Michaela McManus), in a fit of jealousy after discovering that she was the newest object of Joe's obsession.
But it seems like no matter how hard she tries, Love just can't seem to hold onto Joe. When she finds out that Joe has fallen in love with his new boss, she resolves to do whatever she must to keep him from leaving her — even if it means killing him. Her plan backfires, however, when Joe sees it coming and puts his own plan in place, one that ends with Love dying instead of him.
All Love ever wanted was a loving family, yet her need to control everything around her (and her ironic lack of self-control) is what ultimately leads to her own downfall.
Joe can't seem to let go of old habits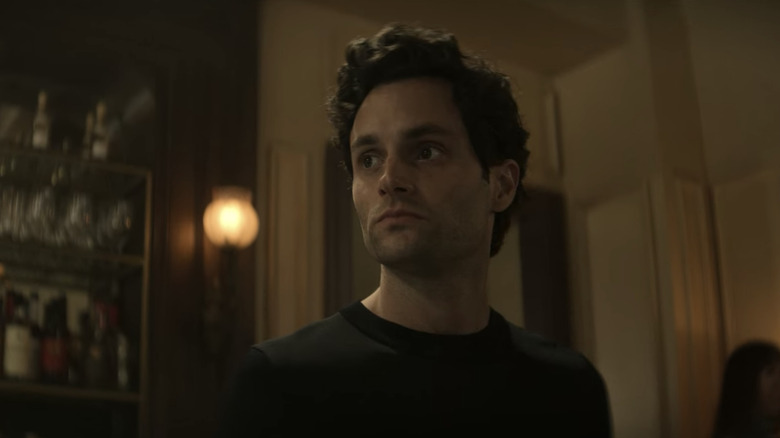 Netflix
Throughout "You" Season 3, we are shown a series of flashbacks of Joe's life as a young man, and specifically, when he spent time in a government home for boys. It was there that he dealt with loneliness, all while wondering why he was abandoned by his mother. The more we learn about Joe's childhood, the clearer it becomes what the origins of his obsessive tendencies were, as well as why he can't seem to shake them. Like Love's impulsive actions across the series' latest 10 episodes, Joe's flashbacks help foreshadow where it is that he ultimately ends up when "You" Season 3 comes to a close.
Although he tries to make his marriage work, the season sees Joe, once again, unable to curb his obsessive impulses. At the start of the season, his obsession is directed towards his neighbor, Natalie, but is later redirected towards Marienne (Tati Gabrielle), the local librarian. Joe falls hard for Marienne and immediately begins plotting about how to get out of his toxic marriage to Love. However, Joe's final actions of the season aren't completely selfish. In the end, he does what is best for Henry by leaving him with a better family.
The season then ends with Joe successfully freeing himself from the shackles of marriage and fatherhood on his quest to begin a new life with Marienne. His journey takes him to Paris, France, and as the "You" Season 3 finale's credits roll, he disappears into a crowded Parisian sidewalk while ominously promising that he will find what (and who) it is that he's looking for.
What happens when Joe does find Marienne, however, is a question that will have to remain unanswered until Season 4 of "You" is released.