The Izzie Scene That Went Too Far On Grey's Anatomy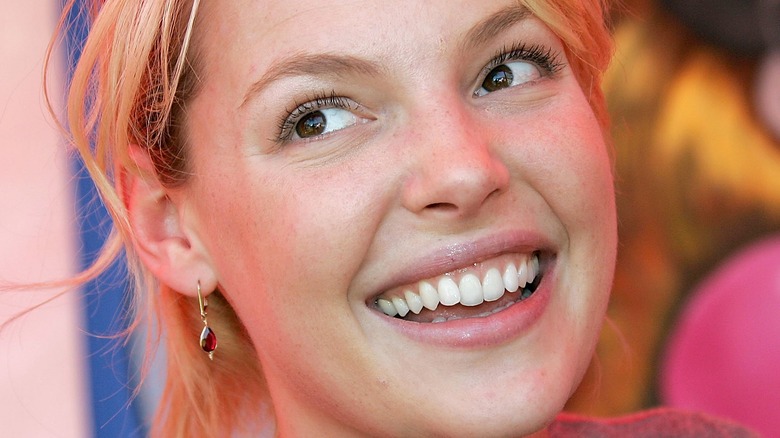 David Livingston/Getty Images
"Grey's Anatomy" has always been known for its over-the-top storylines. Since its debut in 2005, the ABC medical drama has logged nearly 400 episodes mainly set at the fictional Grey Sloan Memorial Hospital in Seattle, per IMDb. 
From the get-go, fans fell in love with OG interns Meredith Grey (Ellen Pompeo), George O'Malley (T.R. Knight), Cristina Yang (Sandra Oh), Izzie Stevens (Katherine Heigl), and Alex Karev (Justin Chambers), but even in the 1st season, things seemed a little ... farfetched. Some of the outlandish scripts during the show's 18 seasons have included icicle stabbings, inexperienced interns performing solo surgeries, and, yes, ghost sex. There was also a bizarre musical episode that some viewers are still trying to forget ever happened.
E! Online has noted that some of the executive producers on "Grey's Anatomy" are trained doctors that have had to defend many of the extreme or rare medical situations that have taken place on the show, despite the near-impossible chance that so many rare scenarios could happen at one hospital. A medical expert roundup by Insider graded "Grey's" a 4 out of 10 when it comes to medical accuracy, with one them noting, "You would never see an intern performing surgery solo, hospital superiors being bypassed, and residents constantly making mistakes without facing appropriate repercussions."
Writers definitely missed that memo when they penned a script for one episode that went way too far with a scene involving Izzie.
A Season 4 Grey's Anatomy episode featured Izzie treating an animal
The 4th season of "Grey's Anatomy" kicked off with the episode "A Change is Gonna Come." In the episode, Izzie Stevens (Katherine Heigl) ended up treating a deer that was hit by a car. That's right, she treated a deer and not a human –- on her first day as a resident, when she was supposed to be mentoring her own batch of interns.
According to a recap from the Grey's Anatomy Fandom, Izzie succumbed to the pleas of a little boy who begged her to save the injured deer. Izzie hooked up an IV and defibrillated the animal back to life — on the back of a pickup truck. The deer stood up and all was well –- well, sort of. Bambi wasn't admitted to the hospital, but she was taken away by animal control.
The episode was roasted by fans of the show. In a Reddit thread, one viewer, u/stonecarrion655, chastised Izzie for wasting "hospital resources on a deer." Another user, u/CindyLouW, wrote, "The worst part about that episode is the fact that the truck bed would have transmitted the electric shock to everyone in contact with it. So Stupid."
Even Heigl was confused by the script. The '"Grey's Anatomy" star told Entertainment Weekly that showrunner Shonda Rhimes was always "really great" about giving her the backstory on what her character was thinking ahead of a scene. However, that wasn't always the case. "But on the page sometimes you're like, 'I'm sorry, what? What do you mean she's saving a deer? Wait, she's shocking it back to life?! Hold on now!'" she added.