Emma Kenney Confirms What We All Suspected About Emmy Rossum's On-Set Behavior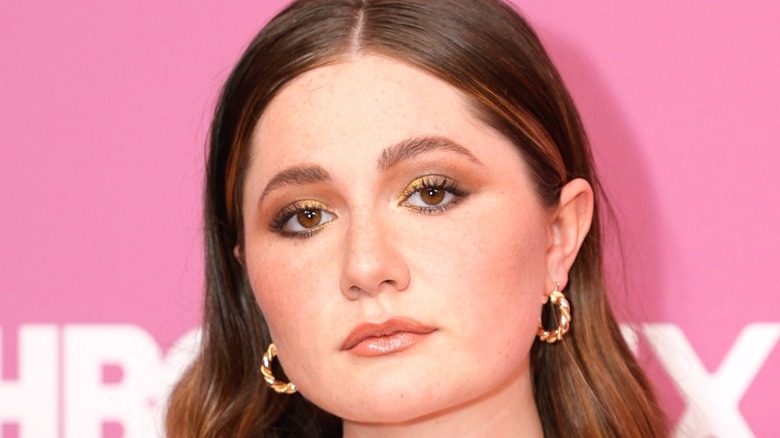 Michael Loccisano/Getty
After 11 seasons, the saga of the Gallagher family on Showtime's "Shameless" finally crossed the finish line in a last episode that brought some closure (and plenty of intentionally loose ends) for characters on the long-running show ... with one noticeable exception. Nowhere to be seen was Fiona (Emmy Rossum), formerly the star of the series. And while the real reason that Rossum didn't return for the series finale may have had more to do with COVID-19 than anything else, costar Emma Kenney hinted at deeper issues that fans have suspected for years.
Fiona was a central figure in the Showtime series for much of its run, but fans said goodbye to the character when Emmy Rossum left "Shameless" after Season 9. While the actress' portrayal of Fiona was considered such a crucial part of the show that many viewers wondered if "Shameless" Season 10 would be doomed without Rossum, rumors about a demanding on-set demeanor and strained relationships with costars have persisted throughout her career, as noted by fans on Reddit.
Kenney played the role of Fiona's younger sister Debbie for all 11 seasons of "Shameless" and recently spoke about Rossum's impact on set and how the atmosphere of the production changed after Rossum departed the show. 
Emma Kenney said Rossum was like a sister 'in both good and bad ways'
During an appearance on the Call Her Daddy podcast, Emma Kenney opened up about her time working with Rossum and how it impacted her experience on the show (via Deadline). Kenney, who joined "Shameless" when she was 10 years old, said she remembered that the cast and crew "100% felt like a family, and we still do."
That sentiment extended to Rossum, although Kenney noted that dynamic existed "in good and bad ways." Kenney continued, "We were both so young, I was obviously a lot younger. There were times where she would try to be a good influence and then there were times where she would be blatantly giving me...not the best advice." Kenney also remembered that she sometimes felt that Rossum was dealing with "her own inner problems" and that her negative behavior may have been a result "of her taking it out on other people."
Their relationship occasionally took on a competitive nature, despite the over 10 years of age that separated the two actresses. The issue reached a point that Kenney remembered a feeling of relief when Rossum left "Shameless," explaining, "the set became a little bit more of a positive place."
While Kenney is no longer in touch with Rossum, she wishes her former costar well, stating, "I have a lot of love for her, and I hope that she finds her happiness." Hopefully, with "Shameless" officially in the past, both actresses can move on to other successful and happier work environments.