Why Martin Baxter From Legacy Of Lies Looks So Familiar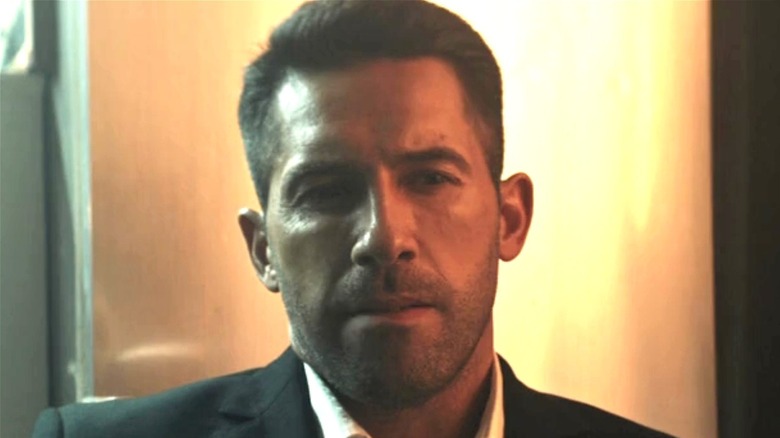 Lionsgate Home Entertainment
Unless you're John le Carré, you don't bring long-retired secret agents back into the fold just to push papers. Instead, it's likely because, as we say these days, they have a very particular set of skills.
Retired MI6 operative Martin Baxter spends much of the 2020 action film "Legacy of Lies" exercising said skills with extreme prejudice. Working with a Ukrainian journalist to expose a global espionage conspiracy, Baxter engages in fistfights, gunfights, and that special John Wick-style combination of the two. The movie's tagline is, "No Mercy. No Trace. No Survivors," which tells you just about everything you need to know.
Meanwhile, British actor and martial artist Scott Adkins has done just about everything except retire over the last two decades. Working at a breakneck pace, Adkins has accumulated more than 60 screen roles in just over 20 years (via IMDb). His various credits truly run the gamut as well, spanning everything from direct-to-video titles to major blockbusters, and he's even landed some roles that might surprise you. But above all else, he's best known for kicking butt. 
Inverse calls him "the last of the great action stars," and he's spent much of his career building that legacy by working with some of the all-time greats, including Jackie Chan, Jean-Claude Van Damme, Tony Jaa, and many, many more. With that in mind, here's what you may have seen him in before.
Scott Adkins played the champ in Undisputed II: Last Man Standing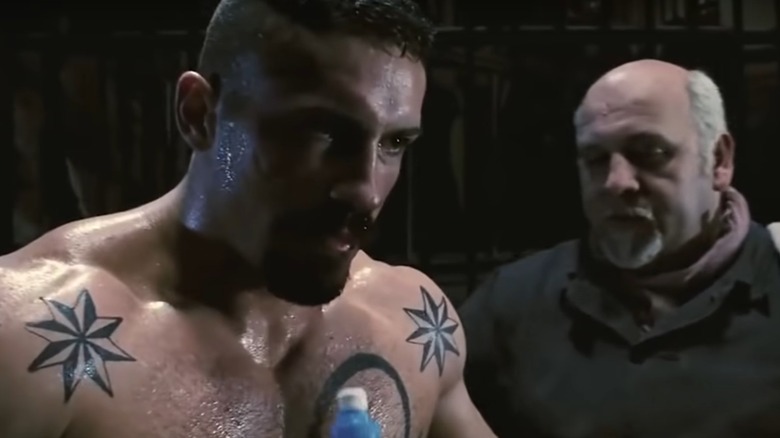 New Line Home Entertainment
After doing a couple of episodes of British television early in his career, Scott Adkins got his start as an action star in 2001's "Extreme Challenge." That led to him working with Jackie Chan in 2003's "The Medallion" and Jet Li in 2005's "Unleashed," but he got his real big break in 2006 when he was cast as Michael Jai White's chief opponent in the prison-set martial arts sequel, "Undisputed II: Last Man Standing."
The film sees Adkins playing Yuri Boyka, an MMA expert who reigns over the illegal fighting circuit that operates within the Russian prison where he's incarcerated. When White's former boxer, George "The Iceman" Chambers, finds himself framed for a crime and locked up in the same prison, the pair are set on a collision course that leads to Chambers ultimately breaking Boyka's knee and emerging triumphant.
However, a funny thing happened in the aftermath of the film's direct-to-video release. Boyka, and Adkins' performance as him, proved popular enough to produce another sequel, 2010's "Undisputed III: Redemption," which casts Boyka as its protagonist and follows him as he tries to overcome his injured knee and win another prison tournament. In 2017, another sequel, "Boyka: Undisputed," was released, cementing the character's place as the hero of this most unlikely of franchises.
Scott Adkins played a different kind of villain in Holby City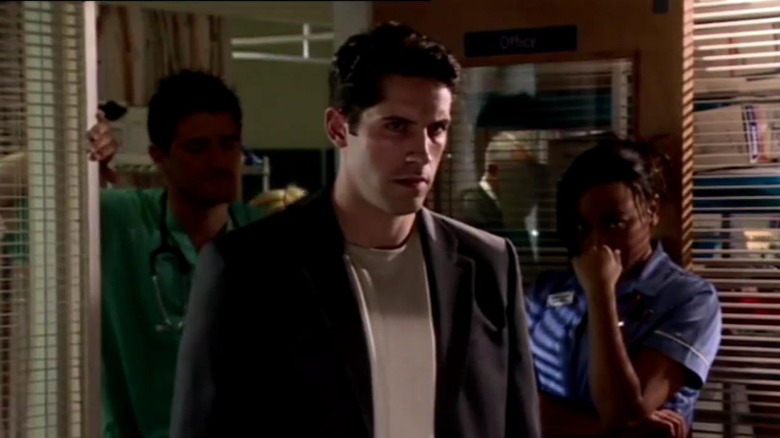 BBC One
Even after getting his start in Hong Kong and earning some big-time roles in low-budget action fare, there was another side to Scott Adkins' early career that might be surprising to people used to seeing him kicking and punching. Indeed, his first few years as an actor saw him taking a number of conventional recurring roles on British television series and soap operas, such as when he played Assistant General Manager Bradley Hume for nine episodes of the long-running British medical drama, "Holby City."
Throughout his one-season run on the show, Adkins' Hume is very much a bad guy. One of the character's pet projects is cutting costs at Holby City Hospital, which does not make him very popular. Meanwhile, the staff's opinion of him gets even worse when it's discovered that not only are the pharmaceutical supplies he oversees full of low-quality medications but that he's also been receiving bribes from pharmaceutical companies.
In addition to "Holby City," Adkins also appeared in six episodes of "EastEnders," two of "Hollyoaks: Let Loose," and had a regular role in the second season of the airline drama, "Mile High."
Scott Adkins backed up Jean-Claude Van Damme in The Expendables 2
One of the reasons Scott Adkins has stayed so busy is because he's been willing to throw himself into every possible lane that an action star (and even a non-action star) might find. Sometimes he's a leading man, as in "Legacy of Lies," and sometimes he's the fearsome villain like he is in "Undisputed II." However, sometimes Adkins has been happy to play nothing more than a formidable henchman.
That was the case in "The Expendables 2," in which Adkins plays Hector, the right-hand man of Jean-Claude Van Damme's plutonium-trafficking mercenary kingpin, Vilain. His role in the film resulted in Adkins getting to engage in a big climactic fight with fellow British martial artist, Jason Statham. During the "Expendables 2" sequence in question, the pair battle around the edges of a helicopter in what feels like a more elaborately choreographed callback to the famous airfield fight scene in "Raiders of the Lost Ark." Odds are, you can probably guess how it ends for Hector.
But "The Expendables 2" is far from the only time that Adkins has played a minion in a big-budget film. He also fought Jason Bourne (Matt Damon) briefly in "The Bourne Ultimatum," and appeared in Marvel's "Doctor Strange" as Lucian, an acolyte of Kaecilius (Mads Mikkelsen), who gets in some fights with Stephen Strange (Benedict Cumberbatch) throughout the film.
Scott Adkins journeyed to the heart of darkness in Universal Soldier: Day of Reckoning
By the time he starred in "The Expendables 2," Scott Adkins had already proved that he had leading man potential, particularly in direct-to-video action films. After all, in addition to the 2010 "Undisputed" sequel, he had previously headlined 2009's "Ninja" and 2012's "El Gringo." That said, he got to prove his leading man capabilities again in 2012 in a film that reunited him with his "Expendables" co-stars, Jean-Claude Van Damme and Dolph Lundgren, titled "Universal Soldier: Day of Reckoning."
A sequel to the direct-to-video film, "Universal Soldier: Regeneration," "Day of Reckoning" stars Adkins as John, a purportedly ordinary man haunted by visions of Van Damme's super-soldier Luc Devereaux, who he believes killed his family. The movie, predictably, boasts some thrillingly constructed action sequences. While the film earned largely mixed reviews as well (via Rotten Tomatoes), the positive ones were surprisingly enthusiastic, with select critics even comparing it to something David Lynch might have made.
In their review of the film, The A.V. Club wrote, "This odd specimen has already been championed as a difference-splitter between the dollar bin and the hardcore arthouse." Additionally, the outlet went on to compare Van Damme's Devereaux to Marlon Brando's Col. Kurtz from "Apocalypse Now." For those curious, that would also make Adkins' John the Captain Willard of "Universal Soldier: Day of Reckoning," which is a pretty interesting hook for what seems like nothing more than an ultraviolent action movie on its surface. 
Scott Adkins played the final boss in Ip Man 4: The Finale
Nowadays, Scott Adkins' profile has risen to the point where he's usually playing the main (or co-lead) villain in larger productions. In 2015, for example, he played the villainous former Navy SEAL known as "Tom Cat" in the Chinese blockbuster, "Wolf Warrior." In 2019, he played the terrorist Collins in "Triple Threat," going up against stars Tony Jaa, Iko Uwais, and Tiger Chen all at once. That same year he also returned to Hong Kong to take on the role of the final opponent in Donnie Yen's "Ip Man" series: Marine Gunnery Sergeant Barton Geddes in "Ip Man 4: The Finale."
The "Ip Man" franchise is all about the defense of Chinese honor and Chinese martial arts. Adkins' Geddes, meanwhile, is a racist karate enthusiast eager to beat Ip Man and prove his superiority over the legendary figure. Their final battle, which is set in a military base outside of San Francisco, California, and features soldiers standing at attention in the background, looks like a "Street Fighter" match brought to life on film. The fight was choreographed by the legendary action choreographer Yuen Woo-Ping, and it lives up to his previous work on films like "Fist of Legend," "The Matrix," and "Crouching Tiger, Hidden Dragon."
Reflecting on his experience making the film, Adkins told the South China Morning Post that coming back to work in the environment in which he first trained took some adjusting. "I almost forgot how difficult it is, and what's expected of you physically," the action star said. "It's not enjoyable at the time. What is enjoyable is the finished product."