The Dark Spy Thriller That Has Netflix Subscribers' Pulses Pounding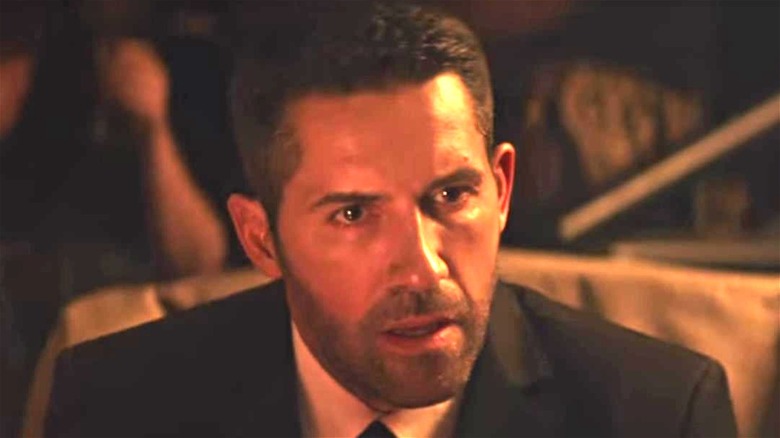 Lionsgate Home Entertainment
If there's one thing Netflix subscribers love, it's "Squid Game." If there's a second thing Netflix subscribers love, it's direct-to-DVD-style action movies. Indeed, some kind of action flick is never far from the streaming service's daily Top 10. Recent third-party action and espionage movies that have popped off on Netflix include "SAS: Rise of the Black Swan," which stars Sam Heughan as a British special operative fighting a mercenary played by Ruby Rose, and "Dead Man Down," which stars Colin Farrell as a man infiltrating an organized crime family to get revenge on the boss for killing his wife and daughter.
Today, the action movie hanging out near the top of the streaming service's the Top 10 list is a dark spy thriller that's a treat for fans of pure, unadulterated action. The flick is currently sitting at #2 on Netflix's movies list, behind the heist comedy "Going in Style." (There are no movies in Netflix's overall Top 10 at the moment, only TV series and specials.)
The film in question is "Legacy of Lies," which stars one of the world's most underrated action stars, Scott Adkins, who can also be seen in other Netflix action hidden gems like "The Debt Collector" and "Avengement."
Legacy of Lies is a straightforward action thriller
"Legacy of Lies" is an action-packed espionage thriller with an anti-Kremlin political message. Scott Adkins plays Martin Baxter, an ex-MI6 agent whose wife died, leaving him haunted and forced to raise their daughter (Honor Kneafsey) by himself. Unable to be anything other than a rough ex-MI6 guy, he takes her to his underground MMA fights and teaches her how to shoot guns in an abandoned warehouse. You know, just traditional father-daughter stuff.
Martin's forced back into the fight when his daughter is kidnapped by Russian operatives, and he has to team up with a Ukrainian reporter (Yuliia Sobol) to find a video that implicates the Russian government in her abduction. The movie is written, directed, and produced by Adrian Bol. It was filmed on location in London and Kyiv, Ukraine (via IMDb).
Adkins himself is a British martial artist who has carved out an impressive niche as a prolific star of direct-to-VOD action movies. He does a lot of his own stunts, and his fight choreography is among the best you'll see outside of the "John Wick" movies. (Notably, he's actually slated to appear in "John Wick 4.") His movies have low budgets but never feel cheap because they're shot well and have such exciting action.
"Legacy of Lies" has an 86% Tomatometer rating on Rotten Tomatoes, with critics largely praising it for its action scenes, not its story, which you've likely seen a million times before. With that in mind, if you're looking to watch something that will simply get your pulse pounding, "Legacy of Lies" will certainly do the trick.