Movies Like Instant Family Dramedy Fans Need To See
Often the best and most memorable films are the ones that make you laugh or cry, and it's even better if they can make you do both. "Instant Family" is definitely a movie that fits into this category. Proving to be a surprise hit in 2018, this dramedy tells the story of Pete and Ellie Wagner (Mark Wahlberg and Rose Byrne), two house flippers who get more than they bargained for with their latest project — adopting three kids!
The film doesn't shy away from the complexities and difficulties of adoption, and it received praise from critics for its honest portrayal, warmth and surprisingly tender approach to the subject. There are also plenty of laughs to be had, with some mischievous kids, overbearing grandparents, and Pete and Ellie's often haphazard — but well-intentioned — approach to parenting.
"Instant Family" is one of those films that offers the best of both worlds, pulling on your heartstrings while also making you cry with laughter. If you enjoyed this charming film, there are plenty more just like it to discover!
Eighth Grade
Let's face it, being a teenager is incredibly awkward. However, not many films tap into the toe-curling truth of being an adolescent quite like Bo Burnham's "Eighth Grade." Elsie Fisher plays the introverted Kayla, trying to survive her final week of middle school, in a film that depicts the brutal honesty of this tumultuous phase of life.
The film delicately toes the line of hilarity and heartache, and the crushingly realistic portrayal of teen life will either have you laughing or looking away in horror ... and sometimes both at the same time. Trust us, you'll never be able to look at a banana in the same way again!
As well as exploring the awkwardness of teen life, the film also doesn't shy away from its depiction of mental health conditions, particularly anxiety. Few movies absolutely nail what it feels like to suffer with anxiety in a way that feels so real, but "Eighth Grade" succeeds without feeling cloying or melodramatic.
"Eighth Grade" is the perfect example of a dramedy, and much like "Instant Family," it features memorable and endearing performances from its young stars. Elsie Fisher is relatable, watchable, and awkwardly hilarious, and as you'd expect from a Bo Burnham film, the writing is absolutely impeccable.
About a Boy
Starring a very young Nicholas Hoult alongside a starry cast including Hugh Grant, Toni Collette, and Rachel Weisz, this 2002 dramedy is a real hidden gem! Hugh Grant plays Will Freeman, a 30-something slacker who somewhat reluctantly strikes up an unlikely friendship with Marcus Brewer (Hoult), a kid he accidentally meets when he decides to start pursuing single mothers as his latest dating conquest.
Much like the dysfunctional family dynamic in "Instant Family," this film delivers a memorable odd couple in Will and Marcus as their extreme differences start to bring out the best in each other. Effortlessly cool Will helps Marcus deal with his bullies, as well as providing some respite from him dealing with his chronically depressed mother. Conversely, Marcus is able to help Will mature and see that there's more to life than just himself.
Much like Lizzy (Isabela Merced) in "Instant Family," Marcus is wise beyond his years, having dealt with some pretty traumatic events in his childhood. "About a Boy" shows the harsh realities of this yet also provides genuine joy in its portrayal of Will and Marcus' unique yet endearing friendship.
Juno
It takes a special kind of film to explore the difficult matter of teen pregnancy in such a considered and wonderful way, but "Juno" is definitely a film that succeeds on all fronts. Where "Instant Family" explores the journey of the kids being adopted and their prospective parents, "Juno" instead focuses on the teen mother who decides to give her unborn child up for adoption.
Thanks to the razor-sharp script from Diablo Cody and the wonderfully offbeat performance from Elliot Page as Juno, the film is hilarious while also tackling some huge topics that aren't often depicted on-screen. There's a surprisingly sweet romance between Juno and the father of the child, Paulie (Michael Cera), which adds some emotional weight to the film, and an incredibly moving and honest performance from Jennifer Garner as the prospective adoptive mother, Vanessa.
Many films show adoption in an unrealistic or overly romanticized way. However, "Juno" delivers all of the brutal honesty and brokenness that can be such a key component of the process as well. It's sensitive yet sarcastic and a truly unique exploration of the subject matter, ticking all of the boxes you need from a dramedy film.
Blended
As far as on-screen pairings are concerned, few are as memorable as Drew Barrymore and Adam Sandler. Following on from "The Wedding Singer" and "50 First Dates," the duo returned in 2014 with "Blended," and while the tone of the film plays the subject matter for laughs more than drama, there are still some surprisingly heart-warming moments.
After a disastrous blind date, Jim (Sandler) and Lauren (Barrymore) and their respective families find themselves stuck on a vacation together at an African resort specifically designed for families. After initial animosity, the two families soon find themselves bonding together as they become a "blended family."
Whilst the film may have been criticized for being overly schmaltzy and relying on tropes, it performed better with audiences, largely due to the always watchable chemistry between Sandler and Barrymore. And just as "Instant Family" delivers an endearing yet realistic depiction of adoption, "Blended" shows another delightfully unconventional family unit as it unpacks the joys and trials of two very different clans, bringing out the best (and worst) in each other before becoming one.
The Edge of Seventeen
It initially plays like a typical teen coming-of-age comedy, but there's a much sharper edge to "The Edge of Seventeen" that gives it something truly unique. 
Hailee Steinfeld plays high school junior, Nadine, an awkward teen whose life reaches crisis point when her best friend starts dating her older brother. Where the film finds its heart, though, is in the surprising and honest conversations Nadine has with her teacher Mr. Bruner (Woody Harrelson). The pair have a wonderfully offbeat dynamic, and it's both refreshing and hilarious to see the two of them interacting.
The film captures the turbulence of adolescence in a way that's both endearing and melancholic. As a character, Nadine is messy and flawed, she makes mistakes, and is frequently pretty unlikeable. It takes a special kind of film to still make you want to root for a character like this, and this is absolutely something that "The Edge of Seventeen" excels at.
There are a lot of similarities between Lizzy in "Instant Family" and Nadine, both are on the cusp of adulthood and tempestuous yet with a softer side that makes them instantly endearing. "The Edge of Seventeen" is definitely one to check out if you like your comedies somewhat unconventional, with a hint of sadness.
Big Daddy
In 1999, Adam Sandler and pals delivered one of their more heartfelt offerings under the Happy Madison mantle, with Sandler playing the titular father figure in "Big Daddy."
There are perhaps some questionable motives involved in Sonny's (Sandler) decision to pretend to be the father of Julian (played by very young twins Dylan and Cole Sprouse), but his very unconventional parenting style is both incredibly funny and charming to watch. Whether it's covering up any and every spillage with newspapers, teaching Julian how to trip up skaters in the park, or cosplaying to get him to do his homework, Sonny is there for the kid no matter what, and the two end up forming a very sweet and believable friendship.
"Big Daddy" is another film like "Instant Family" that gives a very honest portrayal of parental struggles, particularly with an adopted child. Initially providing much of the respective film's comedic moments, this soon paves the way for some genuinely touching scenes as the parents and kids bond, learning to do life in their own unique and flawed ways.
Marriage Story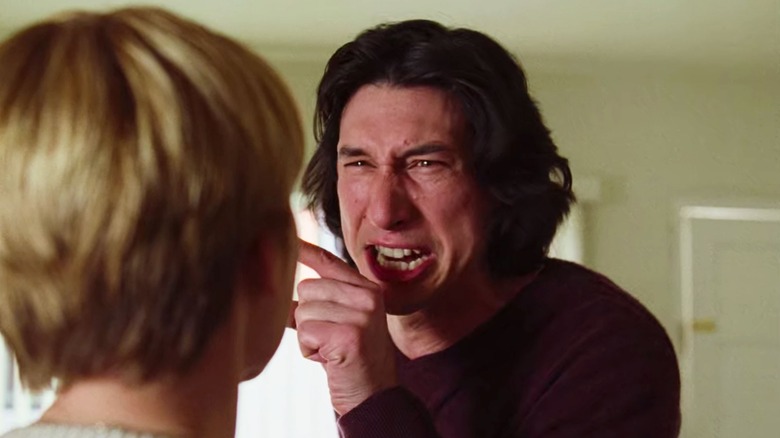 Netflix
At times angry and bitter and at other times joyful and sweet, "Marriage Story" is a snapshot of a marriage falling apart, told with a surprising amount of heart. Written and directed by Noah Baumbach, the film stars Adam Driver and Scarlett Johansson as Charlie and Nicole, a couple fighting to keep their family together while they themselves are being driven apart.
A bittersweet, and very different, kind of love story, "Marriage Story" explores the harsh realities of divorce and the impact it has on those involved. What makes this such a refreshing take on the subject is that it doesn't shy away from the things most other films don't choose to show, such as the financial implications. Where "Marriage Story" ultimately succeeds is in the fact it never forces you to take sides. Both Charlie and Nicole are flawed. Both are right, both are wrong, and the film tackles this emotional complexity with admirable ease.
While the themes may be weighty, there are moments of brevity, and much like the role she plays in "Instant Family," Julie Hagerty manages to steal every single "Marriage Story" scene she is in as Nicole's mother. "Marriage Story" is a film that will break your heart and make it soar, and few films manage to pull it off as well as this one.
Fighting with My Family
Something of an acting chameleon, Florence Pugh is almost unrecognizable in her portrayal of former professional wrestler Paige. Based on a true story, "Fighting with My Family" charts Paige's rise to fame and focuses on her somewhat unusual family and the part they played in her career.
Most parents would be trying to break up the fights between their kids. However, Ricky and Julia Knight (Nick Frost and Lena Headey) not only encourage Paige and her brother, Zak (Jack Lowden), to fight, but they profit off their skills, performing wrestling shows at small venues across England and pushing them towards the big leagues despite their humble background. But as Paige heads for superstardom, there's naturally a strain on the family and a somewhat fractious relationship between her and her brother, as he's forced to watch his dreams being achieved by his sister. 
In a similar vein to the Wagners in "Instant Family," the Knight family — with all their quirks and eccentricities — demonstrate the importance of sticking together despite the fights!
Wonder
Based on the best-selling novel by R. J. Palacio, "Wonder" tells the story of Auggie (Jacob Tremblay), a boy with facial differences who overcomes bullying and prejudice when he goes to school for the first time.
Even just reading the synopsis, you could probably anticipate that this film would make you cry, and you would be right! What you might not be expecting, however, is that it's equal parts happy and sad tears. After all, this is Jacob Tremblay we're talking about here. And after devastating audiences with his performance in "Room," he continues to show his range as a young actor, turning in another performance that's equal parts heart-warming and heart-breaking.
While the hardships they have to overcome are different, the kids in "Instant Family" and Auggie in "Wonder" demonstrate incredible strength and resilience in triumphing over adversity and proving that they are so much more than their circumstances. A film seemingly tailor-made to tug at your heartstrings risks feeling manipulative, but with the message of "Wonder" being one of kindness and compassion, it's impossible not to be won over by it.
The Peanut Butter Falcon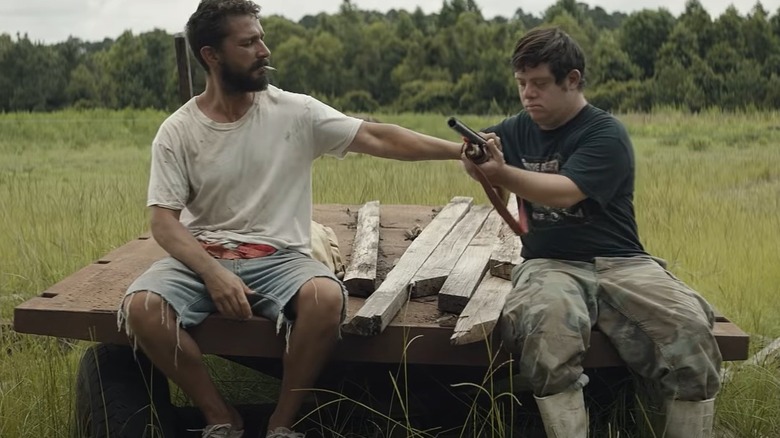 Roadside Attractions
After delighting audiences on the festival circuit, the intriguingly named "The Peanut Butter Falcon" proved to be a bit of a sleeper hit, particularly praised for its representation of Down syndrome in the character of Zak (Zack Gottsagen).
While the old saying might be that "blood is thicker than water," this film gives us a new mantra with the quote "friends are the family you choose," and this idea of "chosen" or unconventional families is something that's at the core of both "Instant Family" and "The Peanut Butter Falcon." In the latter film, we see the beautiful on-screen friendship between Zak and Tyler (Shia LaBeouf), and while their bond might seem unlikely, by the end of the movie, it's unbreakable.
This heartwarming story of friendship is anchored by Zack Gottsagen's incredible performance. In his first screen role, Gottsagen proves to have impeccable comic timing and an enthusiasm that's infectious. It's also incredibly refreshing to see the humanization of Down syndrome. Zak isn't restricted or held back by his condition, and in fact, he finds a whole new zest for life once he escapes the confines of the care home that he was previously held in.
Private Life
A film that excels in taboo-busting in the most awkward yet engaging way, Tamara Jenkins' semi-autobiographical film "Private Life" explores a couple's struggle with infertility. Rachel (Kathryn Hahn) and Richard (Paul Giamatti) play a couple of 40-somethings who are desperately trying to start a family, whether it be through fertility treatments or adoption. However, where the film carves out its own unique path is the frankness and openness with which these topics are discussed.
It's rare for a film to really expose these struggles in the way that "Private Life" does, let alone illustrate it in a way that's humorous yet heartbreaking. Jenkins manages to find the absurdity in awful situations and really interrogates what it means to be a family in a completely unique way. As is also evident in "Instant Family," drawing on real experiences and true stories ensures the tales we're seeing on the screen have a believable sincerity.
If you only know Kathryn Hahn for her scene-stealing appearance in "WandaVision," this is definitely one you'll want to check out as she brings such relatable warmth to the character of Rachel. Paul Giamatti is equally wonderful, bringing a natural world-weariness to Richard. As a couple, they feel authentic and lived-in, and because of this, we're easily able to share in their joy and cry with them in the times of hardship.