The Funniest Comedies You've Never Seen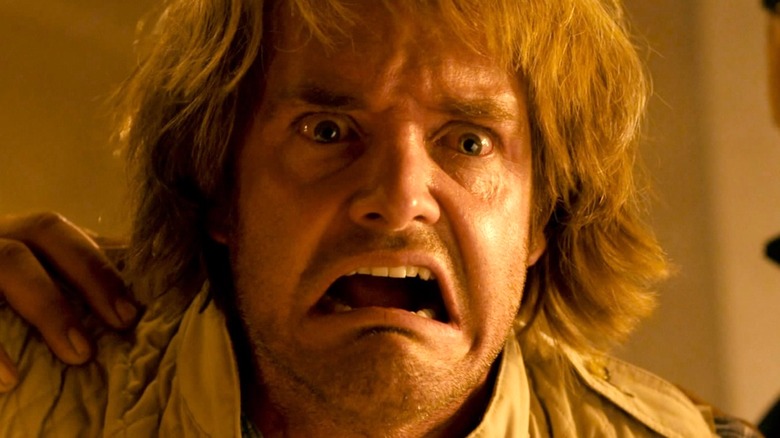 In the mood for a good laugh? Well, you could always check out some big-budget comedy everybody's seen a million times, or you could dig a bit deeper and find something funny that's been swept under the cinematic rug. Sadly, for every high-profile film like Anchorman or Airplane (both excellent), there's another hilarious movie out there that never got the widespread attention it deserved. So if you want to try something a bit more obscure than classics like Ghostbusters and Groundhog Day, keep on reading to discover some of the funniest comedies you've never seen.
After Hours (1985)
When most people think about Martin Scorsese, they associate him with gritty thrillers about gangsters, boxers, and taxi-driving assassins. But every so often, Scorsese likes to shake things up with something a little different, like a kid's movie (Hugo), a romance (The Age of Innocence), or a rock doc (The Last Waltz). In 1985, Scorsese created one of the weirdest comedies to ever come from a mainstream filmmaker, an oddball movie called After Hours.
Set almost entirely at night, After Hours focuses on a word processor named Paul Hackett (Griffin Dunne, the zombie from An American Werewolf in London) as he navigates his way through the maniacal world of Manhattan. After a date gone horribly wrong, Hackett finds himself lost in a twisted Wizard of Oz universe where he's desperately trying to get a ride home but unable to escape the punks, crooks, and vigilantes wandering around the Big Apple at night. Along the way, he encounters a host of off-kilter characters, played by familiar faces like Cheech Marin, Tommy Chong, Terri Garr, and Catherine O'Hara. But these people can't help Hackett get away from the New York City nightmare because they've all gone absolutely bonkers. Instead, they try to seduce him, shave him, or imprison him inside papier-mâché. It all plays out like an eerily funny fever dream or some long lost Lewis Carroll novel where there are no rules and you should avoid everyone you meet because they're all stark, raving mad.
Withnail and I (1987)
Comedy isn't always just about the laughs—often, the sarcastic quips and snarky jokes are a great way to mask a lot of suffering. For proof, look no further than Withnail and I, a dark British comedy that reeks of weed, wine, and desperation.
Written and directed by Bruce Robinson, this semi-autobiographical film follows two struggling actors—Withnail (Richard E. Grant) and the titular "I" (Paul McGann)—as they slam shot after shot of sherry, whisky, and even lighter fluid. McGann's character decides they need a vacation in the country to set their minds right, but that means cutting a deal with Withnail's Uncle Monty (Richard Griffiths of Harry Potter fame), something that might come back to haunt them a little later down the line.
Withnail and I has fantastic performances from its three leading men, not to mention Ralph Brown as the most strung out drug dealer on the planet. It's also one of the most quotable movies to ever come out of England, right up with there with Monty Python and the Holy Grail. In fact, when Time Out London put together their list of the 100 best comedies, Withnail came in at number seven, beating out the Pythons' medieval epic.
But despite Richard E. Grant's over-the-top antics and Richard Griffiths' smarmy charm, Withnail and I is a movie about struggling with addiction and finding yourself trapped in life with nowhere to go but down. Really, it's one of the saddest comedies ever put to celluloid, one that'll have you laughing as our heroes debate the best way to kill a chicken and then hit you in the face with existential despair when Withnail recites Shakespeare to a zoo full of wolves.
The Brothers Bloom (2008)
When people talk about Rian Johnson movies, they never seem to mention The Brothers Bloom, probably because this 2008 comedy is overshadowed by the rest of his filmography (Brick, Looper, and The Last Jedi). And that's too bad because The Brothers Bloom is a delightful romp full of confidence schemes, double crosses, and a lot of nitroglycerin.
Set in a world where Wes Anderson would feel right at home, The Brothers Bloom follows two brothers—Stephen (Mark Ruffalo) and Bloom (Adrien Brody)—who've been fleecing people out of their money since childhood. Stephen is the mastermind, the man who writes and directs the con, and Bloom is his leading man, the actor who sells the story. With the help of Bang Bang (Rinko Kikuchi), their pistol-packing, nearly mute assistant, the brothers have become the greatest flimflam artists alive, but now, they're looking to cash out with one last job.
Their mark is Penelope Stamp (Rachel Weisz), an eccentric heiress who spends her time "collecting hobbies." She's lonely and shy—although she's pretty good at playing the banjo, throwing karate kicks, and juggling chainsaws—and she quickly falls for the uptight Bloom. Unfortunately, he's starting to feel the same way about her, which makes the job a lot more complicated. Worse still, the brothers are being followed by a figure from their past, and soon, Bloom starts to suspect that maybe Stephen is running a scam behind his back.
Narrated by the great Ricky Jay, The Brothers Bloom might be a bit too quirky for some, but if you don't mind the fantastical style, then Ruffalo, Brody, and Weisz are incredibly fun to watch. Plus, like any good con movie, it does a great job of constantly making you wonder if you're in on the game or if you're actually being played.
Four Lions (2010)
Perhaps the most controversial film on this list, Four Lions is a British comedy about jihad. Yeah, that's right. It's a comedy about terrorism. And what's truly shocking is that it's a razor-sharp satire, expertly walking that fine line between "hilarious" and "disturbing," complete with ostrich outfits, exploding sheep, and freedom fighters who can't figure out how to shoot down a drone.
Directed by Chris Morris, the film follows five British Muslims who want to bring down the West, but their dreams of martyrdom are complicated by the fact that they're all idiots. The group is led by Omar (Riz Ahmed of Nightcrawler, Rogue One, and The Night Of) a family man who loves The Lion King but wants to overthrow English society. He's assisted in his efforts by the dimwitted Waj (Kayvan Nova), mentally unstable Barry (Nigel Lindsay), meek Faisal (Adeel Akhtar) and Tupac fan Hassan (Arsher Ali).
As they try to plan a suicide attack, the group suffers setback after setback. These guys can't even agree on a proper target. Barry—an angry white convert, desperate to prove himself—wants to blow up a mosque so the moderate Muslims will rise up against the state. Faisal wants to train a bomb-carrying bird army. Waj thinks it would be cool to blow up the internet. And when they're not plotting away in a dingy apartment, they're sending private messages via online puffin avatars.
Of course, the British government doesn't get off scot-free here, either. Benedict Cumberbatch shows up as the world's worst hostage negotiator, and a couple of snipers spend far too much time debating the differences between a wookiee and a bear. But if you're looking for a straight-up yukfest, you should probably know that Four Lions eventually takes a very dark turn. This is a movie about terrorism, after all, and while it's stupid to think you can blast your way into heaven, that doesn't make you any less dangerous.
MacGruber (2010)
Inspired by the Saturday Night Live sketch, MacGruber finds Will Forte sporting a mullet, saving America, and finding weird new ways to use celery sticks. Unfortunately, the movie took a critical drubbing when it first came out, but over the years, this send-up of 1980s action flicks has found a cult following. Even Christopher Nolan is a fan, telling Business Insider there are scenes that had him "howling uncontrollably."
The movie kicks off when the villainous Dieter Von Cunth (played to perfection by Val Kilmer) gets his grubby hands on a nuclear warhead. Hoping to prevent Armageddon, the US government recruits MacGruber (Forte), a former Navy SEAL-Army Ranger-Green Beret who can make a bomb out of a tennis ball (well, sort of). However, this mission is personal for MacGruber, as Cunth is the man who murdered his wife (Maya Rudolph). So with the help of Lt. Dixon Piper (Ryan Phillippe) and songwriter Vicki St. Elmo (Kristen Wiig), our hero sets out to get some revenge, accompanied by a soundtrack full of cheesy '80s songs.
Of course, the mission would probably go a lot smoother if MacGruber wasn't a nut obsessed with tracking down some random dude who made fun of his car (KFBR392, KFBR392, KFBR392...). But hey, MacGruber isn't your average special agent, and when he's not getting freaky in graveyards, he's making Patrick Swayze look like a chump when it comes to ripping throats. In other words, what we've got here is a movie that's raunchy, bloody, and stupid in all the right ways. It's classic MacGruber.
Tucker and Dale vs. Evil (2010)
If the horror genre has taught us anything, it's that you can't trust a hillbilly. It seems these backwoods bumpkins are always looking for preppy kids to chop into tiny pieces...well, at least onscreen anyway. However, Tucker and Dale vs. Evil flips this Deliverance idea on its head, turning the usually villainous mountain men into lovable lugs and making the college kid a psychopathic monster.
Directed by Eli Craig, this Canadian-American flick follows two good ol' boys named, you guessed it, Tucker (Alan Tudyk) and Dale (Tyler Labine). All these guys want to do is drink beer and catch fish at Tucker's new vacation home (a dilapidated cabin covered in dust, spiderwebs, and animal bones), but things take an incredibly bloody turn after they rescue a drowning college girl (Katrina Bowden).
Already freaked out by some scary campfire stories, the girl's city slicker friends think she's been kidnapped by the hillbillies, so they rally around an overzealous jerk (Jesse Moss) and declare war on the two rednecks. Unfortunately, these are some pretty incompetent kids. Every time they take a swing at Tucker and Dale, they wind up accidentally killing themselves in horribly gory ways, all to the horror and confusion of the befuddled hillbillies who just wanted to spend a nice weekend in the woods.
Interestingly, in between all the machetes and chainsaws, Tucker and Dale vs. Evil is a black comedy with a big heart. Sure, plenty of people get impaled, but this little-seen film features delightfully adorable performances from its two leads. The movie even has a little message about the dangers of prejudice. Plus, somebody winds up in a wood chipper at one point. So yeah, big points for that.
Everybody Wants Some!! (2016)
Directed by Richard Linklater, Everybody Wants Some!! has been hailed as the "spiritual sequel" to Dazed and Confused (although Linklater sees it as funnier follow-up to Boyhood). Set in 1980, the film follows a group of college baseball players in the days before class starts, and in true Linklater fashion, there's isn't much of a plot. Instead, the film centers on the relationships between a bunch of jocks, competitive dudes who spend their days guzzling beer, battling each other, and bonding over ball games.
Just like Dazed, Everybody Wants Some!! boasts a sizable cast full of stoners, weirdos, alpha males, and hayseeds. Fortunately, our guide is the level-headed Jake (Blake Jenner), a freshman pitcher who's trying to woo a theater major (Zoey Deutch) while learning how to maneuver through a house full of hotheaded ball players. When these athletes aren't practicing for the upcoming season, they're constantly figuring out new ways to get drunk, get laid, and turn every activity into some sort of contest. However, despite the hijinks, Everybody Wants Some!! doesn't feel like some sort of Porky's ripoff. It's a lot more thoughtful than that, taking time to examine the mechanics of masculinity. And perhaps more importantly, it probably features the best use of a Sugarhill Gang song that you'll ever see onscreen.
Hunt for the Wilderpeople (2016)
Taika Waititi has been one of the best-kept secrets in comedy for a long time. Before signing on to direct Thor: Ragnarok, the New Zealand native gave us brilliant gems like Boy and What We Do in the Shadows, not to mention two episodes of Flight of the Conchords. But the man really topped himself with Hunt for the Wilderpeople, a story of two misfits on the run from ninjas, dire wolves, and child welfare.
Based on the novel Wild Pork and Watercress, the movie starts off when a troubled kid named Ricky Baker (Julian Dennison) is sent to live with his new foster parents, gregarious "Aunt" Bella (Rima Te Wiata) and cranky "Uncle" Hector (Sam Neill). Even though Ricky is handful—prone to spitting, breaking stuff, and kicking stuff—Bella manages to bring him out of his tough guy shell, giving him a loving home for the first time in life.
Things take a tragic turn, however, when Bella suddenly passes away. Worried social services will try to take him back, Ricky runs off into the jungle to live in the bush—that is, until Hector tracks him down. Unfortunately, when the two disappear into the jungle, a gung-ho welfare worker (Rachel House) assumes Ricky has been kidnapped, and soon, the two "wilderpeople" find themselves on the run with the New Zealand government in hot pursuit.
Sam Neill is at the top of his game playing the cantankerous old bushman, and Rachel House is perfect as the social service worker who thinks she's the star of an American cop thriller. But really, Julian Dennison is the breakout star here, totally owning the role of the overweight, wannabe gangster who was chosen by the skuxx life. Waititi's visuals are also pretty breathtaking, and the film expertly jumps back and forth between gut-busting comedy and tear-jerking sadness. In short, this is one majestical movie.
The Nice Guys (2016)
Holland March (Ryan Gosling) is the world's worst detective. He's an alcoholic PI who doesn't have a problem conning clients out of their hard-earned cash. And Jackson Healy (Russell Crowe) isn't any better. A bruiser with a beer belly, Healy will break anybody's nose for a couple of bucks, no problem. But hey, you can't judge a book by its ethically dubious cover. Deep down, these bad guys are L.A.'s greatest heroes, just waiting for a chance to save the smog-filled day.
The duo finally get their moment when they join up to investigate the disappearance of Amelia Kuttner (Margaret Qualley), a girl that everybody wants dead for some mysterious reason. But as they dig into the case, they find themselves drawn deeper and deeper into a world full of porn stars, auto companies, hired guns, and killer bees. Fortunately for these bumbling misfits, they have Holland's 13-year-old daughter (Angourie Rice) on their side, so while the detectives are busy tumbling down hills and dropping bodies on dinner parties, she's out there getting the real work done.
Written and directed by Shane Black (the man who brought us Lethal Weapon, Kiss Kiss Bang Bang, and Iron Man 3), The Nice Guys is one of the best buddy comedies in recent memory, with Gosling and Crowe bouncing off each other like bloody, boozy versions of Laurel and Hardy. Whether they're getting into gunfights, interrogating witnesses, or discussing near-death experiences involving Richard Nixon, Gosling and Crowe make the perfect comedic team, and really, we totally wouldn't mind seeing these actors reunite somewhere down the line. That would actually be pretty nice, guys.
Popstar: Never Stop Never Stopping
When it comes to skewering the music industry, you'll never get a better satire than This Is Spın̈al Tap...but Popstar: Never Stop Never Stopping comes in at a close second. Straight from the incredible minds of the Lonely Island, this brilliant sendup focuses on the rise and fall of Conner4Real (Andy Samberg), an ultra-famous pop singer who resembles a certain Canadian superstar whose name rhymes with Bustin Jieber.
Once a member of a popular boy band, Conner finds international success as a solo act, but when he jumps to the top of the charts, he alienates his real friends, leaving himself surrounded by conniving yes men, angry wolves, and a backstabbing rapper named Tyler the Crea...uh...Hunter the Hungry (Chris Redd). So after suffering embarrassing wardrobe malfunctions and finding himself ripped apart by obnoxious "CMZ" reporters, Conner realizes it's time to go back to his roots and regain the trust of the old bandmates he tossed aside.
Featuring cameos from musicians like Usher, Mariah Carey, and an amazing Justin Timberlake, Popstar takes shots at everyone from Bono to Kanye West. It's also jam-packed with some fantastically funny tunes like "I'm So Humble," "Equal Rights," and the strangest song about Osama bin Laden you'll ever hear. By the time the credits roll, we guarantee you'll want to jump out of your seat and start doing the Donkey Roll.