All Of The NCIS Stars Who Consider Mark Harmon A Mentor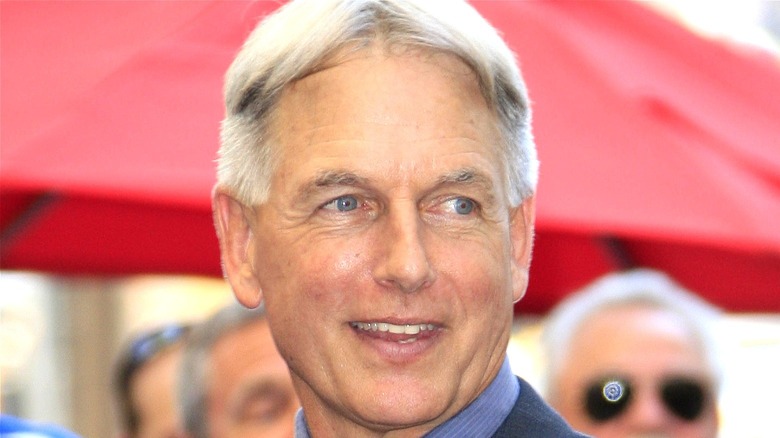 Joe Seer/Shutterstock
It's a safe bet to say that Mark Harmon has been the backbone of "NCIS." Since the series debuted in 2003, the veteran actor has been a mainstay, and his presence goes back to the show's parent series, "JAG." The actor has portrayed Special Agent Leroy Jethro Gibbs for 19 seasons now, serving as a stern authority figure who could also be a mentor who instructs his agents on the finer points of investigation. That's not to mention the wisdom that comes from experience, as well as his numerous "Gibbs' Rules." While talk of Harmon leaving the series has been making the rounds of late, it's hard to imagine "NCIS" without the stoic, wise figure of Gibbs.
Behind the scenes, it seems that Harmon has been something of a mentor to members of the "NCIS" cast, acting as a source of inspiration and camaraderie. Here are the members of the "NCIS" cast who consider Mark Harmon their Gibbs on and off-camera.
Sean Murray considers Harmon his mentor
Sean Murray, who plays Special Agent Timothy McGee on "NCIS," is one of the longest-serving actors on the series, much like Mark Harmon himself and David McCallum as Donald "Ducky" Mallard. Murray and Harmon have worked together regularly since McGee made his debut on "NCIS" in the 1st season episode "Sub Rosa."  The pair have acted together for decades now, and it's clear Murray has a great deal of respect for his fellow actor.
Murray had worked with Harmon previously as a young actor on the series "Hearts of the West." In an interview with Allen Vaysberg on "The Love Of Acting," he explained how the veteran performer became a mentor figure. "He made quite an impression on me when he came on and did a role on Harts of the West I had a few scenes with him, and we talked quite a bit about craft and things," Murray explained. "So, being able to work with him again all these years later is just great. And, you know, he's been a bit of a mentor to me, whether he knows it or not."
Cote de Pablo also cites Harmon as a mentor figure
Cote de Pablo portrayed Special Agent Ziva David on "NCIS" for seven years, debuting in Season 3 before leaving "NCIS" during the 10th season. She would return in a number of guest appearances over the 16th and 17th seasons as the capable former Mossad agent turned NCIS investigator. De Pablo also cited Mark Harmon as a mentor figure in an interview for the "Build" series. "He's more of like, he's a friend mentor. He was always, like, a father figure to me," de Pablo said. "Obviously, Ziva and Gibbs have that, but Cote and Mark have a little of that."
De Pablo went on to explain that while she and the actor don't speak often, there is a bond not unlike family that allows for long periods where they don't communicate but still retain an affection for each other, and that their relationship was "forged in fire."
Needless to say, Mark Harmon's presence on the set impacted both Murray and de Pablo in a profound and positive way. And while we can't be certain this is the year he finally says goodbye to Gibbs for good, we do know that he has had an impact on at least two of his younger castmates and influenced their lives for the better.