The Biggest Unanswered Questions From Riverdale Season 5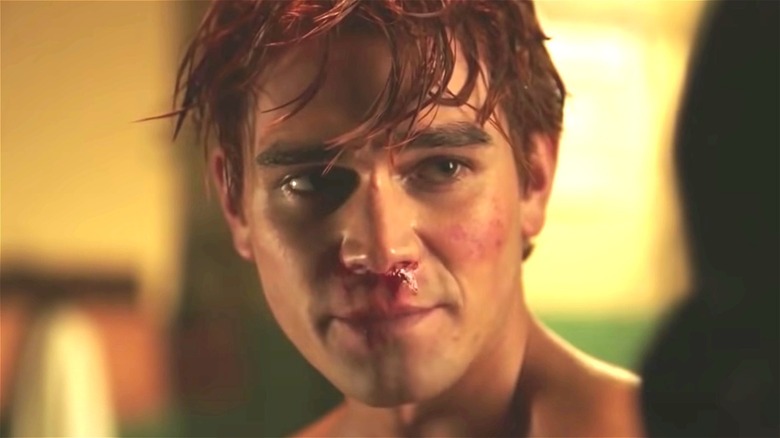 The CW
"Riverdale" Season 5 really goes out with a bang. The CW series uses a seven-year time jump to develop the characters in new ways after their time at Riverdale High, picking up with them as complicated 20-somethings — each with their own new life away from their hometown. It revitalized the show, as it now holds an 88% critic rating on Rotten Tomatoes. The main story sees the gang reunite to stop Hiram Lodge (Mark Consuelos) from gutting Riverdale so he can mine the Palladium buried deep underground, although they inevitably get drawn into other mysteries too.
After 19 episodes, the show wraps up its fifth outing by pushing the characters further than ever. The Season 5 ending sees Veronica Lodge (Camila Mendes) finally exile her father Hiram, while Betty Cooper (Lili Reinhardt) and Archie Anrdrews (KJ Apa) finally decide to become a couple. Don't worry, Jughead (Cole Sprouse) isn't left out in the cold, as he's happily in love with his new partner in crime, Tabitha Tate (Erinn Westbrook). The story is far from over and the finale leaves audiences with a few questions about certain story arcs and the show's future, and that's all without mentioning the killer cliffhanger.
Here's the biggest unanswered questions from Riverdale Season 5.
Do Archie and Betty survive?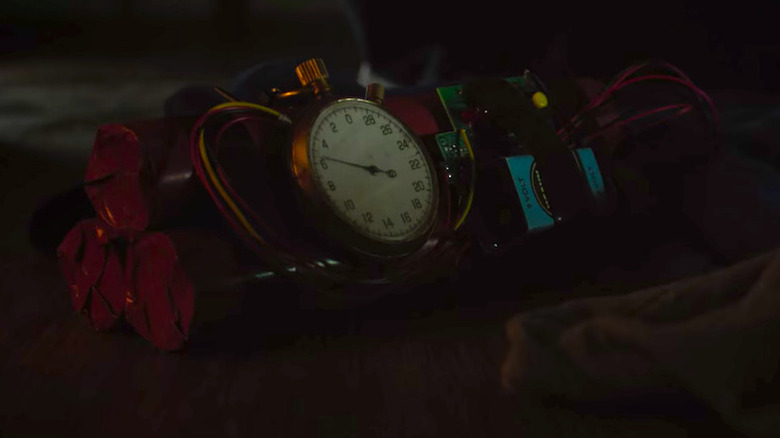 The CW
The finale ends as Betty and Archie finally decide to be together after years of secretly pining for one another, dating other people, and occasionally fighting serial killers. Never change, "Riverdale," never change. But as they decide to consummate their new relationship, the duo hears a bizarre beep coming from underneath Archie's bed — surprise, surprise, it's a bomb from Hiram Lodge. The villainous gangster always wants revenge on Archie for getting in the way of his plans for Riverdale, but clearly, he's had enough.
The episode doesn't show Archie and Betty trying to escape the house, or even trying to defuse the bomb — instead, it cuts to Hiram and a countdown in his car. The finale cleverly shows fans a wide shot of the town with a fiery blaze raging somewhere down below, obviously implying that the Andrews house has been blown up with Archie and Betty inside. Remember, this is "Riverdale" — the show that loves a dramatic cliffhanger only to solve it within the opening minutes of the next episode. Remember when Archie is seemingly killed by a bear, only to be back in school one episode later? The same could quite easily happen when Season 6 kicks off.
Maybe Betty uses her fancy FBI training to defuse the bomb, or perhaps Archie hurls the bomb out of the window with seconds to spare. It just doesn't seem likely that the show will kill off two main characters in one fell swoop, but it'd be incredibly gutsy if it did.
Is Cheryl Blossom a witch?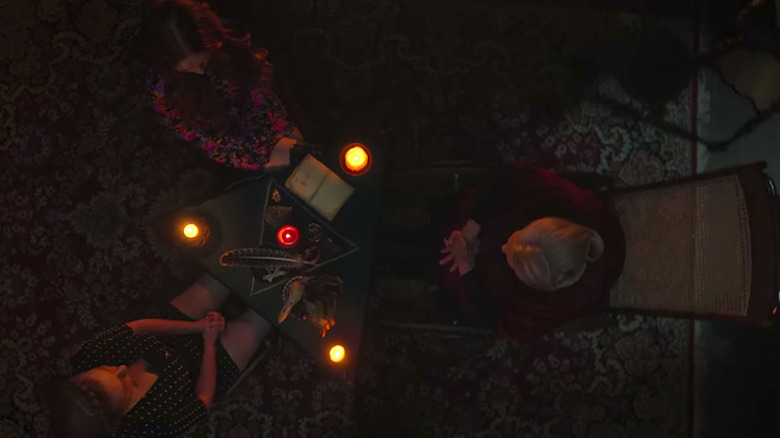 The CW
One of the biggest questions coming out of the finale is whether Cheryl Blossom (Madelaine Petsch) is actually a witch. A last-minute reveal explains that in the 1890s, one of Cheryl's ancestors was burned at the stake for being a witch, and with her dying breaths, she cursed the ones responsible. They just so happen to be the ancestors of Archie, Jughead, and Betty. What a coincidence (although Jebediah Jones is just an inspired piece of writing). When Cheryl recites the curse in present day, a chilling wind flies through the town — does that make her a witch? Possibly.
It's all part of a setup to bring Sabrina Spellman (Kiernan Shipka) over to Riverdale from "Chilling Adventures of Sabrina," and she's set to appear in Season 6, Episode 4, "The Witching Hour(s)." Showrunner Roberto Aguirre-Sacasa told TV Line, "We've been talking about having Sabrina visit 'Riverdale' since season 1, so it's thrilling that this is finally happening, as part of our 'Rivervale' special event." He also added, "It's also perfect that she shows up to help Cheryl Blossom during her hour of greatest need."
Aguirre-Sacasa didn't reveal what Cheryl's "hour of greatest need" means, but it's interesting that she needs a witch to help her.
Who is the Trash Bag Killer?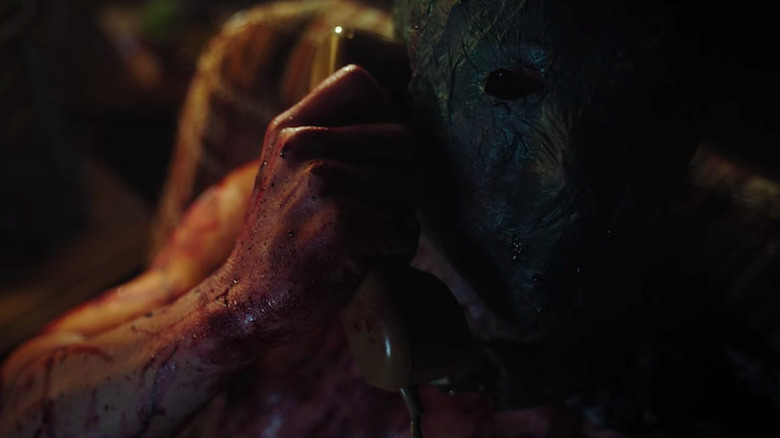 The CW
We now know that as an FBI trainee, Betty fell foul of a creepy individual called the Trash Bag Killer, or TBK as he's (not-so) affectionately called. TBK keeps popping up, and Betty theorizes that he's the one who's behind Polly's disappearance — before her body's ultimately found in the junkyard. TBK is never unmasked or caught in Season 5, although he does make a sinister phone call to Betty to tell her not to hunt him, or he'll find her. That's definitely not going to end well.
Every time TBK pops up, he's always wearing a trash bag mask (which is actually quite intimidating) and his identity remains a mystery. One of the most likely suspects is Glen Scot (Greyston Holt), Betty's ex-boyfriend and her colleague at the FBI. He clearly likes Betty more than he's letting on, because he writes his dissertation on her sordid family history. It wouldn't be a stretch to suggest that Glen's role at the FBI means he can cover up his own tracks. He's also the one who reveals that TBK has resurfaced in Tulsa, Oklahoma when Betty asks for help.
There are a few other theories about TBK's identity, like Betty being in a fugue state and committing the murders herself, or that Jughead has become a killer to fuel ideas for a new book. We'll just have to wait and see if Season 6 reveals more about TBK.
When does Riverdale Season 6 start?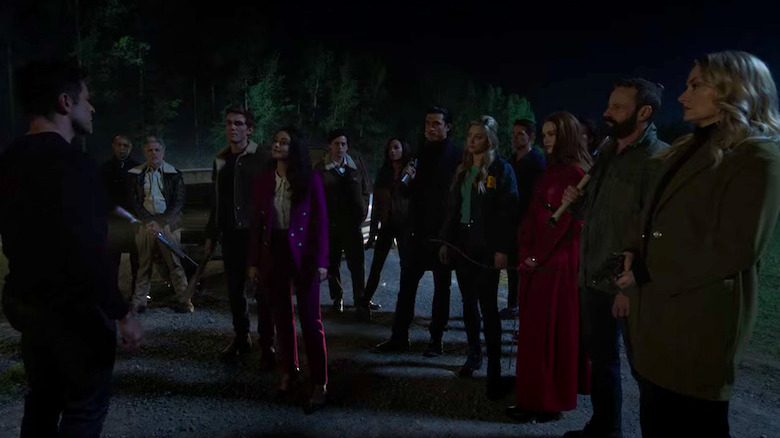 The CW
The most important question most fans have is when does "Riverdale" Season 6 start? Thankfully, there isn't long to wait, because the next batch of episodes start airing on The CW as part of a five-episode event called "Rivervale" on November 16, 2021. Robert Aguirre-Sacasa told TV Line the event is "firmly in the horror genre" and that "Things are a little bit darker, a little bit weirder, a little more twisted in Rivervale."
With Sabrina Spellman crossing over from Greendale, it means the series is finally embracing the supernatural. It'll be interesting to see if the show sticks firmly to witches and ghosts, or if it'll pull from some of the recent Archie Horror comics. These could include "Afterlife With Archie," which pits the heroes against zombies, and "Jughead: The Hunger," which sees the titular writer become a werewolf. To be fair, both of those stories would make excellent TV events in their own right.
It's worth noting that although the "Rivervale" event starts in November, the rest of Season 6 will arrive at a later date, so t+here's probably another cliffhanger waiting for fans after all the spooky goings-on for Archie and the gang.