How Much An Eddie Vedder-Signed Poster Was Really Worth On Pawn Stars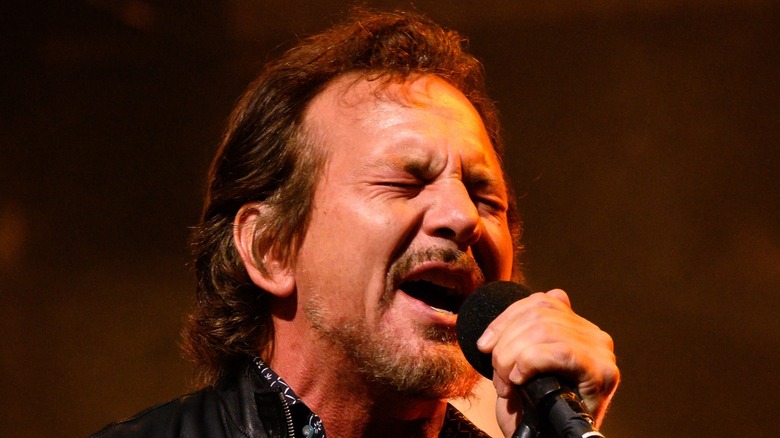 Scott Dudelson/Getty Images
On the ongoing 19th season of History Channel's popular reality series, "Pawn Stars," a professional artist learned that sentimental value and a great story doesn't necessarily add to the monetary value of an item — if anything, the latter might even take away from it. When an artist named Dave brought his original Pearl Jam poster art (complete with lead vocalist/guitarist Eddie Vedder's signature) into the Las Vegas-based Gold & Silver Pawn Shop around which the series revolves, he threw out an enormous asking price of $20,000. 
To fans of Pearl Jam and its frontman, that figure may sound somewhat reasonable. The band is one of the few to have survived the late '90's and early '00's nu-metal takeover that succeeded the blatantly aggressive and more meaningfully progressive Seattle rock movement that was early '90s grunge — an unfortunately short-lived era in music that continues to influence artists and musicians to this day. The fact that the Grammy Award-winning Pearl Jam still boasts an enormous fan base and continues to tour and release new music speaks to its ongoing cultural significance. That significance, however, doesn't necessarily mean a one-off signed item — even if that item is original artwork — can garner a selling price of that magnitude. "Pawn Stars" personality and appraiser Austin "Chumlee" Russell explained why.  
Chumlee declined to make Dave an offer for his poster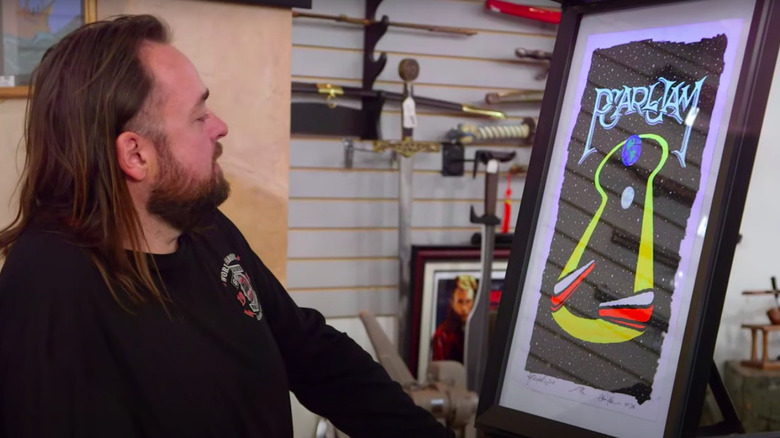 History Channel/ YouTube
As seen in this YouTube clip, the uniqueness of the blacklight artwork and its story didn't necessarily add to its value, since people typically prefer official band memorabilia. Unfortunately, although artist Dave shared a great story about being contacted by a person named "EdVed," who signed the work after Dave found out that he was the actual Eddie Vedder, the artist never created any official merchandise for the band. Here's a closer look at why that's important.
Steve — the expert brought in to verify the signature — explained the market's prioritization of official concert art, saying, "if this was a piece they actually had used as a basis for a concert poster, (it) could go for upwards of $20,000." However, he added, since Dave hasn't yet done any official work for the band (which would compel fans to seek the piece out in the future) he would currently "put the value at about $6,000." Chumlee understood the artist's belief in the poster's value, but ultimately declined to make Dave an offer, explaining that, for him, "having to tell the story about how you met Eddie ... it just starts to get lost in translation and it becomes harder for me to sell it." Although Dave was disappointed by the piece's reception (at least from a monetary standpoint) he left feeling that "eventually, it will sell."