Why You Won't Be Able To Watch SEAL Team Season 5 On CBS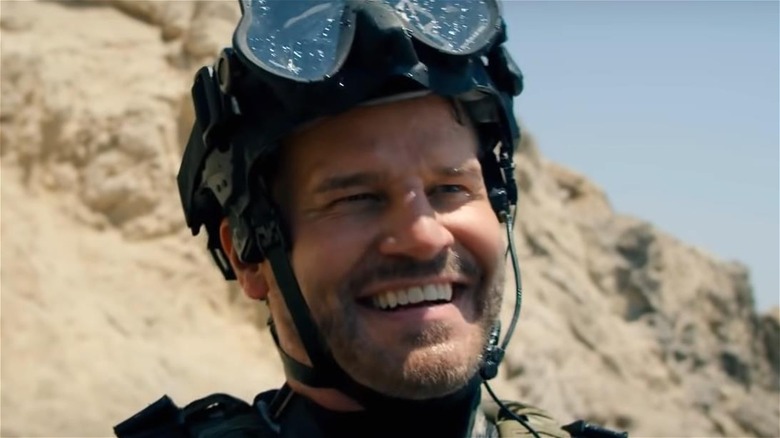 CBS
The CBS military drama "SEAL Team" has officially started its fifth season, but fans are going to have to break out their checkbooks if they want to see all of it.
Starting later this fall, the Benjamin Cavell-led series, which also stars "Bones" actor David Boreanaz, will no longer be available for free on CBS, where it's been airing ever since 2017. The series focuses on a group of Navy SEALs who take part in dangerous missions and operations in order to keep the U.S. safe, while also examining their personal lives.
Plans to renew "SEAL Team" for a fifth season were originally up in the air, with Boreanaz himself even taking to social media to publicly push for its renewal (via Deadline). "Let's keep it going @cbstv," wrote the former "Buffy the Vampire Slayer" and "Angel" actor on Instagram. "Thank you to all the fans and veterans' for the support and love for this show. @sealteamcbs #ReNew this show. #NeverOutoftheFight."
Boreanaz finally got his wish earlier this year, but it wasn't CBS that granted it for him.
SEAL Team is moving to Paramount+
While Episode 1 of "SEAL Team" Season 5 aired on CBS, that won't always be the case. As a matter of fact, the show will be moving to Paramount+ after the first four episodes of its fifth season air (via Variety). The ViacomCBS-owned streaming service is currently offering subscription plans ranging from $4.99 to $9.99 per month, with prices varying depending on whether a subscriber opts to go commercial-free or not.
"We are thrilled to bring new seasons of these phenomenal series to Paramount+," Julie McNamara, executive vice president and head of programming for Paramount+, said back in May when the move was first announced. "We have a strong record of building incredible audiences with these creative teams, including Robert and Michelle King's incomparable 'The Good Fight,' and look forward to bringing our subscribers even more seasons of series they love." According to additional reports, ViacomCBS wanted to send "SEAL Team" to Paramount+ in an attempt to bring younger audiences to the service.
"Our Studio and Network have a strong track record of developing high-quality dramas that have multiplatform success, and these series speak to that strength," explained George Cheeks, president & CEO of the CBS Entertainment Group, in a statement earlier this year. "These moves mark another example of how our linear and streaming ecosystem can strategically work together to maximize value for the content and benefit the series and its creators."
Notably, several other existing and upcoming shows have also been moved to Paramount+, including the much-anticipated live-action "Halo" series.