The Five Juanas Season 2 - What We Know So Far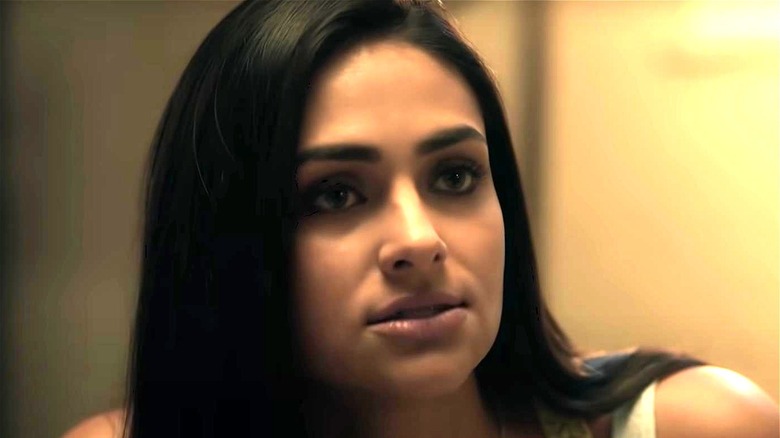 Netflix
If you're a fan of the soapy telenovela format, you might be binging "The Five Juanas" this week after its October 6 release on Netflix. The 18-episode series offers all the melodrama and kitsch associated with the genre, including stylized visuals, relationship drama, steamy sex scenes, and a mystery thriller vibe. Originally called "'La Venganza de las Juanas," the show is based on a 1997 Colombian telenovela created by Bernardo Romero Pereiro. 
The show centers on the concept of fate in its narrative about five women who are all in the same hotel at the same time, who all have the same name and turn out to all have the same birthmark as well. Clearly, their pasts are connected, and as they discover more about what that means, they come into the orbit of a politician who is threatened by this new information. Cue all the butt shots and remarkable twists that turn this into a tawdry, guilty pleasure of epic proportions. 
If you're loving "The Five Juanas," you might be wondering when you can enjoy more of it. Will Netflix bring out a second season? Here's what we know so far.
When is the release date of The Five Juanas Season 2?
Netflix
Netflix rarely issues renewals so close to a show's launch date; even "Bridgerton," considered its biggest show to date (via CNet), didn't get a renewal until more than three weeks after its December 25, 2020 release. K-drama "The Squid Game" looks like it may surpass that record, but while Season 2 has definitely been discussed (via Vulture), it hasn't yet been officially renewed three weeks after its September 17 release. 
Netflix's process for determining which shows stay and which shows go is notoriously opaque. Netflix officials over the years have released some information on how it decides these things — as Wired reports, it looks at viewership versus the cost of renewal; specifically, it considers how many people watch a full season over the course of the first seven days and the first 28 days.
So we probably won't hear about "The Five Juanas" being renewed or not for some time. Telenovelas are known for their quick production turnarounds and tend to air very close to the end of filming (via Variety), but whether that's true of the Netflix-branded series is unclear, as it doesn't share the same fast-paced scheduling concerns. So, if it does issue a green light for Season 2, we won't know just how long another season would take to arrive. 
Who is in the cast for The Five Juanas Season 2?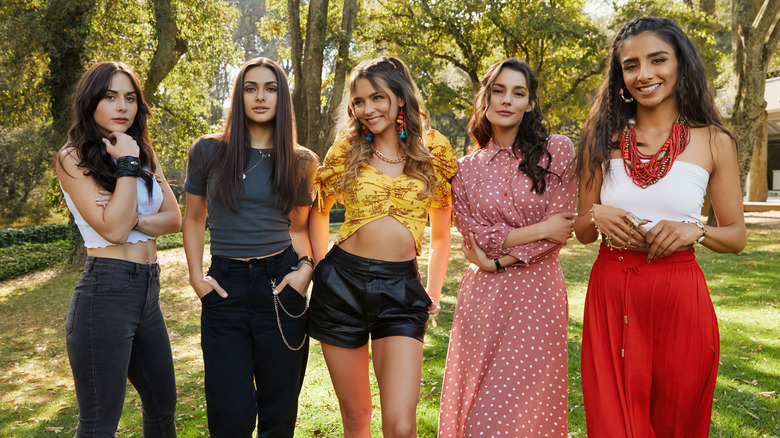 Netflix
The five very different Juanas are played by Zuria Vega, Juanita Arias, Sofia Engberg, Oka Giner, and Renata Notni. One's a stripper, one's a singer, one's a psychic, one's a nun, and one's a journalist, so you can imagine the dynamics within this disparate little group. Presumably, a second season would bring them all back for another conspiracy-laden story, since they're all listed in the show's title — along with their love interests, relatives, and other supporting characters.
Carlos Ponce played Simón Marroquín in Season 1 but based on the events of the show he probably won't be back. Meanwhile, the end of the first season teased the existence of a sixth Juana, so a second season would very likely add some new characters to the mix to create even more outlandish drama, which is just about what you'd expect from a telenovela like this.
The cast of Season 1 also includes many supporting characters that might return, including Ricky Del Real as Daniel, Fernando Becerril as Rogelio, Jorge Antonio Guerrero as Lorenzo, Iván Amozurrutia as Federico, Pablo Astiazarán as Camilo, and Verónica Merchant as Susana.
What is the plot of The Five Juanas Season 2?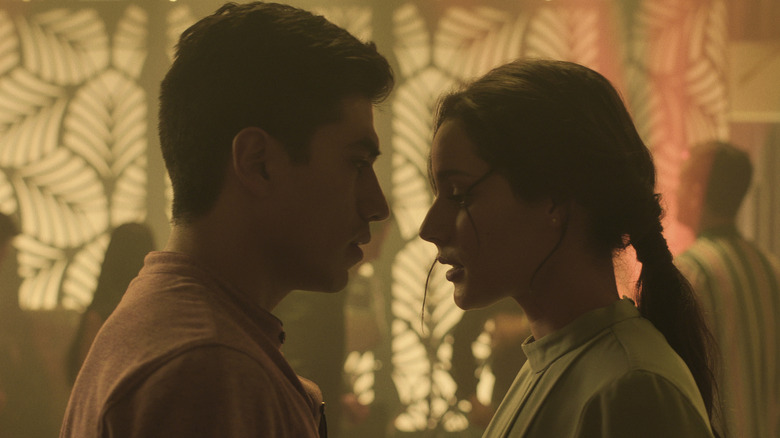 Netflix
The first season of "The Five Juanas" had a fairly satisfying conclusion in which the five women celebrate with their loved ones. Still, the end scene that revealed the existence of yet another Juana with the fish-shaped birthmark portends exciting things for a second outing. Things could get pretty wild, especially if the Juanas discover more than one. Other developments left open-ended within the series could be explored further as well, such as how Federico and Juana Valentino navigate their newly-discovered family ties. 
Of course, a telenovela series will always go for the utmost in sensationalism, even though it might be a touch predictable in places, so any speculations on the story for the next set of episodes should be as out there as possible. Unfortunately, without knowing that a second season is in the works, all that speculation might be useless. Fans will just have to wait a bit longer to find out if fate favors "The Five Juanas" in real life.