Get Your First Look At Marvel's Inhumans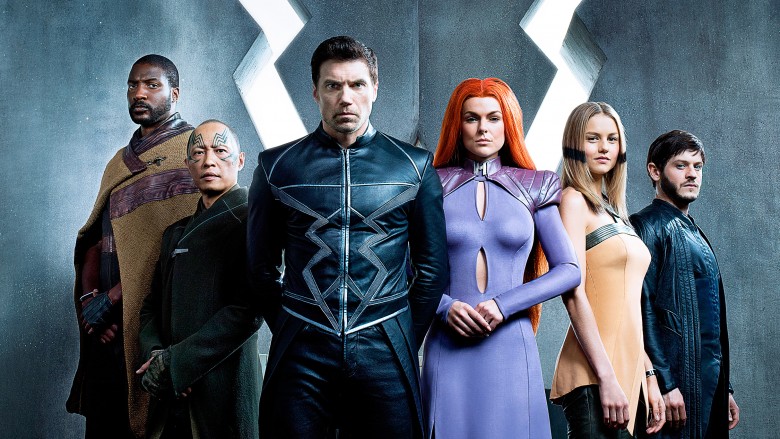 Marvel's Inhumans have finally arrived. Showrunner Scott Buck recently revealed the first look at the super family to Entertainment Weekly while also giving some details on what fans can expect from the upcoming ABC series.
"It was an exciting proposition," Buck, who is known for Iron Fist and Dexter, said of the chance to adapt the difficult comic. "We discussed each one of the characters, who they are, their personalities, their journeys. I always approach these things through the characters— what's the story we can tell about Black Bolt, about Medusa and each one of these members of the Royal Family? It may have been daunting, but I think I was, more than anything, just excited about jumping in."
Buck says the series, which will follow the royal family after they have been splintered by a military coup and forced to escape to Hawaii, will be "more of a family drama" than a procedural, noting that he and his team are approaching the story "strictly through character." While Buck says that the series will deal with the fantastical elements of the Inhumans powers' "to a certain extent," he notes that all of the characters will be "very grounded." "We try to write them as real as possible, and then have fun with the powers when we can," he said. "We want their powers to seem like a very natural part of their personality."
Anson Mount will lead the series as Black Bolt, the silent leader of the Attilans whose voice is so powerful that even a whisper can level a city. "It's a little bit difficult to write him, because Black Bolt does not speak, but yet he is our hero and the center of the show, so it does certainly present challenges in how you tell his story," Buck said, adding that Black Bolt will use mostly sign language to communicate. "If you read the comics, you see Black Bolt does find a way to communicate to people, but he's also a very enigmatic character as well, and he keeps a lot inside. That's part of what's so fascinating about him is that a lot of times, we don't know what he's thinking."
Game of Thrones' Iwan Rheon, the first announced for the cast, was a big get, with the actor taking on the part of Black Bolt's ambitious brother Maximus, who yearns for his brother's power. "We were so thrilled to get him because he's such a super talented actor," Buck said. "We didn't want to create just a simple villain who's evil for the sake of being evil... I think our Maximus is a different, more complicated, more real, more compelling version of Maximus that has been seen in most of the comics."
Graceland's Serinda Swan will play Black Bolt's wife Medusa, who has superpowered hair that remains in her control even after being cut off. Buck said that bringing her hair to life was one of the many special effects challenges of the show, which is still being worked on in post production. Another difficult character to bring to life is Lockjaw, the 2,000 pound teleporting pet bulldog of Queen Medusa's younger sister Crystal (Isabelle Cornish), who Buck says will be "the audience's favorite character." "There's not too much more detail than that that I can give, but he is going to be a standout on the show," he said.
Buck says that Inhumans will take place in the same universe as ABC's fellow Marvel show, Agents of S.H.I.E.L.D. While he said he hasn't thought about potential crossover possibilities, Buck did note that events that happen on S.H.I.E.L.D. could potentially have ramifications for the Inhumans. The show will set itself apart from its predecessor though, especially through its bigger scale, which begins with an IMAX debut for the first two episodes. Buck says the first pair of outings will "feel like a movie." "We just wanted to think bigger in terms of scope, and what we were seeing, and how we bring these characters to the audience," he said, adding that he hopes the IMAX release will "intrigue people" and get them "really excited" for the show.
The cast also includes Ellen Woglom, who Buck says will play a character audiences haven't seen in the comic books; Eme Ikwuakor, who will play Black Bolt's cousin Gorgon, the leader of the Attilan military; Ken Leung, who will play Black Bolt's cousin and close advisor Karnak; Mike Moh, who will play Black Bolt's cousin Triton; and Sonya Balmores, who will play the no-nonsense head of the Royal Guards of Attilan. The show will air its first two episodes for a two week period in IMAX theaters beginning Sept. 1 before concluding the rest of its run during ABC's fall season. While we wait for the series to premiere, see why it will be better than you think.