The Real Reason William Petersen Returned To CSI: Vegas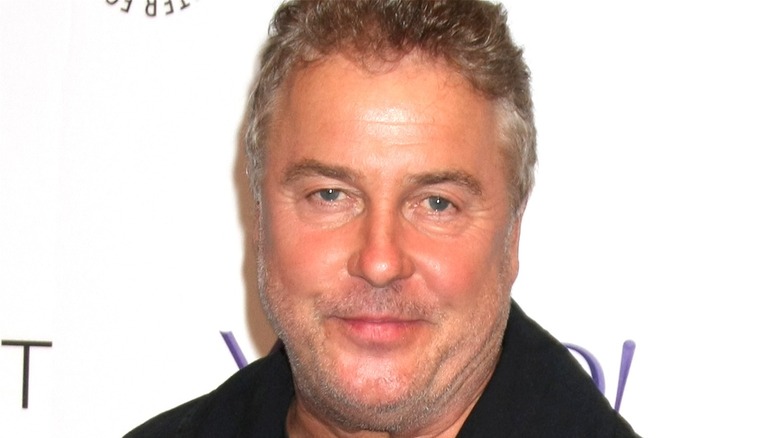 Kathy Hutchins/Shutterstock
The influx of reboots and revivals shows no signs of slowing down anytime soon. The latest series to return from the dead is the crime procedural "CSI," which will officially be known as "CSI: Vegas."
The wildly popular series originally ran on CBS from 2000 until 2015 and followed a team of Las Vegas-based crime scene investigators. It was the flagship series in a franchise that included two direct spin-offs — "CSI: Miami" and "CSI: Cyber" — and one indirect, "CSI: NY." Like the original, both "Miami" and "NY" followed forensic scientists as they determined the circumstances behind various murders, while "Cyber" focused on a team of FBI agents investigating cyber crimes.
For much of the show's run, the team was led by William Petersen's Gil Grissom, a forensic entomologist. Petersen will play a similar role in the revival, where he'll be joined by Jorja Fox, who was a series regular for much of the original run as well, portraying materials and element analyst Sara Sidle. Wallace Langham, who joined the show in Season 3 and portrayed trace technician David Hodges, and Paul Guilfoyle, who played Jim Brass, are also expected to appear in some capacity.
Grissom and Sidle were married before divorcing and eventually reuniting in the series finale. In the new series, they're married once more and will be joining a new team when the show starts. Although Petersen left the show for a time, he opened up about why he decided to recommit to the Vegas crime lab.
Why William Petersen reprised the role of Gil Grissom
For Petersen, the decision to return to the world of "CSI" and the character of Grissom was an easy one. "The idea of being able to come back into the land of science, I thought, was really a great opportunity," he told reporters during a Zoom panel with the Television Critics Association, noting that working with forensics on the show had given him an appreciation for science. "I didn't want to carry a gun at all," he said. "The idea of being able to work with just the mind, as an actor, was a challenge and a great opportunity to grow as a performer."
As for how the new show will be different from the original, Petersen pointed out that 20 years have passed since "CSI" launched, which will inevitably lead to changes. Plus, the cast is full of new characters as well. Joining Petersen and Fox in the revival are Paula Newsome as Maxine Roby, the head of the Vegas Crime Lab, as well as Matt Lauria, Mandeep Dhillon, and Mel Rodriguez.
"CSI: Vegas" premieres Wednesday, Oct. 6 at 10/9c on CBS.