George Clooney Has A Hilarious Reason Why He Won't Return As Batman In The Flash
Warner Bros. Pictures
When Ezra Miller finally gets to star in his own solo "The Flash" movie, he'll be joined by Ben Affleck and Michael Keaton, who are returning to play their respective versions of Batman. Clearly, The Flash's superspeed means he'll be crossing over into the multiverse to meet other versions of the Caped Crusader. Plot details are being kept under wraps for the moment as production is still underway, but it's incredible to think that Michael Keaton is stepping back into the iconic Batsuit for the first time since 1992's "Batman Returns." It'll be interesting to see why Miller's Barry Allen seeks out another Batman, or if he meets him by accident.
Surprisingly, Keaton's Batman isn't the only other hero showing up alongside The Flash, as "The Young and the Restless" star Sasha Calle will make her debut in the DC Extended Universe as Supergirl. Again, it's not clear whether she's playing Kara zor El (Superman's cousin) or if she comes from an alternate universe where there isn't a Superman. Director Andy Muschietti revealed the first look at Calle's costume on Instagram, and her suit is similar to Henry Cavill's Superman look, but with a bright red shoulder design.
With multiple Batmen showing up in "The Flash," it's hard not to wonder whether DC approached any other actors who've donned the cape and cowl in the past. Although George Clooney recently revealed the hilarious reason why isn't returning to the role for the 2022 film.
He wasn't asked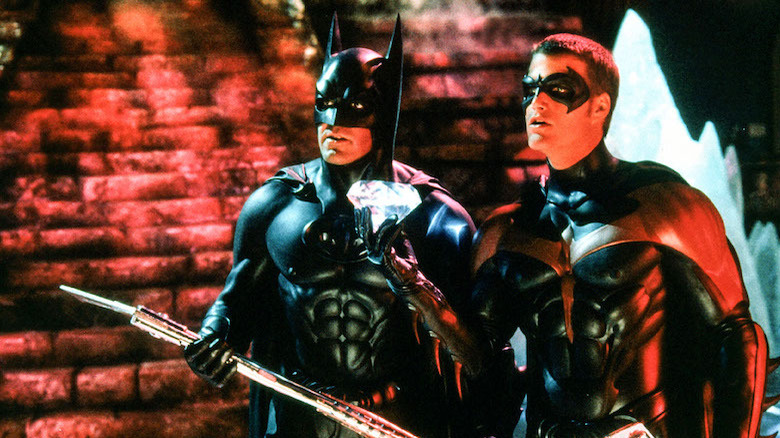 Warner Bros. Pictures
George Clooney recently worked with the DCEU's Batman, Ben Affleck, on the coming of age drama "The Tender Bar," and he spoke to Variety ahead of the film's screening about whether Warner Bros. had asked him to come back for "The Flash" since it crosses between worlds. He joked with the outlet, saying, "The truth is I didn't want to do it..." before clarifying, "No, they didn't ask me." The prolific star is very aware that 1997's "Batman & Robin" isn't looked on too fondly by fans, so he isn't surprised that he wasn't asked to return. "When you destroy a franchise the way I did, usually they look the other way when 'The Flash' comes by," he said.
Amal Clooney, George's wife, was also at the event and pointed out that "he won't let me watch it." The former Batman star defended himself, saying, "There are certain films I just go, 'I want my wife to have some respect for me.'" To be fair, the film has a 12% critic rating on Rotten Tomatoes, and the aggregate site calls it "unbearable."
It sounds like Clooney might have to face his fears at some point in the near future, because Amal joked that their twins might want to watch "Batman & Robin." The former Bruce Wayne star isn't convinced, saying his children might be too honest if they watch the film: ​​"It's bad when your four-year-old kid goes, 'This sucks.' That could be painful."
"The Flash" arrives in theaters on November 4, 2022.