Supergirl's Azie Tesfai Dishes On The Return Of Jeremy Jordan And Mehcad Brooks - Exclusive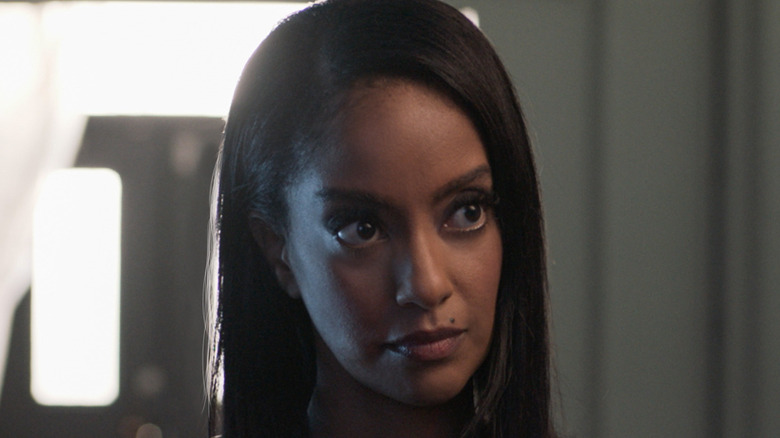 The CW
Goodbyes are always hard, but they're easier to swallow when you're doing it with your superfriends. Luckily for the "Supergirl" cast, mainstay characters like Jeremy Jordan (Winn Schott) and Mehcad Brooks (James Olsen) are heading back to National City to send off the series. A "Supergirl" finale just wouldn't feel like the end without the dynamic duo that started it all. And even during these wild, unprecedented times, fans are excited to see that everyone was able to make these cameos happen. Given that writers altered the intended endings of shows like "Supernatural" because of COVID-related issues, "Supergirl" fans have a lot to look forward to in the coming weeks. 
During an exclusive interview with Looper, Azie Tesfai (who plays Kelly Olsen) dished on the long-anticipated return of Jeremy Jordan and Mehcad Brooks later in the final season. She also revealed just what it was like saying goodbye to the series right after she got to put on her supersuit for the first time.
A blast from the superfriend past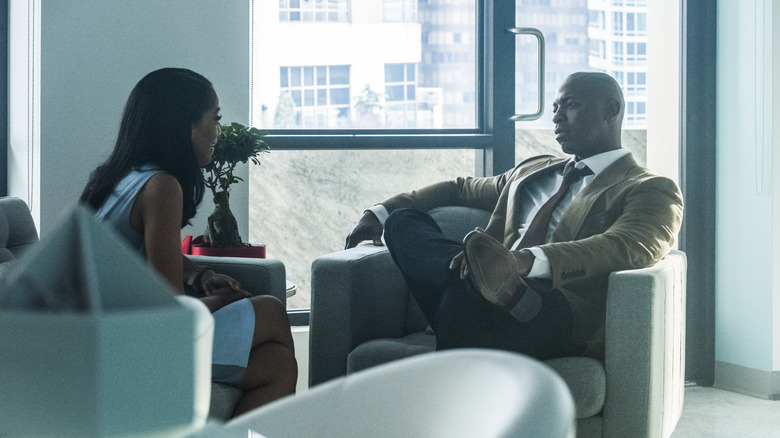 The CW
On what the Jeremy Jordan and Mehcad Brooks reunions were like as everyone said goodbye to the show, Tesfai said, "Yeah. I mean, there is ... everyone comes back. I don't know ... I can't say everyone comes back ... but I think all the fan favorites, and it's pretty epic. I love Mehcad, and to have him back, the scenes we shot were amazing on both ends of everything, amazing, and so I loved him personally. I fanned out that I got to do the things I got to do with him, and I think the fans will be really excited."
She added, "It is the end of a chapter, and while this ... Because the show's been running so long, there are different versions of the family and some of us have never crossed before, and so I think having us all in scenes together was interesting. It's like the cast tent was very full in the finale, and it was fun." 
Noting her time in her own Guardian supersuit, Tesfai explained, "You can talk to people about their perspective in this. It's such a rare thing to put a supersuit on. And so any time you have other people that have done it, it's always fascinating to hear what their experience was like. It made it feel like the end, I think, for sure."
Parting is such sweet sorrow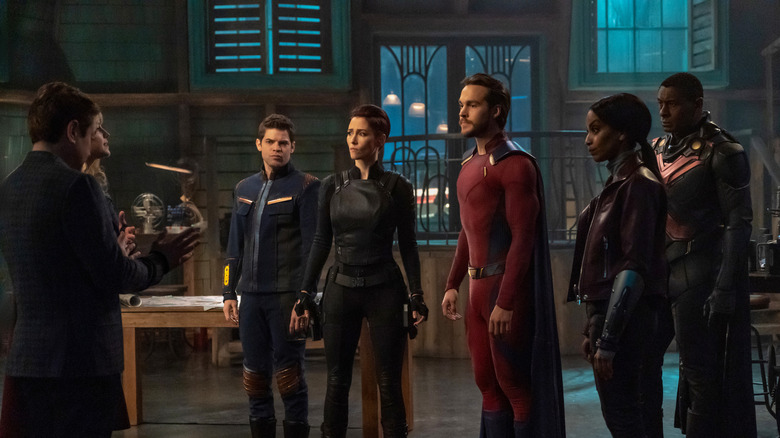 The CW
On what the last day of shooting was like, Tesfai tried to put the experience into words. "It was very ... it's complicated. It's hard to talk about it without a spoiler. It was very dramatic in the material we were shooting, and it was already an environment that most defines emotional. So it was a lot, and everybody was there, which was really nice."
But what we really want to know is if anyone had any waterworks (because we already know the fans will). She said, "It was really tough, I felt like, for most parts of it. It was always random. One of our ADs, Bob — I gave the crew gifts, and I sobbed when I said bye to him, it was very random." 
Tesfai continued, "But yeah, I think it was mixed. I think everyone's really sad, but you're also so tired at the end of this, and it doesn't feel real, you think you're going to come back after the break. So I think it's random. I'll get a text from Chyler [Leigh] like, 'What the heck, I miss you so much.' And I think we were just like sorry. I'm like, 'I miss you, too.' As we're rested now, we're processing it. I think all of us ... we'll keep in touch." Hopefully, more "Supergirl" characters will get to make cameos in crossover projects — such as, for instance, "The Flash" event titled "Armageddon" – and make staying in touch even easier. 
New episodes of "Supergirl" air Tuesdays on The CW and stream on the website the next day.