Here's The Lineup For The Flash Season 8's Massive Armageddon Event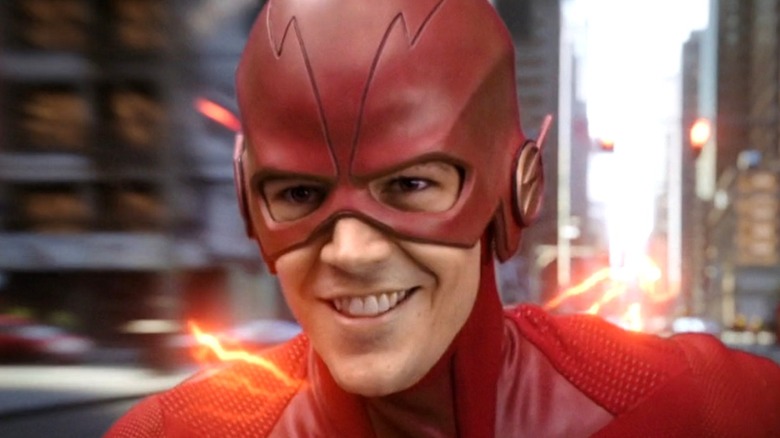 Warner Bros. Television
The CW has shown fans all manner of different event stories through its slate of DC Comics series, with "Crisis on Infinite Earths" being the event that finally cemented Supergirl, Black Lightning, and Barry Allen's (Grant Gustin) universes as one in the same in 2019. Since that last team-up, though, the world that was once dubbed the Arrowverse has changed in seismic ways — and with more major alterations to come.
For one thing, there is no "Arrow" anymore. While some former cast members from the series occasionally appear in other shows, Oliver Queen (Stephen Amell) and his partner Felicity Smoak (Emily Bett Rickards) are both entirely out of the equation as of the series finale, "Fadeout." In 2021, fans are also about to see the final episodes of "Supergirl".
"The Flash" as a show also experienced huge changes just inside its own stories during season 7, arguably the biggest being the departure of fan favorite Cisco Ramon (Carlos Valdez) and the surprise return of Reverse Flash Eobard Thawne (Tom Cavanaugh).
As "The Flash" continues onward into its eighth season, the biggest questions have surrounded what the next crossover might look like. And more importantly, who might still even show up for a DC CW crossover? Well, fans finally have their answer — and it's even bigger than anyone could have expected.
Supergirl, Black Lighting alums and more are in for Armageddon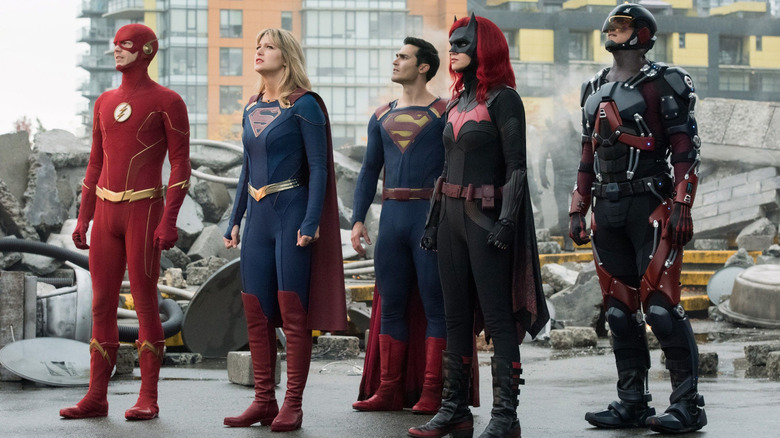 Warner Bros. Television
According to a press release (via Deadline), the next crossover episodes surrounding "The Flash" and its fellow CW DC shows is titled "Armageddon." The five-part event will begin airing on November 16 at 8 p.m. EST. The story will feature something familiar to folks who remember the 2017 special "Invasion!" — an alien attack. And while there's been no indication that the Dominators (who appeared in the 2017 crossover special "Invasion!") are behind this latest Earth vs. space event, this story will once again pit Team Flash against an intergalactic adversary they simply cannot defeat on their own.
Naturally, that means people from other DC shows are bound to turn up, but who. It has been confirmed that Javicia Leslie will turn up as Batwoman alongside Tom Cavanaugh and Neal McDonough, who return as baddies Eobard Thawne and Damien Darhk, respectively. But the big news is that departed cast members and folks from recently-ended shows are also coming back: Brandon Routh as The Atom, Kat McNamara as Mia Queen, Osric Chau as Ryan Choi, Chyler Leigh as Alex Danvers, and Cress Williams as Black Lightning will all appear during "Armageddon." It's especially big news seeing cast members from both "Black Lightning" and "Supergirl" returning, since both shows will have completed their runs by the time "The Flash" season 8 begins.
"Simply put, these are going to be some of the most emotional Flash episodes ever," said "The Flash" executive producer Eric Wallace during a press call (via Deadline). "Plus, there are some truly epic moments and huge surprises that await our fans. And we're doing them on a scale that's bigger and bolder than our traditional Flash episodes. So yes, "Armageddon" is a lot more than just another graphic novel storyline. It's going to be a true event for Flash and Arrowverse fans, old and new. Honestly, I can't wait for audiences to see what we've got planned."