Who Plays Kang Sae-Byeok In Netflix's Squid Game?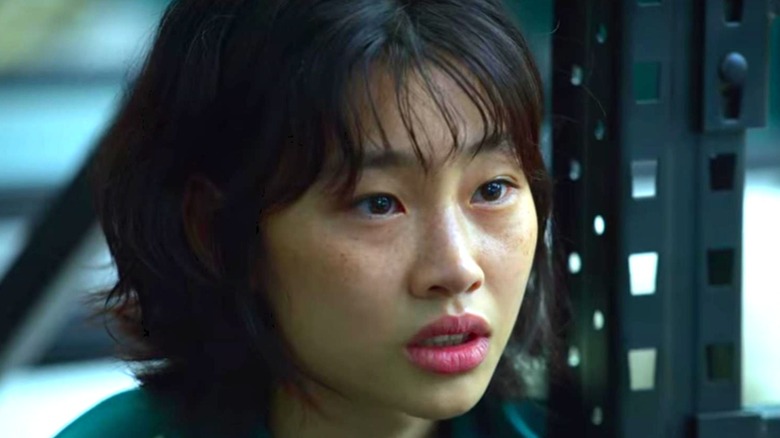 Netflix
The Korean survival drama "Squid Game" has taken the world by storm and is on its way to becoming Netflix's biggest show ever. The fast-paced series follows Seong Gi-hun (Lee Jung-jae), who struggles with a gambling addiction. After falling into a debt he likely won't be able to recover from, a mysterious man offers him a life-saving opportunity: To participate in a series of games for a huge sum of money — $38.5 million, to be exact.
Gi-hun finds himself among 455 other competitors who are all vying for the big prize. Each of the interesting characters he meets has their reasons for participating in the games: Gi-hun's childhood friend, Cho Sang-woo (Park Hae-soo), is a respected businessman who gets himself into financial trouble; Oh Il-nam (O Yeong-su), aka Player 001, is a terminally-ill man who joins the games for a final adventure; and Kang Sae-byeok is a young woman who hopes to win enough money to reunite with her family.
Of the many characters in "Squid Game," Sae-byeok is one of the most complex. She lived a long, difficult life before entering the games and proves herself a powerful competitor. But who is the actress that plays Sae-byoek? Here's what we know about the rising star.
Jung Ho-yeon is an international model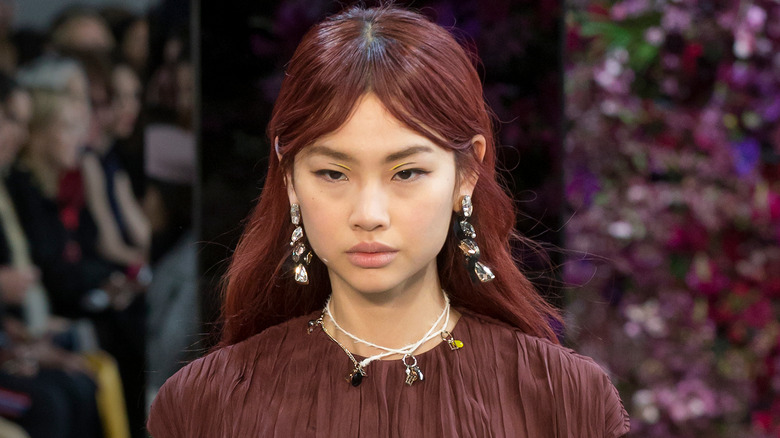 Ovidiu Hrubaru/Shutterstock
On "Squid Game," Kang Sae-byeok is played by Jung Ho-yeon, a young woman whose career in the entertainment industry began long before her star-making turn on the hit Netflix show. According to The Korea Times, Jung began modeling at the age of 16 and, in 2016, she made her debut in the US modeling industry with her trademark red hair helping her stand out amongst the crowd. After taking part in the modeling competition "Korea's Next Top Model," where she came in second place (via Vogue). She gained even more fans and has since gone on to walk the runway for brands like Louis Vuitton, Opening Ceremony, Fendi, and Prabal Gurung.
Although Jung already had an impressive fan base before appearing in "Squid Game," her performance on the show has helped boost her star power exponentially. A report by the Korean news website News 1 (also confirmed by NME), she is now officially the most-followed Korean actress on Instagram; at the time of this article, her follower count exceeds 13 million. Considering that her follower count was reportedly around 400,000 before "Squid Game" premiered on September 17, that's an amazing increase in only a few weeks.
Squid Game is Jung Ho-yeon's first acting gig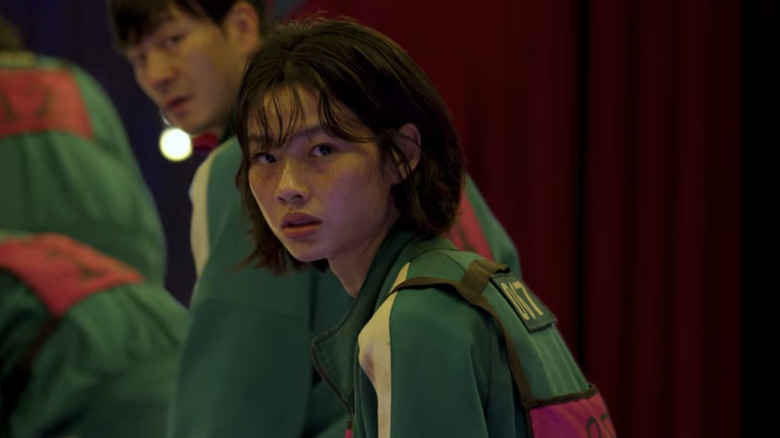 Netflix
If you're one of the millions of people who've already watched "Squid Game," you may be surprised to hear that the show was Jung Ho-yeon's first acting job. In a September 2021 interview with W Korea, she explained that she auditioned for the Netflix show during New York Fashion Week and felt surprised when she landed the role. She recalled, "It was shocking... the first thing I said was 'Why?' Even though I felt so happy, it seems that a greater fear came over me. 'Thank you so much. Can I do this?'"
Jung then explained how her nerves increased as she sat across from her award-winning castmates, namely Lee Jung-jae and Park Hae-soo. Of course, she eventually proved her acting abilities are up to par with her co-stars and continues to earn praise for her portrayal of Sae-byeok. To wrap up the W Korea interview, Jung shared that since she began acting, her way of looking at the world has also changed: "In a way, we live the same day by day, but as we start acting, it feels like the air in the world is changing little by little. It's really strange that it's the same landscape, but a completely different world with just a difference in perspective."
You can see Jung Ho-yeon in action in "Squid Game" Season 1, now streaming on Netflix.