Kaia Gerber Dishes On Her Awkward Audition For American Horror Stories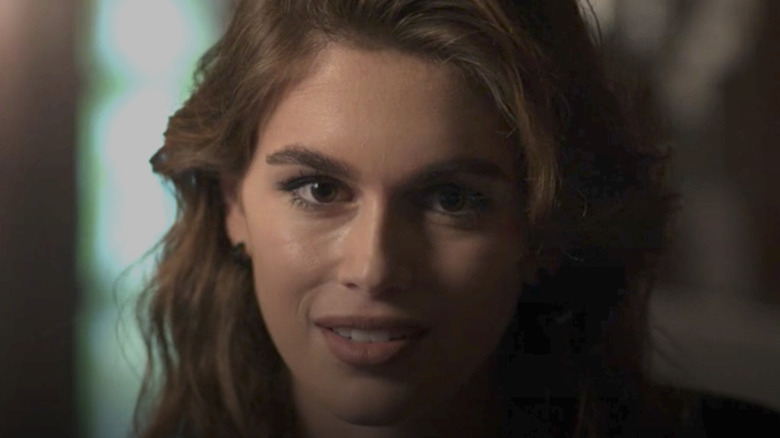 FX on Hulu
As was revealed in the weeks leading up to its premiere, Season 10 of "American Horror Story" is divided into two halves, with the first being known as "Red Tide" and the second titled "Death Valley." The first episode of "Death Valley" aired on September 29, and introduced audiences to a group of college students who are likely to be the season's central protagonists moving forward, including Jamie (Rachel Hilson), Cal (Nico Greetham), Troy (Isaac Cole Powell), and Kendall (Kaia Gerber).
Like many of her fellow cast members, Gerber is not a newcomer to "American Horror Story." That said, she debuted in the "American Horror Story" universe just a couple of months prior, in two episodes of the spinoff series "American Horror Stories," which aired in July and August. Meanwhile, Gerber's other screen credits include a Louis Vuitton commercial that first aired earlier this year.
In honor of her new "American Horror Story" role, ET Online recently published an interview with Gerber in which the actress discussed what her surprisingly awkward audition process was like for "American Horror Stories."
Kaia Gerber's mom helped her with her American Horror Stories audition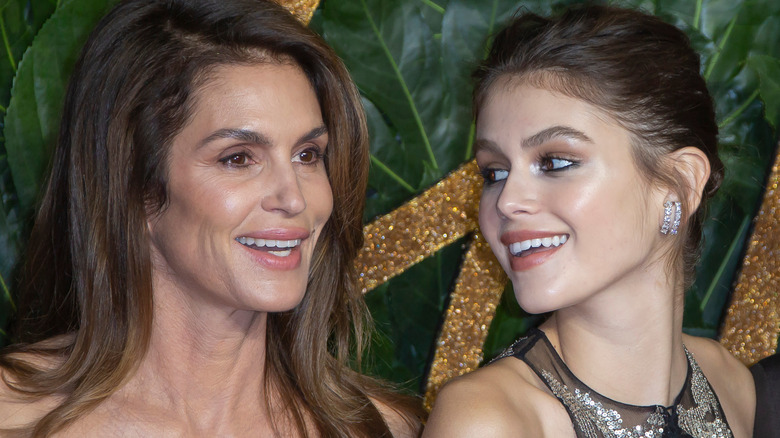 BAKOUNINE/Shutterstock
While some "American Horror Story" fans believe showrunner Ryan Murphy specifically sought her out, ET Online notes that Kaia Gerber auditioned for "American Horror Stories" like any other actor would. At the time, the project was not yet titled "American Horror Stories," and Gerber recalled having no idea what series she was auditioning for despite knowing that Murphy served as its showrunner.
Desperate to try and land a role in the series, Gerber sent in an audition tape for "American Horror Stories" in which she acted out a scene between her character, Ruby, and Scarlett (Sierra McCormick), Ruby's love interest in the series. However, McCormick was not who Gerber acted out the scene with during her audition tape. Instead, her stand-in scene partner for the audition, according to Gerber, was none other than her mother. "It was, as you can imagine, a little bit uncomfortable to do with my mom. But she was a trooper and helped me a lot," Gerber said.
While auditioning with a parent is undoubtedly an uncomfortable process no matter the circumstances, Gerber's mother happens to be model and actor Cindy Crawford, so it's not like her scene partner was someone unfamiliar with the process. Of course, whether the presence of a familiar face helped or the weirdness of acting alongside a parent impeded her audition is beside the point, given that Gerber ultimately landed the "American Horror Stories" role.
Now, fans can continue to watch her on a weekly basis as Kendall in "American Horror Story: Double Feature."