The Correct Order In Which To Watch Daniel Craig's James Bond Movies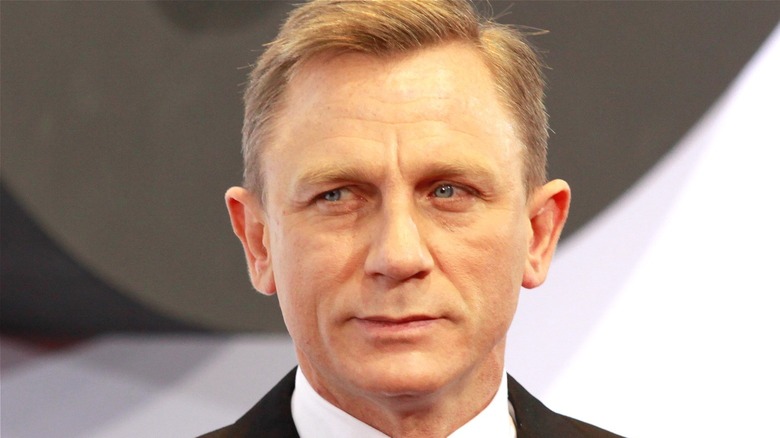 Piotr Zajac/Shutterstock
Daniel Craig's final mission as James Bond has been released, and understandably, a few tears have been shed for what is a very fond farewell. Having already earned an incredible $119 million following its debut this weekend (via The Guardian), "No Time To Die" could be on route to being Daniel Craig's most successful turn as 007 to date. 
Longtime fans have flocked to see the James Bond of the 21st century get behind the wheel of that iconic Aston Martin one last time, but what of the uninitiated to the world of MI6's top employee? What's the best order in which to view the Craig run of Bond, and to then tell your Vespers from your Silvas? How can you best appreciate the moments with Moneypenny, as well as your M and Ms? 
Well, here's a viewing guide to the best sequence for watching Daniel Craig's Bond movies. For your eyes only, of course.
We begin at the Casino Royale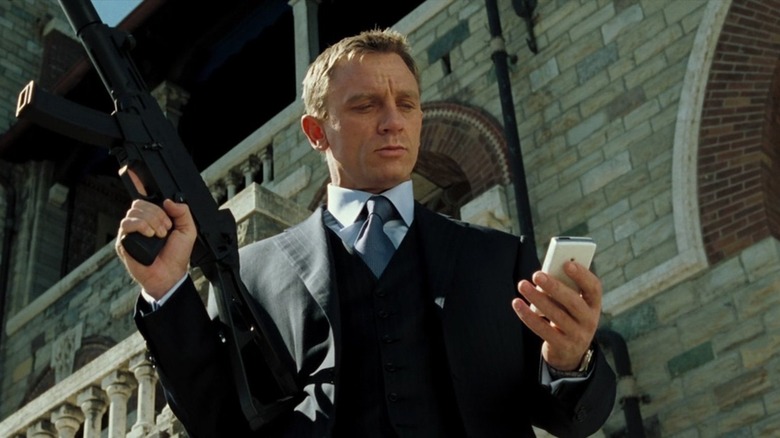 Sony Pictures
Up there as one of the best introductions for a newly appointed Bond, Martin Campbell's "Casino Royale" isn't just the start of Craig's take on the character: it's the foundation of this film's turmoil and tragedy that would haunt 007 in every film that followed. Earning his ranking as a double-O from the off, the 2006 adaptation of Ian Fleming's first-ever Bond book displayed James in his early stages. Here he was a spy that was less likely to drink a custom-made Martini than he was to break the glass over someone's head. It marked the first steps of a rough-around-the-edges agent we hadn't seen before, making the moves he needed to be the sophisticated hero audiences were excited to see him become.
Above all, though, "Casino Royale" gave us an introduction to an emotional side of James we'd not seen in years. Accompanied by Vesper Lynd (Eva Green) in a mission to Montenegro, we got an insight into a sarcastic, sensitive, straight-up killer of a Bond that couldn't be tempered. One whose blood would boil thanks to the elegant but effective adversary, Le Chiffre (Mads Mikkelsen), and whose heart would break and never really mend thanks to the armor-removing love of Vesper. This isn't just a great place to start for Bond — it's a great place to start for a franchise overall.
Quantum of Solace is the necessary chaser with a confusing title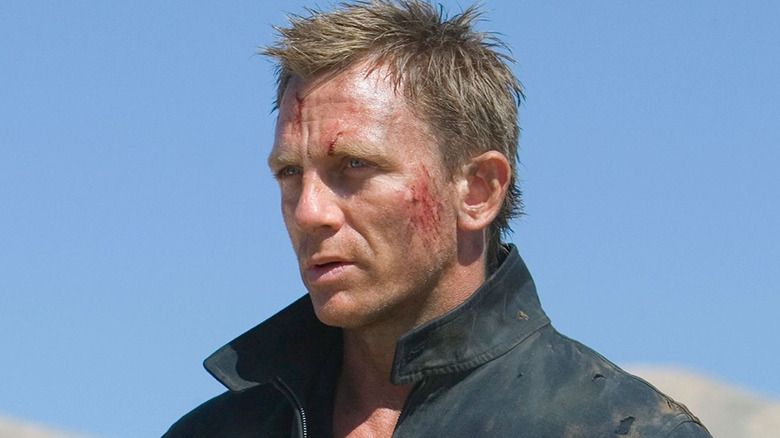 Sony Pictures
Next up on the watchlist is the Bond film that, unlike most, takes place immediately after its predecessor, so it may best be viewed as a double-bill if you're feeling brave enough. Moving (for better or worse) at breakneck speed, "Quantum of Solace" is a revenge film, with Bond on the relentless hunt for those responsible for the tragedy that occurs in "Casino Royale." Fueled by rage and not against breaking the rules, Bond uncovers a shady organization that played a part in Le Chiffre's activities, and even goes against MI6 to get the truth — and the man behind it all, Dominic Greene.
Easily the most convoluted film in Craig's time as Bond, "Quantum of Solace" is pretty low in rewatchability, featuring a tame Bond baddie with a scam to control water supplies, a car chase that belongs in a "Bourne" film, and one of the worst background extra performances caught on film (via Twitter). Nonetheless, it's still an essential for James' journey and the world being built around him, comprised of both new and old elements to the Bond franchise that he just couldn't be without.
Sam Mendes takes his best shot with Skyfall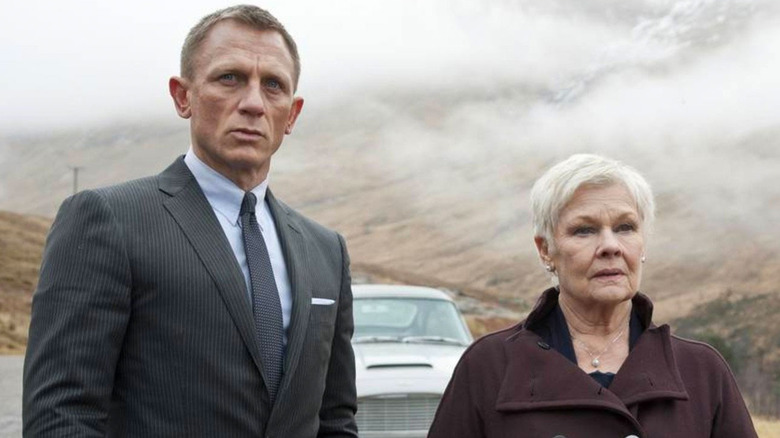 Sony Pictures
In the case of Daniel Craig's time as 007, it turned out that 003 was the magic number. After the somewhat disappointing results from "Quantum of Solace," "Skyfall" is the next one on the list — and thankfully, it was the return to form that Bond fans were desperate for, and that outsiders love, regardless. 
Released on the 50th anniversary of the franchise, director Sam Mendes' take on the hero with the license to kill is a thrill-ride, flying through the checklist of essentials that make a Bond. From an outstanding opening (and that boss cuff-straightening), a skin-freezing song, and a great villain in Javier Bardem's former MI6 agent, Silva, it's easily the most epic instalment of Craig's reign as Bond (other than "No Time To Die").
Here, Craig is totally comfortable with the role and loving every second of it, leaving the days of uncertainty for this particular Bond in the dust. He gives us a take on the character that has earned its place in the same conversation as Connery, Brosnan, and company: Cool, calculated, and coated with that thin layer of comedic charm that all Bonds in their prime have delivered. Most importantly though, "Skyfall" yet again tapped into the more human side of this damn-near unstoppable agent, and the relationship he had with Judi Dench's M. Her last appearance in the franchise is one bubbling with a heartwarming chemistry between herself and Craig, making her one of the most memorable "Bond girls" to date.
The penultimate instalment may not be what you ex-Spectre-d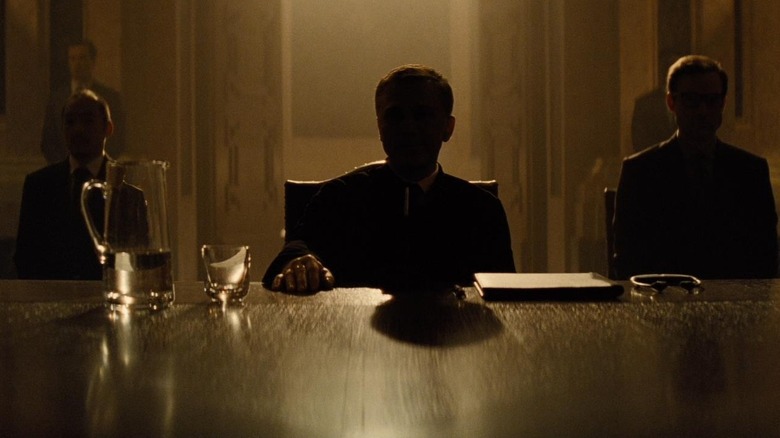 Sony Pictures
One last step before the final hurrah for Craig ... and boy, is it a doozy. Like every page in Craig's chapter as Bond, "Spectre" is another key part to the puzzle that fleshes the character out, albeit on a rather far-fetched level. 
In "Spectre," Sam Mendes returned with Craig, to look further back into what made this Bond the agent we've come to know, love, and be scared of. Here, Bond uncovers another mysterious group known as Spectre, which links to all of his previous missions — and the loved ones he'd lost in the process — courtesy of the top dog, Franz Oberhauser, who is Bond's thought-to-be-dead adopted brother.
Etching slightly into farcical territory with the origins of his new opponent, the cloak-and-dagger elements slow the film down, but don't overshadow some of the great stunts and action set-pieces that keep you interested, particularly that opening one-take shot in Mexico City. There's also the expected but equally cool moment that reveals Oberhauser has taken the alias of Stavro Blofeld, linking this corner of the Bond franchise to one of its key bad guys. Is it earned? Not at all. Does Christoph Waltz as the legendary adversary work? Absolutely. In fact, even with its occasional missteps, "Spectre" is strengthened by what comes next.
No better way to end than with No Time To Die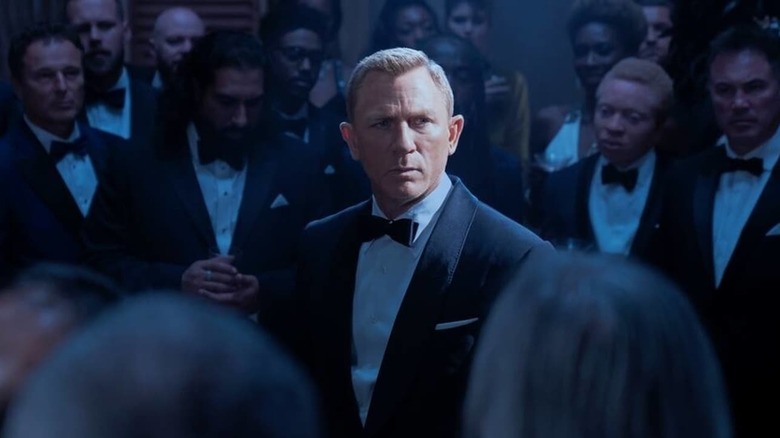 Sony Pictures
If you've stuck with the viewing order, well done. It is absolutely essential that here is where you finish. Not just the final of this Bond's reign, but the closing and heartwarming page to a chapter in this hero's particularly long journey. Linking back to almost every film of Craig's time as Bond (sorry, "Quantum of Solace"), it makes viewing all of James' death-defying missions worthwhile. The friendships formed, the loves lost, and the jokes that even now still hit perfectly. And if you wanted to cut corners ... well, much like "Skyfall," there's still so much quality material here that even someone who has never seen any of Craig's Bond films until now could enjoy his curtain call to the hero he's breathed life into for almost 16 years.
Outsiders may well enjoy what's on show here, but for you dedicated folk that have gone through the recommended viewing, "No Time To Die" will pay off massively for what's in store. It's not just an incredible homage to what came before Craig, but the part of the legacy he's helped build since "Casino Royale." So many nods to both the world he's built, and ultimately been part of, make "No Time To Die" perhaps the most satisfying watch of all.