Why Daniel Craig Was Never The Same After Casino Royale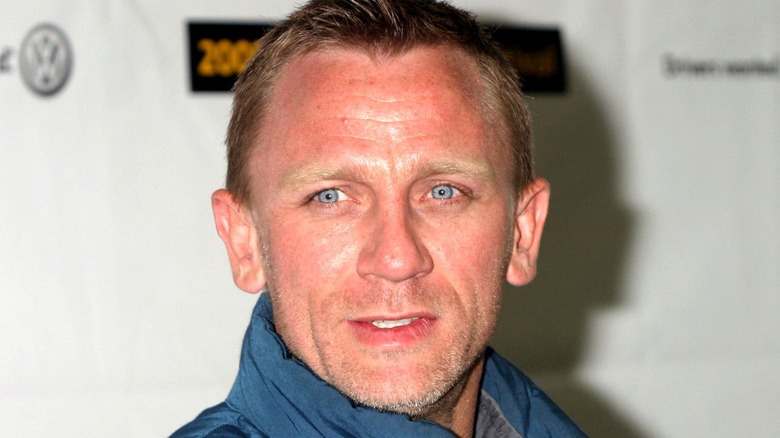 Everett Collection/Shutterstock
For the past 15 years, actor Daniel Craig has played the role of James Bond with surprising complexity and depth and has arguably given the character as hard an edge as he's had since Sean Connery first played the fictional British secret agent. However, part of that toughness, it turns out, was the result of the actor confronting his own fears. In fact, Craig was forced to face one of his biggest fears right out of the gate while filming the opening scene of 2006's "Casino Royale."
The opening of "Casino Royale" is, like most "Bond" films, chock-full of intense action, following Craig's 007 as he chases after a bad guy on a building construction site in Madagascar. Dodging explosions and gunfire were the least of Bond's worries throughout the chase, though, as his target literally scaled new heights to elude 007 — climbing his way onto rafters, up cranes, and running across scaffolding. Never one to give up on a chase, Bond followed him.
It's an intense and thrilling sequence, and Craig was, in a good way, never the same after filming it. The actor reflected on how the scene transformed him in a recent Q&A for "No Time to Die," his fifth and final film as the character, which is opening in theaters in the U.S. on October 8.
Daniel Craig was forced to get over a major fear while filming Casino Royale
Even though stunt performers were clearly involved in the filming of the building construction chase in "Casino Royale," Daniel Craig was still required to take part in it, if only to lend authenticity to the scene. Craig recently revealed the surprising way that the "Casino Royale" scene forced him to face one of his phobias as well, while recently answering a fan question for GQ about the most challenging and fun scene he has filmed over the course of his illustrious Bond run.
"When I started 'Casino Royale,' I was afraid of heights, and after it, I wasn't," Craig admitted. "I had to go up about 60 feet onto scaffolding and walk along beams that were about six inches across — no, run across beams that were six inches across, 60 feet up in the air — which wasn't fun, but was challenging."
The harrowing opening sequence in "Casino Royale" showed movie fans just how dedicated Craig was to the time-honored role of Bond, and in the end, the 21st official film in the series became a worldwide blockbuster — earning more than $616 million in ticket sales (via BoxOfficeMojo). Craig, of course, went on to reprise the legendary MI6 agent and perform many more death-defying scenes in "Quantum of Solace," "Skyfall," and "Spectre." The work has obviously taken a toll on Craig's body though, which is no doubt partly why "No Time to Die" — the 25th official entry in the Bond series — is his last film in the role.
In addition to Craig, "No Time to Die" also stars Rami Malek, Lashana Lynch, Ana de Armas, Christoph Waltz, Jeffrey Wright, Billy Magnussen, and Ralph Fiennes.