The Second Trailer For SyFy's Chucky Series Is Extremely Revealing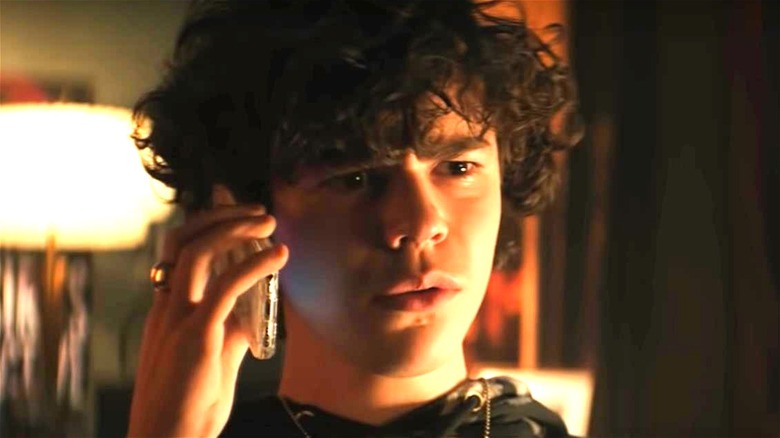 SyFy
The "Chucky" series is just days away from premiering on SyFy, and the network has debuted a brand new trailer which reveals what to expect from the latest chapter in the "Child's Play" series. 
The TV show is actually a direct sequel to 2017's "Cult of Chucky," directed by Don Mancini, and Brad Dourif reprises his role as the voice of the killer doll. Longtime "Chucky" fans will be pleased to know that it isn't connected to the 2019 "Child's Play" remake (which reimagined the character as a high-tech doll). Original creator Don Mancini told SFX that the reboot nearly killed his plans for the "Chucky" series, saying "It was vexing, because here are these people, who we didn't know, who just sort of grabbed a piece of what we had done and ran off on another tangent with it." He went on to say "So it was concerning, because if that movie had been really successful, it could have put a crimp in my plans."
Thankfully, that wasn't the case and fans will finally get to see the next chapter of the story, and it'll also address some questions lingering from the previous films. Mancini also told SFX that he "deliberately wanted to set up a bunch of cliffhangers and new issues that I knew, if we were able to get the TV series off the ground, that we'd have ample opportunity to get into everything."
 The second trailer for the show reveals more about Charles Lee Ray, Chucky, and the town of Hackensack.
There's another version of Chucky
The trailer teases the main story about what happens after Jake Wheeler (Zackary Arthur) finds Chucky at a yard sale and buys him for $20. Spoiler alert: Things get bloody. Scored to the Yeah Yeah Yeah's "Heads Will Roll," the trailer gets newer audiences up to speed on Chucky's past, briefly explaining that he used to be a person, not a doll. Unfortunately, he was also a serial killer who "terrorized Chicago for years," before transferring his soul into the infamous red-haired doll.
While the trailer teases the bloody violence ahead, it also shows off an interesting dynamic between Jake and Chucky, as one scene shows the two chatting away in the middle of the night. Let's hope they don't become friends... 
Additionally, things get even more interesting when Andy Barclay (Alex Vincent) points out that when serial killer Charles Lee Ray split his soul into pieces, "the last piece didn't go into a doll." Uh oh. The footage then shows Fiona Dourif as Nica Pierce, who evidently has part of Chucky's soul inside her. Since Fiona Dourif is Brad Dourif's daughter, it seems quite fitting that she plays another version of Chucky, and she looks delightfully unhinged in her brief moments in the trailer. Hopefully she gets plenty of time to shine in the 10-episode season. 
"Chucky" starts airing on Syfy on October 12, 2021.