This Squid Game Theory Could Change Everything In Season 2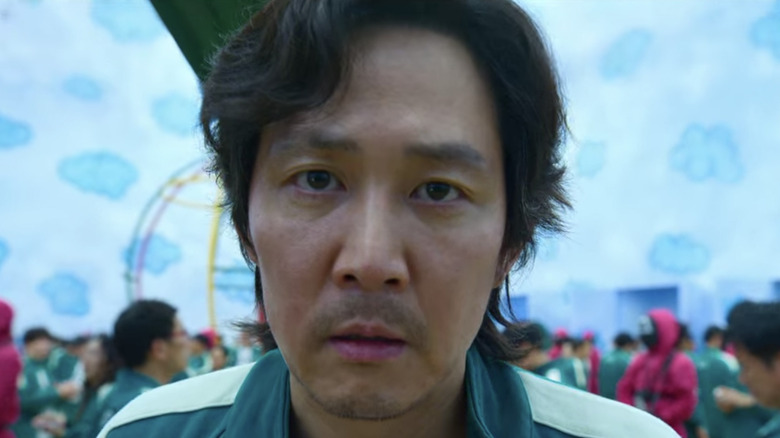 Netflix
"Squid Game" is our latest television obsession — and we bet it's yours, too. The heart-pounding Korean drama has taken Netflix by storm, ranking as the #1 most-watched show in a staggering 90 different countries, as reported by Forbes. 
The nine-episode series follows a Seong Gi-hun (Lee Hung-Jae), a down-on-his-luck man who finds his entire life changed when a stranger offers him the chance to join a game for an unthinkable sum of money. However, what he thinks might just be a series of wacky games turns out to be a horrifying experience. If you lose, you're not just eliminated from the game — you are killed. As the season progresses, we discover the entire game is plot launched by the uber-rich who gain pleasure (and more fortunes) from watching the participants fight to the death.
By the end of the season, Gi-hun manages to win the contest and the jaw-dropping prize sum of $46.5 billion Korean won (approximately $38.4 million USD). However, taking part in such a brutal experience changes him, and the series ends with what appears to be Gi-hun racing off to use his newfound means to take down the entire operation. Like any good suspenseful show, though, the final episode leaves us with some questions, and eager for a second season. Fans have taken to social media to speculate what might become of Gi-hun's future, and one theory provides a very intriguing concept.
Will Gi-hun return to the game as a guard?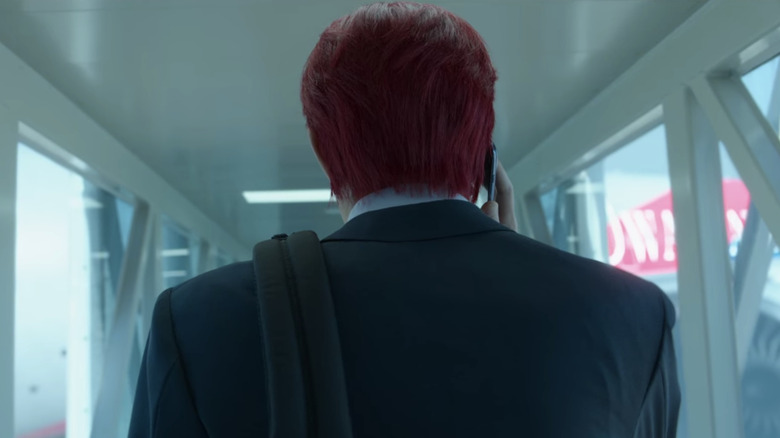 Over on TikTok, user @cloeeex provides a very interesting theory about Gi-hun's next moves. 
In the last episode, after discovering fellow player Oh Il-nam (Oh Young-Soo) was not his friend, but in fact the mastermind behind the entire game, Gi-hun finally opts to use his prize money after leaving it untouched for a full year. Like many people entering a new stage of life, Gi-hun decided to mark the occasion with a haircut, swapping his shaggy, dark locks for a short bright-red style. 
Throughout all of "Squid Game," Gi-hun and the other 455 contestants wore green tracksuits, while the soldiers monitoring (and slaughtering) them were outfitted in red. @cloeeex suggests that Gi-hun's new red hair might mean he'll be returning to the island to join the ranks of the soldiers, perhaps in an undercover operation similar to that of police officer Hwang Jun-ho (Wi Ha-joon). 
That is definitely an intriguing theory, indeed. It would not only give the second season a fresh approach but also provide a natural way to explore the behind-the-scenes aspects of the game itself in more detail. While Season 1 focused on the lives of the contestants and even gave us a peek at the VIPs who came to watch the games play out, the guards mostly stayed figuratively and literally behind their masks. Having Gi-hun joining their ranks could provide ample opportunity for a closer look at the people who make the games possible. And even though it's merely a fan's hypothesis as of now, some recent comments from "Squid Game" writer-director Hwang Dong-hyuk leave the door open for it to go from theory to reality.
Squid Games' director opens up about the challenges of making Season 2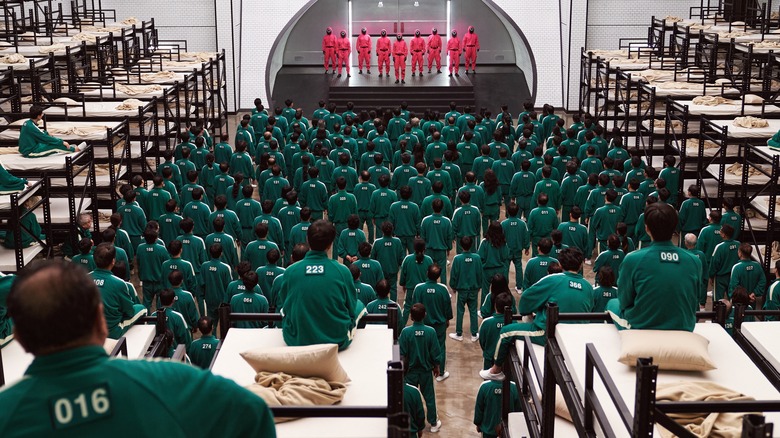 Youngkyu Park/Netflix
Now, it's important to keep in mind that "Squid Game" Season 2 has yet to be confirmed and Dong-hyuk has kept his cards relatively close to his chest when it comes to speaking about what could possibly happen in a second outing of the show. But, during an interview with RadioTimes, he did talk about the creative approach he might take to Season 2. Hypothetically speaking, of course.
Dong-hyuk revealed that fan reaction could play a big role in the development of a potential next installment of "Squid Game," specifically around what he describes as "huge expectations for season two." The director went on to explain, "It's not that I haven't thought about season two at all, and I also do have a rough framework for it. But I keep asking myself whether I can make it better than season one. I do not want people to get disappointed over the new season."
Meeting fan expectations, especially for a series as popular as "Squid Game," is a daunting task. Dong-hyuk does have an idea up his sleeve for how he could navigate that particular situation. The director told RadioTimes, "maybe I can even ask the fans on social media to give ideas [for Season 2]."
If he is going to consult the fans on where to take the second season, we know a great place that he could start. Of course, we won't know anything concrete about what Season 2 of "Squid Game" will be like until it (hopefully) hits our screens. In the meantime, we'll be patiently waiting and theorizing — and never looking at a children's playground game the same ever again.