The Survival Drama That's Got A Grip On Netflix Subscribers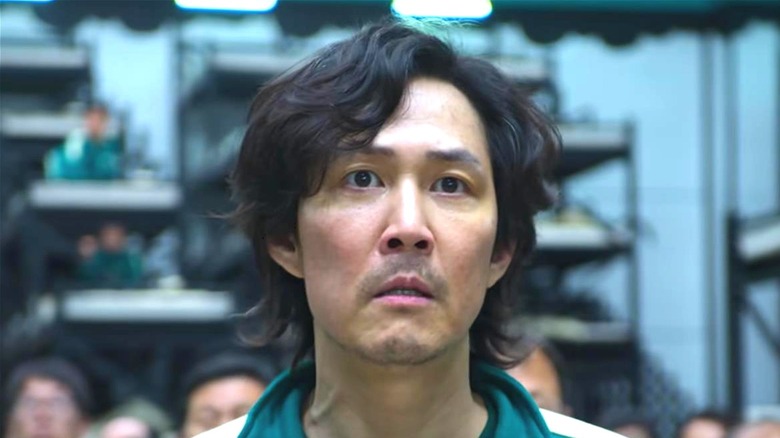 Netflix
Netflix always has something for you to watch, no matter what you are in the mood for. Always a few steps ahead of other streaming platforms, Netflix is usually willing to take risks on unique shows and movies. But one thing it is also known for is its fantastic international series, with hits like Germany's "Dark" and Spain's "La Casa de Papel," also known as "Money Heist," as just a couple of examples. So far, Netflix has created original series in languages that include French, Italian, Arabic, Hindi, Japanese, and even Icelandic, among many others.
In particular, Netflix has been churning out hit Korean dramas, and fans can't get enough of them. Whether it's the zombie period drama "Kingdom" or the romantic series "Nevertheless," you definitely need to check these shows out. And if neither of those Korean dramas seem like your speed, then you might want to watch a new show that dropped on the streaming platform on September 17, 2021, called "Squid Game," which subscribers can't seem to get enough of.
People can't stop watching the new Korean show Squid Game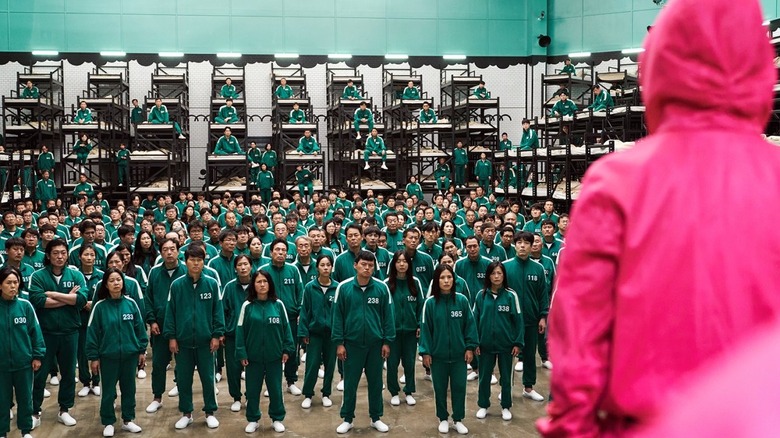 Netflix
"Squid Game" is written and directed by Hwang Dong-hyuk, and it's about a group of 456 people who are in financial debt who sign up for a competition that promises a ₩45.6 billion prize to whoever wins, only to realize that anyone who loses won't make it out alive. The show could easily be an episode of "Black Mirror" or a new version of "The Hunger Games," or as Forbes describes "Squid Game," "'Fall Guys' with murder." In the deadly competition, the contestants are put through six challenges — children's games with a horrific twist. There's no indication of who is behind the crazy game, with the staff all wearing similar outfits and masks that keep them anonymous. The story is set in the present, not some dystopian future, which really emphasizes the themes that the show explores about privilege and poverty. 
Since the show just came out, there aren't too many reviews yet on Rotten Tomatoes, but as of right now, "Squid Game" has a 100% rating. Paul Tassi from Forbes said that "It's a strange, violent, disturbing adventure, and if that sounds like something you'd like, I can't recommend 'Squid Game' enough." At NME, Hidzir Junaini called the show a "white-knuckle watch, thanks to its visceral competition element," also highlighting the socio-political aspect of the story, saying that "it's the politicking among the contestants that offers the series' most riveting moments." "Squid Game" has already been very successful on Netflix, so regular audiences clearly like the show as well. 
Sure, this violent, dark action series is definitely not for everyone, but if you think you can handle it, "Squid Game" is a must-watch.