Daniel Craig Just Revealed A Hilarious Dave Bautista Story From The Set Of Spectre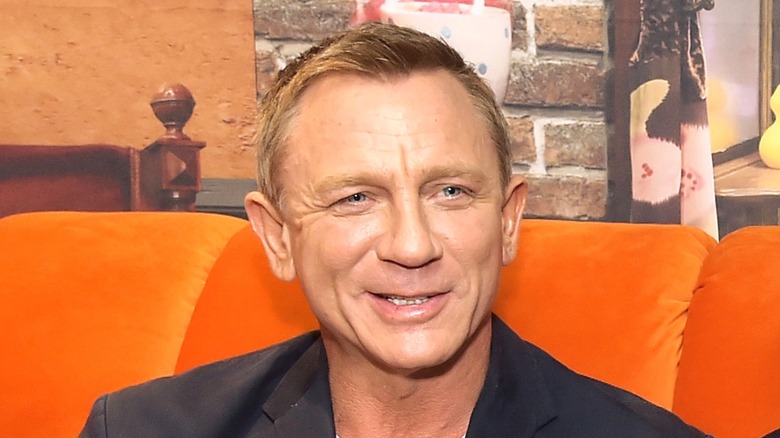 Stefanie Keenan/Getty Images for AT&T
Daniel Craig's time as James Bond is nearly done. After making his debut as 007 in 2006's "Casino Royale," he went on to play the iconic role of the dashing secret agent in three subsequent films: 2008's "Quantum of Solace," 2012's "Skyfall," and 2015's "Spectre." Next, the actor will suit up as Bond for the final time in "No Time to Die," a repeatedly delayed franchise installment that fans are more than ready to watch. "No Time to Die" brings back recent Bond franchise players Ben Whishaw, Léa Seydoux, Ralph Fiennes, Naomie Harris, Jeffrey Wright, and Christoph Waltz. Meanwhile, new cast members include Lashana Lynch, Ana de Armas, and Rami Malek, who will play the mysterious villain Safin. 
As Craig and his "No Time to Die" co-stars make the press rounds to promote their new movie ahead of its October 8 release, the actor has been revisiting his time playing 007. This trip down James Bond memory lane has led him to recall some of the tougher aspects of making these movies, like performing intense fights sequences. It would appear that one particular action setpiece, which involved "Spectre" co-star Dave Bautista, has stuck in Craig's mind because of the injuries both he and Bautista sustained during filming.
Daniel Craig's fight scene confidence led to an injury from Dave Bautista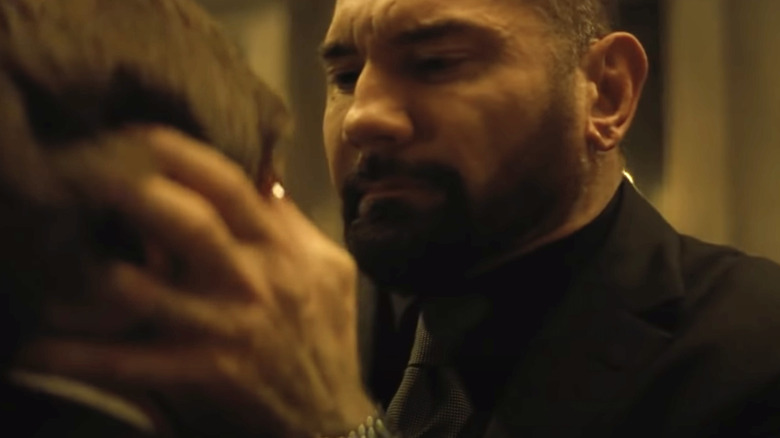 Sony Pictures Releasing
During a late September appearance on BBC's "The Graham Norton Show" (via YouTube), Craig, along with "No Time To Die" cast members Léa Seydoux, Lashana Lynch, and Rami Malek, showed up to discuss "No Time to Die." At one point, host Graham Norton asked the actor just how much damage the franchise had been done to him in his 15 years as James Bond. Craig revealed he sustained injuries since his debut in "Casino Royale," but that Dave Bautista, who played Mr. Hinx in 2015's "Spectre," was the cause of his most painful injury, which occurred while filming their memorable train fight scene.
Craig had nothing but praise for his on-screen foe and explained that things were going fine while filming until he asked the "Guardians of the Galaxy" star to take the intensity up a notch after feeling gaining some confidence about his performance. "He was sort of throwing me against this wall and being gentle, as so he should [because] it's pretend," recalled Craig, who continued, "I just sort of said, 'Dave, mate come on, you're alright you can chuck me a bit, I'm fine.' So he did. I ended up on the wall, but my knee was over here somewhere."
Daniel Craig accidentally injured Dave Bautista, too
There were no further issues for Daniel Craig until he got some payback when he accidentally broke Dave Bautista's nose when filming resumed. The actor told Graham Norton that Bautista is "a big guy, he's a professional wrestler; you really wouldn't mess with him," before explaining how he injured his co-star: "I hit him on the nose, and I heard this crack, and I went, 'Oh god no!' and ran away because I thought he was going to come after me."
Thankfully, Bautista appeared unphased, according to the James Bond actor, who revealed his "Spectre" co-star realigned his nose at that moment and continued filming. "He's a lot tougher than I am, I'll give him that," the James Bond actor admitted.
Hopefully, the two will have made up by the time we see them reunited for Rian Johnson's "Knives Out 2," where Craig will swap his tux and martini for a tweed suit and cigar to reprise his role as Southern sleuth, Benoit Blanc. Before "Knives Out 2" lands on Netflix in 2022, fans can see the star's final 007 performance in "No Time to Die" on October 8. Bautista will also appear soon in Denis Villeneuve's "Dune," which arrives in the U.K. and the U.S. on October 21 and 22, respectively.