Shows Like Modern Family That Sitcom Fans Should Watch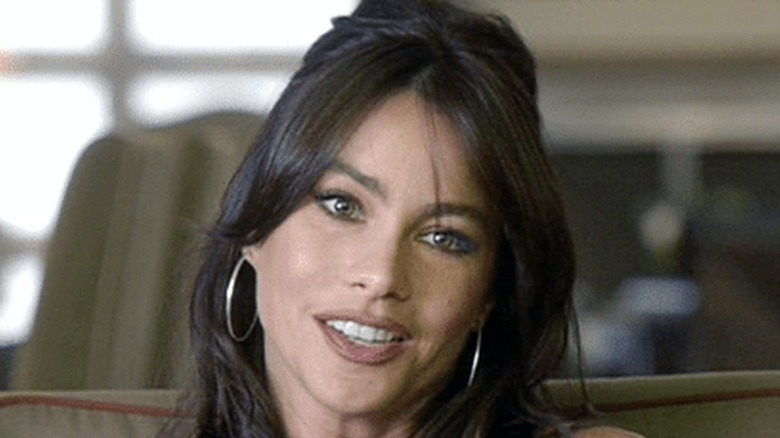 ABC
For 11 seasons from 2009 to 2020, "Modern Family" became the new face of the sitcom family as the show explored the lives of the Pritchett clan. There was Jay Pritchett with his young wife Gloria and stepson Manny. Jay's adult children Claire and Mitchell also had their own families with Phil Dunphy and Cameron Tucker, respectively. Together, the three households represented an updated view of the traditional American extended family. 
"Modern Family" was a ratings and critical hit right from its 1st season. The show was praised for its nuanced approach to a plethora of challenges faced by nuclear, blended, and same-sex families, ranging from raising an adopted child from another country to keeping the romantic spark alive between partners. The creators of the show, Christopher Lloyd and Steven Levitan, chose to follow a mockumentary style for the show that ably blends genuinely touching moments with laugh-out-loud situations.   
After "Modern Family" finally wrapped up in 2020, fans wondered if another show could possibly take its place. Fortunately, there are a variety of options both new and old for those who want to watch other shows built along similar lines. Check out any of the following shows to scratch that "Modern Family" itch. 
Malcolm in the Middle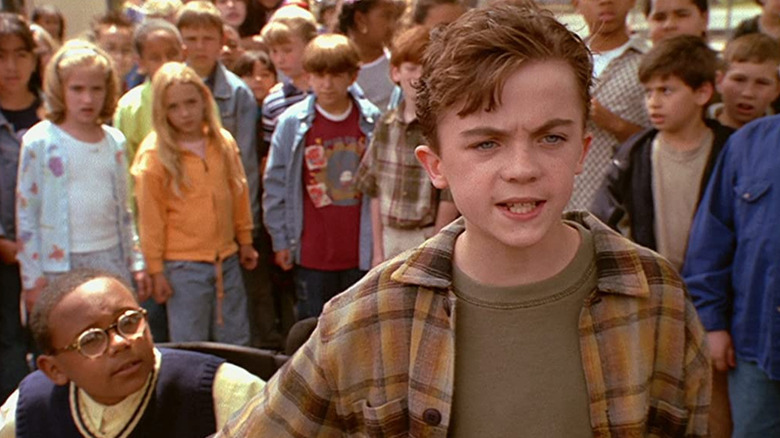 Fox
Before "Modern Family" dove into the hilarious problems of dysfunctional American households, "Malcolm in the Middle" practically invented the formula from 2000 to 20006 with its use of first-person narration, zany and deeply flawed main characters, and the absence of a laugh track. It's no coincidence that "WandaVision" chose to pay homage to "Malcolm in the Middle" and "Modern Family" in consecutive episodes while exploring the evolution of sitcoms from the '90s to the 2000s. 
Malcolm (Frankie Muniz) is the middle child in a household that includes his control freak mother Lois (Jane Kaczmarek), absent-minded but well-meaning father Hal (Bryan Cranston), dumber big brother Reese (Justin Berfield), younger brother Dewey (Erik Per Sullivan) and the eldest brother, troublemaker Francis (Christopher Masterson). The family's life is turned upside down when it's revealed that Malcolm is a legitimate genius and is to be inducted into a special class for gifted students at his school. 
Outrageously funny and wildly inventive, "Malcolm in the Middle" was well-known for its habit of showing its principal family in unflattering light, while still allowing audiences to empathize with the characters and their determination to make something better out of their middle-class life. The show was bolstered by a terrific cast of actors, including a pre-"Breaking Bad" Bryan Cranston in arguably his most popular role up to that point.     
Arrested Development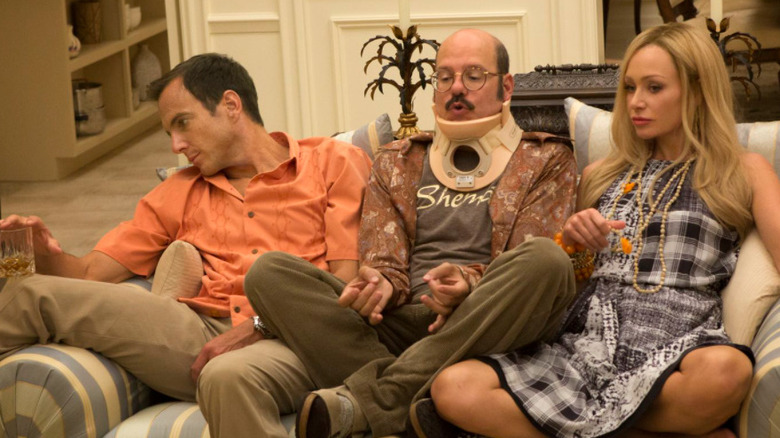 Netflix/Fox
Few sitcoms have ever managed to reach the heights of cult stardom like "Arrested Development." The show follows the lives of the Bluth household, a wealthy clan that finds their lives in tatters after the family patriarch, a real estate developer, is arrested on charges of corruption and jailed in the show's first episode.
It then falls to Michael Bluth (Jason Bateman), the most level-headed member of the family (which isn't saying much), to try to salvage his family's fortunes. Unfortunately, Michael's attempts are hampered by his family's inability to let go of their extravagant ways, as well as his own struggles to deal with his father's incarceration and his son's upbringing in such troubled circumstances. 
"Arrested Development" picked up many awards over its initial run from 2003 to 2006 and is frequently counted among the greatest television shows of all time. Praised just as much for its cast and writing as the legendary long-running gags that fans obsessively analyzed and documented, the show is in many ways a companion piece to "Modern Family" with a harder edge and rather more reprehensible characters. 
The Goldbergs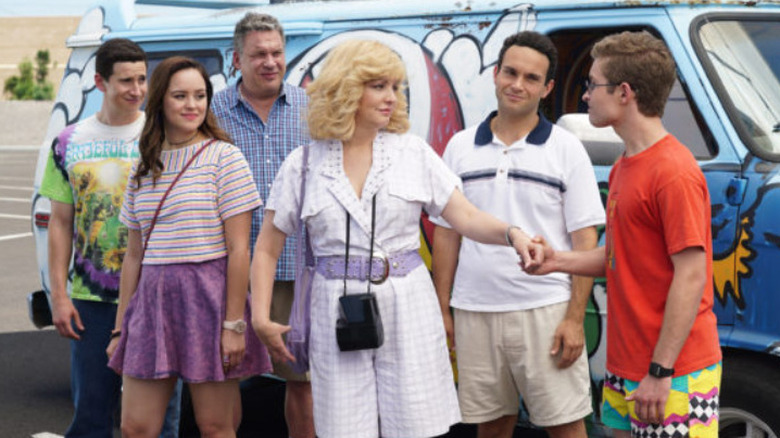 ABC
Even as many sitcoms like "Modern Family" explore present times, a few continue to traverse the past in the tradition of "The Wonder Years." In that category falls "The Goldbergs," which premiered in 2013 and was produced by Adam F. Goldberg, Seth Gordon, and Doug Robinson. The show is based on Goldberg's childhood memories and family life back in the 1980s and is complete with a childhood version of himself.
"The Goldbergs" presents an alternate version of the 1980s in Jenkintown, Pennsylvania, where Murray Goldberg (Jeff Garlin) lives with his wife Beverly (Wendi McLendon-Covey) and their children Erica (Hayley Orrantia), Barry (Troy Gentile), and Adam (Sean Giambrone). It is the youngest child Adam who documents the family's trial and tribulations with his trusty video camera, while grandfather Albert "Pops" Solomon (George Segal) drops by occasionally with words of wisdom for his grandchildren. 
Much like "That '70s Show" did for its decade, the comedy of "The Goldbergs" often centers around its era's pop culture phenomena — albeit in non-chronological order. Each season contains many references from all throughout the decade, and the then-current cultural zeitgeist is examined through the point of view of the adolescent Adam.
Schitt's Creek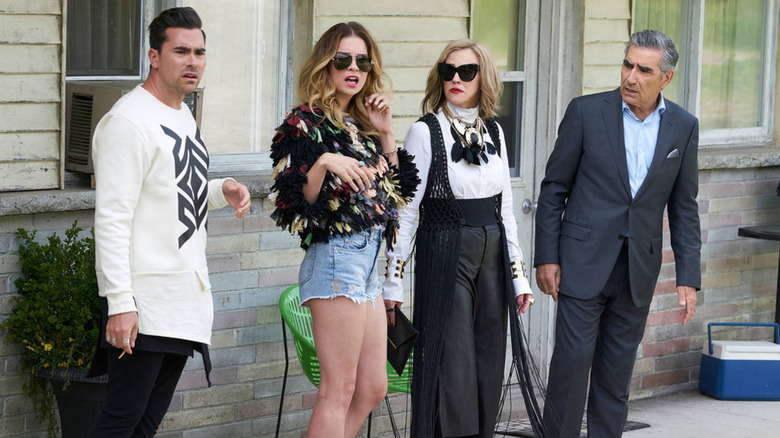 CBC
Created by and starring father-son duo Eugene and Dan Levy, "Schitt's Creek" opens with the formerly wealthy Rose family in a heap of trouble. Following an attempt by their business manager to embezzle funds from the family business, the Rose family loses its fortune and is forced to relocate to Schitt's Creek, a small town they once purchased as a joke based on its name.
Now living in a motel, the members of the Rose family are forced to grapple with the strange new condition of not having any money. "Schitt's Creek" had relatively low ratings in its first two seasons, but after getting bought by Netflix for its third — and thanks to a dynamic social media presence — the show exploded in popularity.
Frequently compared to both "Modern Family" and "Arrested Development," "Schitt's Creek" has picked up a slew of awards since its 2015 debut. For its final season, which concluded in 2020, the show received 15 Emmy nods, setting a nominations record for the final season of a comedy series. Then, at the 72nd Primetime Emmy Awards, the concluding season set a giant record, marking the first time a comedy or drama series received all seven major awards — including Outstanding Comedy Series, Writing and Directing for a Comedy Series, and Lead Actor/Actress and Supporting Actor/Actress.
The Office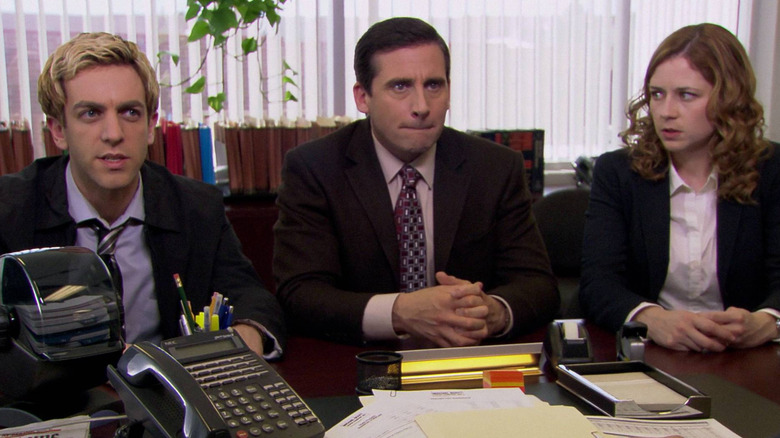 NBC
It may not have been the first sitcom to take the "mockumentary" approach to comedy that it shares with "Modern Family," but "The Office" is arguably the most famous in the genre. The original show was created by Ricky Gervais and Stephen Merchant for the BBC, where it ran from 2001 to 2003. It was then adapted for American television by Greg Daniels in 2005, with the remake running for nine seasons over seven years and making stars out of its cast, particularly Steve Carell and John Krasinski.
"The Office" examines the day-to-day functions of office employees in the Scranton, Pennsylvania, branch of the fictional Dunder Mifflin Paper Company. Heading the office is Regional Manager Michael Gary Scott (Carell), who fancies himself a far more capable and likeable leader than he actually is. The rest of the ensemble cast is made up of various colorful characters that were either inspired by the original UK show or formulated from the writers' extensive research into real American office culture.  
Initially opening to a muted response and mixed reviews, "The Office" has since come to be viewed as one of the most important sitcoms of the 2000s and 2010s. Apart from winning a Peabody Award, two Screen Actors Guild Awards, a Golden Globe Award for Carell's performance, and four Primetime Emmy Awards, the show frequently makes it to the top of critics' lists of greatest television shows of all time.
Frasier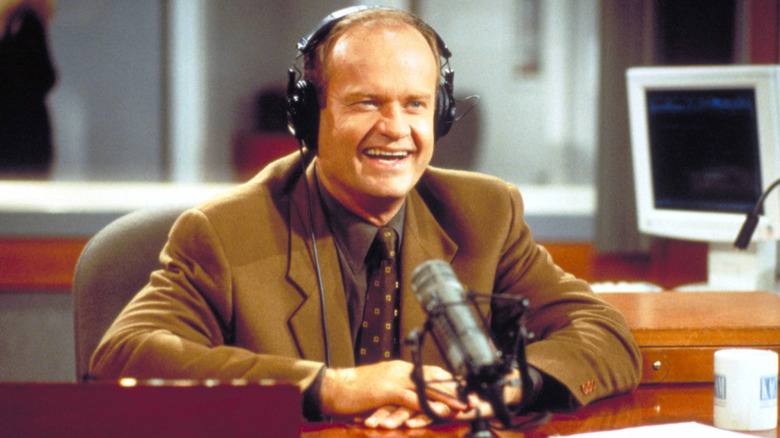 NBC
Before Christopher Lloyd partnered up with Steven Levitan to create "Modern Family," he had years of experience working as head writer and showrunner for "Frasier," another sitcom that revolved around humorous misunderstandings between family members that are resolved, often in a touching manner, by the end of the episode.  
"Frasier" spun off from another iconic series, "Cheers," putting the character of psychiatrist Frasier Crane (Kelsey Grammer) front and center as he returns to his hometown of Seattle to build a new life as the host of a radio advice show. Frasier also desires to pick up the pieces of his relationship with his father Martin (John Mahoney), a retired police officer, and younger brother Niles (David Hyde Pierce), who is also a psychiatrist.
The show ran for 11 seasons from 1993 to 2004 and was hailed as one of the few television sequels that managed to establish its own successful identity. Much of the success of "Frasier" is due to the sharp and clever writing by Lloyd and his team, and that talent was transferred ably over to "Modern Family" in later years.  
Unbreakable Kimmy Schmidt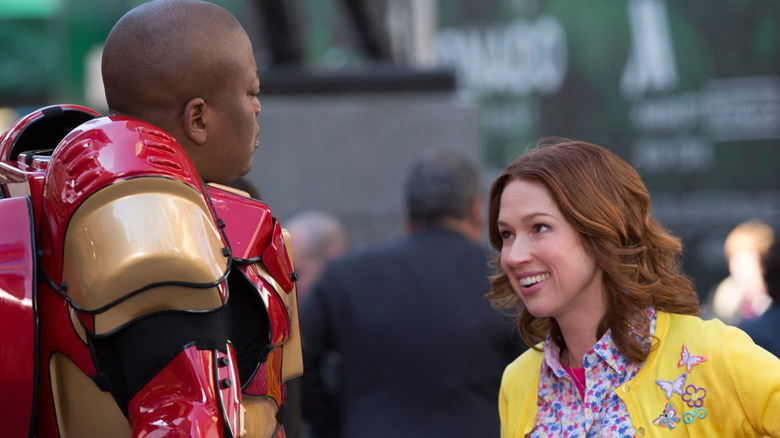 Netflix
Much of the heart and humor of "Modern Family" is mined from genuinely sad or troubling circumstances that the main characters confront with courage and optimism. A similar kind of comedy is found in "Unbreakable Kimmy Schmidt," the Tina Fey-created Netflix sleeper hit that ran for four seasons from 2015 to 2019 and later got an interactive special that premiered on May 12, 2020.
The titular Kimmy (Ellie Kemper) is a survivor of a doomsday cult that kept her locked away in an underground bunker for most of her life. After gaining her freedom, Kimmy is determined to be seen as more than a victim, and she embarks on a trip to New York to carve out a new life for herself free from all memories of her time with the cult. 
The main focus of the show is Kimmy's unfailingly cheerful attitude towards her personal tragedies, and the eccentric characters she meets and helps along the way — even as the ghosts of her past threaten to rise up against her. Eventually, even her fellow captives and the head of the cult himself reappear, providing audiences with a window into Kimmy's background and Kimmy herself with a new set of challenges. "Unbreakable Kimmy Schmidt" received many Primetime Emmy Award nominations during its run, and pop culture critic Scott Meslow credited the show as being "the first great sitcom of the streaming era." 
The Good Place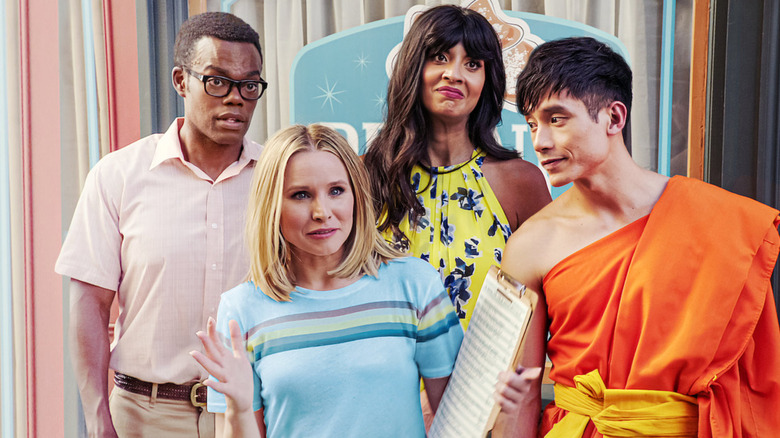 NBC
One thing that separates the sitcoms of today from the sitcoms of the past is a willingness to deal honestly with important issues in a comedic manner. "Modern Family" did it all the time with topics of adoption, homophobia, death, and loss. "The Good Place" continued that tradition from 2016 to 2020 by exploring the nature of right and wrong and questioning what it really means to be a good person.
Eleanor Shellstrop (Kristen Bell) is a woman who never bothered to be a good person, but who finds herself mistakenly placed in a heaven-like afterlife called "The Good Place" after her death. Now the only chance Eleanor has of staying in paradise is for her companions to help her actually become a better person. But as the series progresses, Eleanor slowly comes to realize that becoming "good" is a much more complicated process than she ever could have realized.
"The Good Place" received widespread critical acclaim for utilizing the traditional sitcom structure to create a detailed examination of moral ethics and philosophy, not to mention a number of creative twists and turns that kept audiences guessing as to the true nature of this peculiar afterlife.
Young Sheldon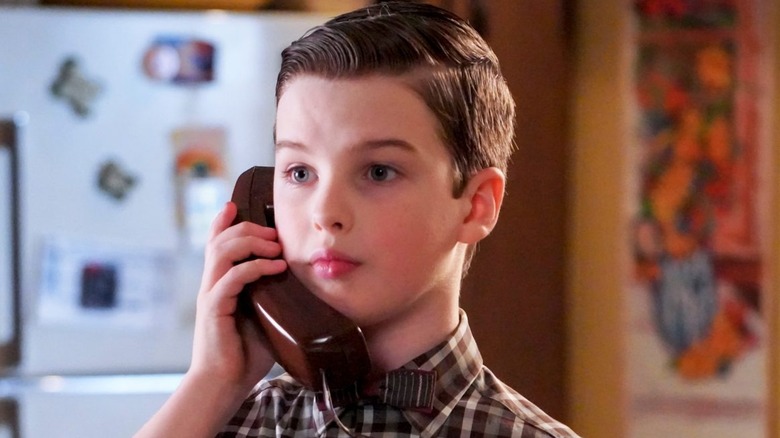 CBS
When it was first announced that "The Big Bang Theory" would be getting a spin-off focusing on the formative years of Sheldon Lee Cooper (Jim Parsons), fans did not know what to expect. "Young Sheldon" turned out to be a far cry from the series that birthed it, foregoing laugh tracks and geek humor for an unexpectedly heartwarming look at the childhood of a genius kid surrounded by his more "regular" family.   
Premiering in 2017 but set in the late 1980s and early 1990s, "Young Sheldon" sees nine-year-old Sheldon Cooper (Iain Armitage) begin to attend high school as part of a special "gifted" program. Unfortunately, while Sheldon is more than capable of keeping up with the curriculum, he is baffled by the behavior of the people around him, from his teachers to his much older classmates to his family members. 
Whereas "The Big Bang Theory" emphasized Sheldon's eccentricity and disdain for human company as a comedic device, "Young Sheldon" takes a much more empathetic approach to the character and his social quirks, much like "Modern Family" does to its own characters. Euan Ferguson compared "Young Sheldon" favorably to its predecessor, writing for The Guardian, "Thankfully shorn of laughter track, it will surprise some with its (relative) delicacy, its long, nice, un-busy single-camera shots, at stark odds with its frenetic parent show."
Kim's Convenience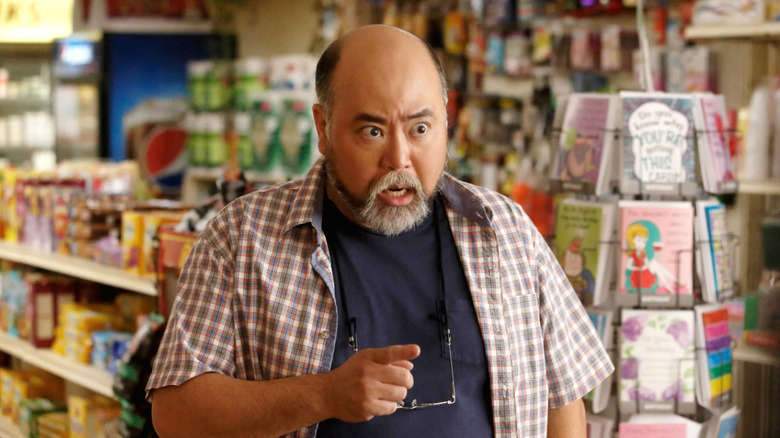 CBC
The character of Gloria Pritchett (Sofia Vergara) allowed "Modern Family" to shed light on the immigrant experience in America. "Kim's Convenience" does something similar with the Korean-Canadian Kim family, who own a convenience store in the Moss Park neighborhood of Toronto. The show was developed by Ins Choi in 2016 as an adaptation of his 2011 play of the same name. 
"Kim's Convenience" follows the day-to-day running of the convenience store by the Kim family, parents "Appa" (Paul Sun-Hyung Lee) and "Umma" (Jean Yoon), their daughter Janet (Andrea Bang) and estranged son Jung (Simu Liu, whom you might recognize as Marvel hero Shang-Chi). Much of the comedy and tension of the show comes from "Appa" Kim Sang-il's desire to live by the traditions of his homeland in Canada, and his family's desire to assimilate more fully into their adopted country's culture. 
The show has been praised for its sharp writing and the chemistry of the main cast, and for shining a light on a section of the Canadian population that has been largely missing from mainstream productions. "Kim's Convenience" was cancelled in March 2021, much to the dismay of stars and fans, ending the Kim family saga after its 5th season — but that just makes it the perfect binge-able size for new viewers.
The Middle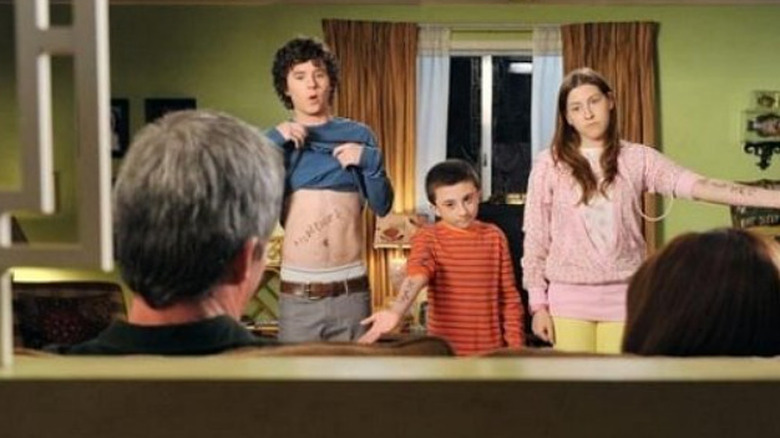 ABC
Even though "Modern Family" featured three separate sets of children from each Pritchett sibling's family, the writers often seemed to struggle with giving the child characters interesting storylines or even much character growth. A show that does a better job of it is "The Middle," which tells the tale of a lower-middle-class family in Indiana and their daily struggles with poverty, home life, and school.
Created by former "Roseanne" and "Murphy Brown" writers Eileen Heisler and DeAnn Heline, "The Middle" shows a decidedly unglamorous side to the average American family. Frances "Frankie" Heck (Patricia Heaton) narrates the trials and tribulations of her family. She works as a salesperson at a used car dealership while her husband Mike (Neil Flynn) manages a local quarry.
Much of the humor of the show comes from Mike and Frankie clashing with their children, sporty but dim Axl (Charlie McDermott), awkward but enthusiastic Sue (Eden Sher), and Brick (Atticus Shaffer), who is intelligent and introverted. "The Middle," which had a long run from 2009 to 2018, has been consistently hailed as an underrated gem of television, with Entertainment Weekly's Ken Tucker calling it "a rock-solid show, the saga of a family struggling to keep their heads above the choppy economic waters."
Transparent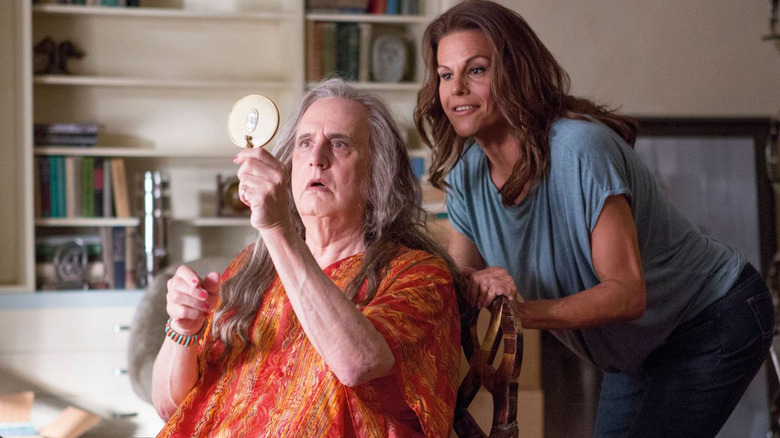 Amazon Prime Video
One of the biggest strides that "Modern Family" took for television was helping normalize depictions of same-sex couples while foregoing many of the usual stereotypes involved. Series leads Cam (Eric Stonestreet) and Mitchell (Jesse Tyler Ferguson) were instrumental in this portrayal. Other shows have since picked up the baton with even bolder depictions of LGBTQ+ themes, like Amazon Studios' comedy-drama series "Transparent."
The show, which aired from 2014 to 2019, depicts the journey of a Los Angeles family following the revelation by one of the parents, played by Jeffrey Tambor, that she is a trans woman named Maura. As the family struggles to come to grips with the admission, Maura embarks on her own journey of rediscovery as she tries to find a new community where she can feel comfortable being herself.
"Transparent" has a heavier tone than other entries on this list. But the excellent writing and timely themes the show explores make it worth checking out for those looking to broaden their horizons regarding LGBTQ+ issues, particularly pertaining to the trans community.   
Better Things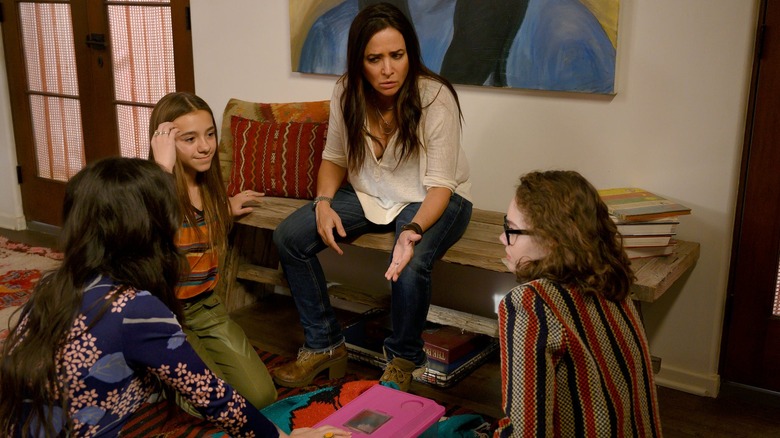 FX
Sam Fox (Pamela Adlon), the protagonist of "Better Things," is a single mother and working actress trying to raise three daughters on her own in LA while also struggling to reach the next level in her career. Sam's job is made all the more difficult by her three strong-willed daughters and the issues they run into regarding sex and identity. 
Over the course of four seasons (and counting) beginning in 2016, "Better Things" tackles this particular family dynamic head-on and runs with it in new and hilariously unexpected directions. If you liked the way "Modern Family" affectionately reinvented the notion of the traditional sitcom household, you'll love this show created by Adlon and Louis C.K. for FX. Due to her work on "Better Things" as writer, director, lead actor, and producer, Adlon has been hailed as one of TV's most significant auteurs: The series goes to great lengths to subvert traditional sitcom clichés regarding families and the depiction of single, working mothers. 
The show received a Peabody Award in April 2017, with the board deeming it a "searingly funny and beautiful show [and] an at-times raw examination of the vicissitudes of working motherhood, crackling with feminist verve and energy, that consistently cuts new ground." 
Community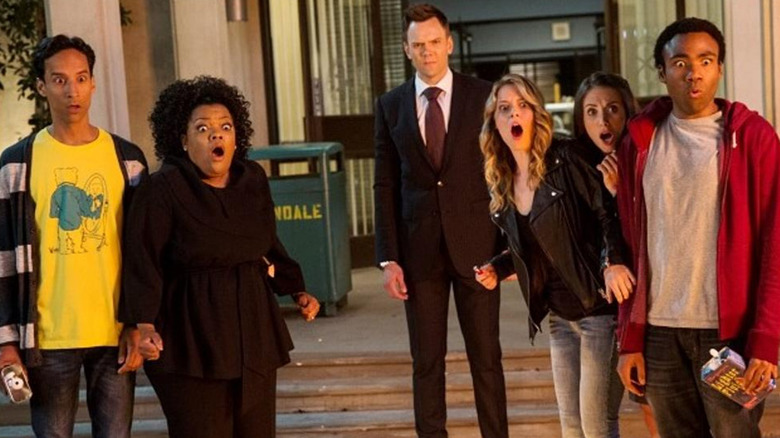 NBC
Before Dan Harmon turned the world of animation on its head by co-creating "Rick and Morty," he did the same for sitcoms everywhere from with "Community." Packed with an excellent cast, clever writing, and some of the most magnificently meta moments ever seen in film or television, "Community" is the definition of a cult program that found second life thanks to the internet and a passionate fanbase, ultimately running from 2009 to 2015.
Jeff Winger (Joel McHale) is a lawyer who loses his license after it's discovered that he forged his credentials. Jeff is forced to go to a community college to complete his education and get his license back. At Greendale Community College, Jeff discovers an assortment of students from all ages and walks of life, each dealing with some sort of personal road bump and trying to earn a degree in order to get their lives back on track. 
"Community" is known for consistently analyzing, subverting, and ultimately abandoning the sitcom tropes upon which its entire genre is built. Unlike "Rick and Morty," however, "Community" takes a less nihilistic and cynical approach to its comedy. Instead, it takes a heartwarming tack, more along the lines of "Modern Family," as the main characters forge a deep bond over six seasons that ultimately lifts them up instead of bringing them down.