Steven Van Zandt Gets Candid About How He Was Cast In The Sopranos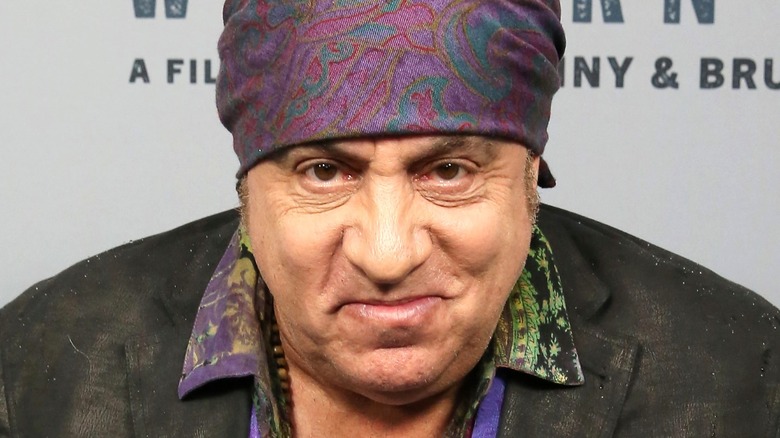 Monica Schipper/Getty Images
As far as small screen legacies go, HBO's hit gangster drama "The Sopranos" is an iron-clad classic. If there's one series released in the past quarter century or so worthy of all the accolades, awards, and unbridled adoration its received, "The Sopranos" is it. The show has, after all, now been off the air far longer than it was on, yet retains as fervent a fandom as when it was still dropping fresh episodes weekly.
With the release of "The Sopranos" prequel film "The Many Saints of Newark," the O.G. series is about to become even more relevant, with fans destined to revisit the show after watching the movie. Since "The Many Saints of Newark" occurs decades before the events of "The Sopranos," it naturally won't feature the series' original cast members, save for a brief appearance from Michael Imperioli. Still, the arrival of the new movie has some of those cast members revisiting their time on the show.
That includes Steven Van Zandt, who portrayed Silvio Dante, the ill-fated, yet fiercely loyal right-hand man to Tony Soprano (James Gandolfini) for six full seasons on "The Sopranos." In a recent interview promoting his new book, Van Zandt re-affirmed a bombshell of a nugget regarding how he was cast on the show, claiming series creator David Chase initially had a much different role in mind for him. 
Van Zandt was almost cast as the big boss on The Sopranos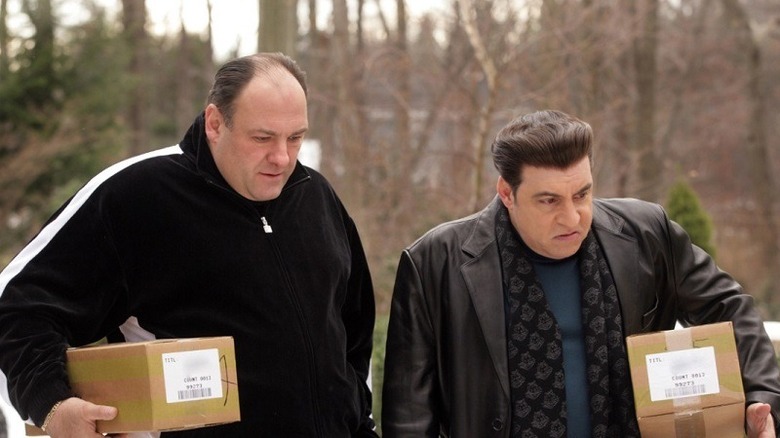 HBO
"The Sopranos" was actually Steven Van Zandt's first acting gig. Prior to playing Silvio, he was probably best-known as the guitarist for Bruce Springsteen's E Street Band. As Chase confirmed to Deadline in 2019, he first noticed Van Zandt during his charismatic 1997 speech inducting The Rascals into the Rock & Roll Hall of Fame, and thought he'd be good for "The Sopranos."
Per Van Zandt's Cleveland.com interview, Chase indeed wanted him for the role of Tony, "It was one of those weird things. [Chase] wanted unusual, new faces and he really thought I could do it, and out of pure ignorance naiveté I thought I could do it. Luckily HBO wouldn't let him, so we ended up with one of the greatest actors of all-time, Jimmy G." "Jimmy G" is, of course, James Gandolfini, who delivered one of the greatest performances in television history as "The Sopranos" big boss.
As for Silvio, as Van Zandt tells it, the character's genesis is a lovely story in and of itself. "[Chase] still wanted me in the show and I actually said to David, 'Listen, I'm feeling pretty guilty about taking an actor's job here,' and he said, 'OK, in that case, I'll write you in a part that doesn't exist,' and [Silvio Dante] was born." For his part, Van Zandt turned his acting break into steady work, claiming the lead on Netflix's "Lilyhammer" before scoring a gig in Martin Scorsese's "The Irishman" — though he also continues his day job rocking with The Boss.