Where Can You Watch The Many Saints Of Newark For Free?
If there's one thing the trailer for "The Many Saints of Newark," the upcoming prequel to HBO's "The Sopranos," succeeded in doing when it debuted in June, it was making audiences even more excited to see it. The film's trailer allowed viewers to get a closer look at its young version of Tony Soprano, who will be played by "Sopranos" actor James Gandolfini's actual son, Michael Gandolfini. Like "The Sopranos," Tony will once again be a key central figure in this New Jersey-set story, with part of the film's action focusing on the events which led him to be drawn deeper and deeper into the organized crime world and DiMeo organization — a crime family he'll eventually be leading by the time "The Sopranos" begins in the late '90s. 
The trailer also introduced the prequel versions of other "Sopranos" characters fans grew to love throughout the acclaimed HBO series, including Corey Stoll as Junior Soprano, Vera Farmiga as Livia Soprano, John Magaro as Silvio Dante, and Billy Magnussen as Paulie Walnuts. Additionally, fans got to meet new characters for the first time that they'd previously only heard about, like Dickie Moltisanti (Alessandro Nivola) and Aldo "Hollywood Dick" Moltisanti (Ray Liotta).
For "Sopranos" fans, "The Many Saints of Newark" is going to be a must-see movie this year, and if you're planning to skip the theater and want to find a way to stream it from the comfort of your own home, you're in luck.
Streaming The Many Saints of Newark is easier than you think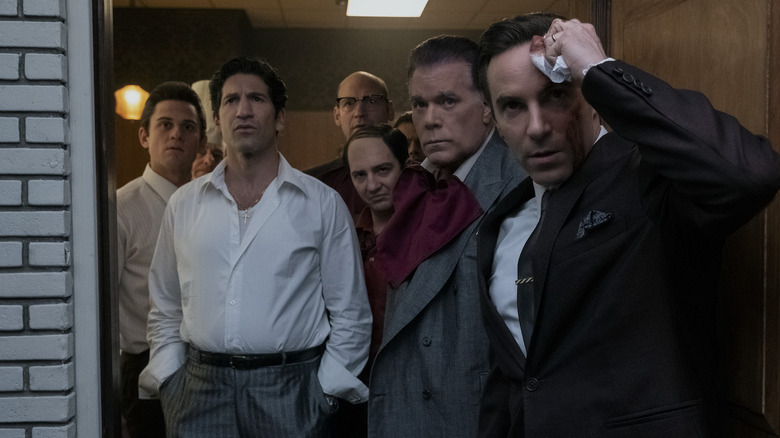 Warner Bros. Pictures
When it comes to watching "The Many Saints of Newark" for free, the first thing you should know is that the upcoming movie is part of Warner Bros.' 2021 release slate. That means that, like other Warner Bros. features this year, the "Sopranos" prequel will receive a day-and-date release in theaters and on HBO Max. In other words, when "The Many Saints of Newark" hits theaters on October 1, it will also be available to stream in the U.S. on the same day on HBO Max, but only if you have a subscription to the streaming service.
If you don't have an HBO Max subscription, there are still ways to stream "The Many Saints of Newark." The first option is to sign up for HBO Max and pay the service's $14.99 subscription fee. This may seem like a steep price point for a streaming service subscription, but compared to how much it costs to rent new releases on other platforms, it's actually a pretty fair price. For example, Disney+ charges its subscribers an additional Premier Access fee of $29.99 to rent new movies like "Black Widow" when they are released day-and-date on the streaming service. HBO Max, meanwhile, only requires that its users pay their monthly subscription fee in order to watch any of its various new releases, including "The Many Saints of Newark."
You can also harness the power of Hulu or Amazon Prime Video for a free HBO Max trial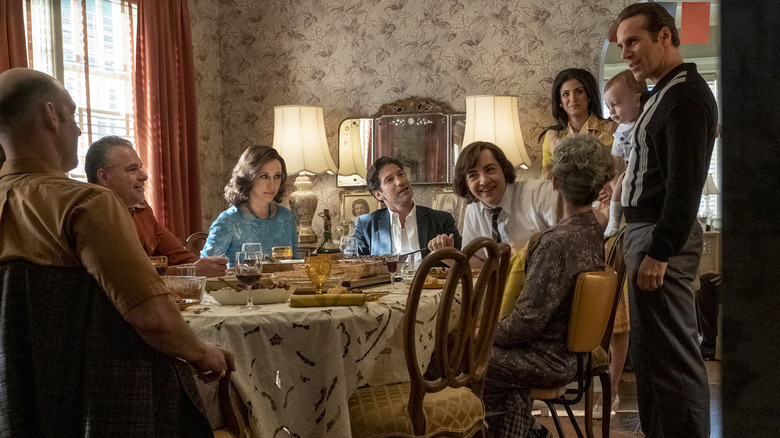 Warner Bros. Pictures
If you're hesitant to go all-in on an HBO Max subscription, you can still sign up for a short free trial for the service. Indeed, while there is currently no way to get a free trial directly through HBO Max, Cord Cutting Report reveals that folks can get a free one-week HBO Max trial through Hulu's general 30-day free trial plan. Alternatively, users can get a free HBO Max trial via Amazon Prime Video when they sign up for a week-long HBO channel trial.
If you want to go through Hulu, you can sign up for the free trial, then go to the "Accounts" tab, click the option for the one-week free HBO Max trial, download the HBO Max app on your device of choice, and then select Hulu as your TV provider when you sign into the app. If you opt to go the Prime Video route, you can sign up for HBO through the Amazon Channels tab, download the HBO Max app, and then choose "Prime Video Channels" as the provider of choice when you sign into the app.
Warner Bros. movies released day-and-date on HBO Max are, notably, available to stream on the service for the first 31 days from their theatrical releases. As a result, if you're a diehard "Sopranos" fan, you'll have ample time to make your investment in that HBO Max subscription worth it by watching "The Many Saints of Newark" more than once before it leaves the platform.