What Steven Van Zandt Has Been Doing Since The Sopranos Ended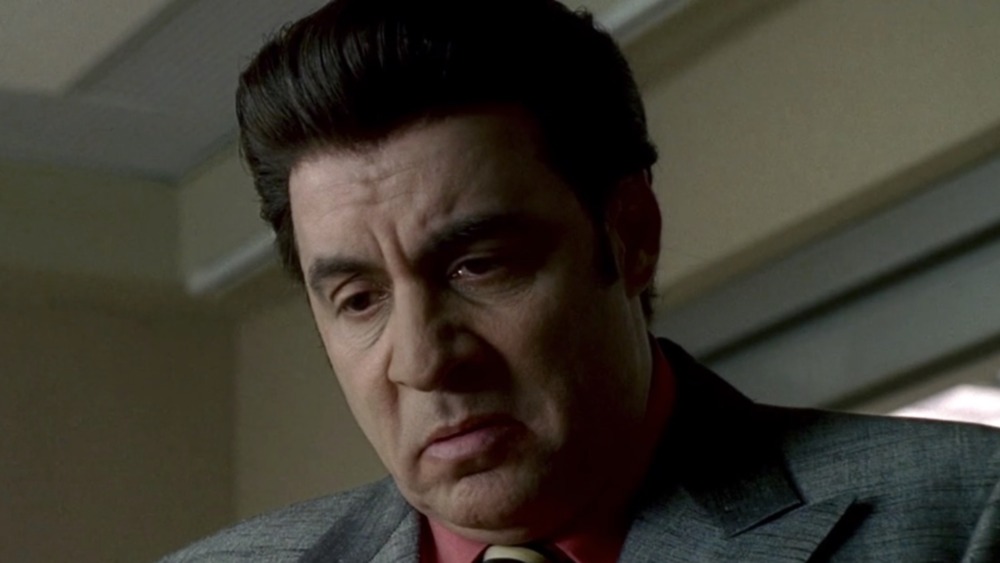 HBO
Steven Van Zandt, aka Little Steven, is one of America's most iconic right hand men. In real life, the New Jersey legend is best known as the rhythm guitar player in Bruce Springsteen's E Street Band, and on screen he's most famous as The Sopranos' Silvio Dante, manager of the Bada Bing strip club and Tony Soprano's (James Gandolfini) cantankerous consigliere. Sil was responsible for some of the show's funniest comedic moments ("Leave the cheese where it is!") as well as some of its most notorious acts of violence. His downturned mouth, hunched posture, and dramatically high pompadour (which he frankly admitted to The Guardian is a wig) made him one of the show's most visually distinct characters.
Van Zandt had never acted before The Sopranos, but creator David Chase liked his presence after watching him at the Rock and Roll Hall of Fame induction ceremony in 1997 and invited him to audition for the role of Tony Soprano, according to Deadline. He wasn't the right fit for the part, so Chase created the role of Silvio Dante for him.
Since The Sopranos ended in 2007, Van Zandt has bounced back and forth between music and acting, never straying too far from the Boss or the mob. Here are some of the things he's been up to in the past 14 years.
He helped make Netflix what it is with Lilyhammer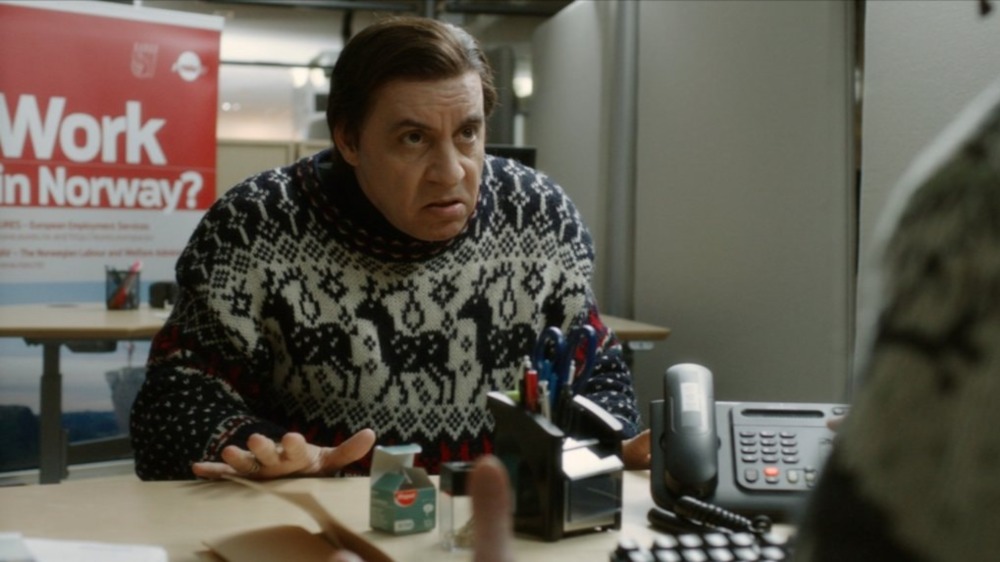 Netflix
House of Cards and Orange Is the New Black are the shows generally credited with putting Netflix on the map as a destination for exclusive content. The first Netflix Original, however was Lilyhammer, an English-language Norwegian series that began streaming in 2012 (per Vulture). Van Zandt starred on the crime dramedy as Frank "the Fixer" Tagliano, a New York mobster who goes into witness protection in Lillehammer, Norway after testifying against the boss of his family. Adopting the hilarious name Giovanni "Johnny" Henriksen, he tries to make a new life for himself in his extremely culturally foreign new home. But all he knows is crime, and so the past has a way of following him.
The show ran for three seasons between 2012 and 2014, and featured appearances by Van Zandt's Sopranos co-star Tony Sirico (Paulie Walnuts) as Tagliano's brother Tony, a priest; and Bruce Springsteen as his other brother Giuseppe, an undertaker and hitman. Van Zandt also provided the music for the show, according to Rolling Stone. "I did the whole score myself for free," he said. "I did it from my own studio."
He bridged music and the mob in The Irishman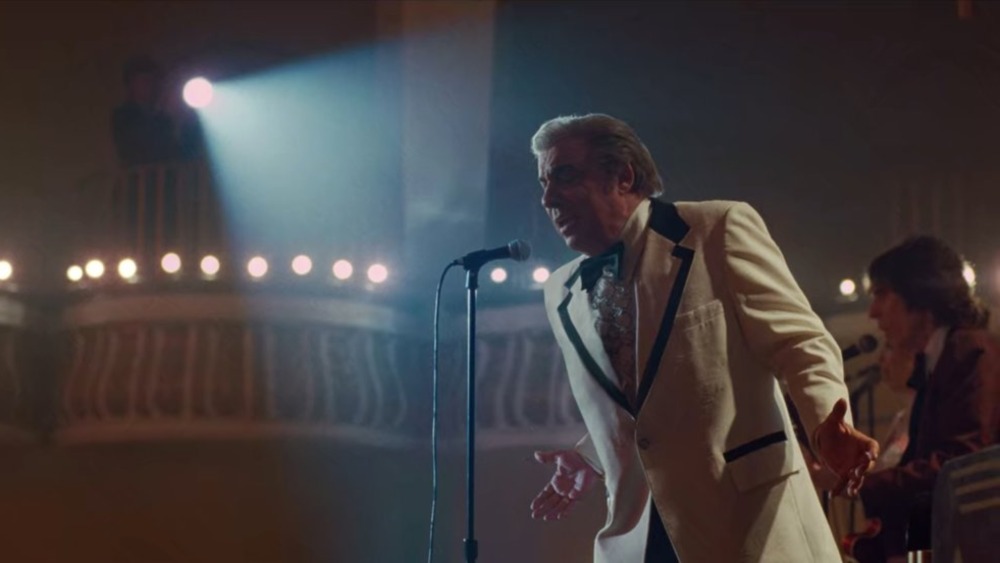 Netflix
Van Zandt's most prominent acting role since Lilyhammer ended was a cameo in Martin Scorsese's mafia epic The Irishman as singer Jerry Vale, an Italian American musical icon of the '50s and '60s. He appears in one scene, performing the songs "Spanish Eyes" and "Al di lá" at a banquet given in honor of mobster Frank Sheeran (Robert De Niro). Van Zandt is obviously lip-syncing, but it's okay. Little Steven is known more for his guitar-playing and his attitude than his singing.
Martin Scorsese loved Jerry Vale, who died in 2014, and gave him cameos as himself in his gangster movies Goodfellas and Casino. The three appearances of Jerry Vale in Martin Scorsese movies underscore how ubiquitous Vale's music was in Italian-American households. "He sounded like as if my uncle sang, or the way my brother could sing," Scorsese told the New York Times at the time of The Irishman's release in 2019. "Of course Jerry is 100 times better, but he felt like that person in the room who would break into song. It was like a family member in a way; that voice was so familiar and comforting."
He's still rocking with the E Street Band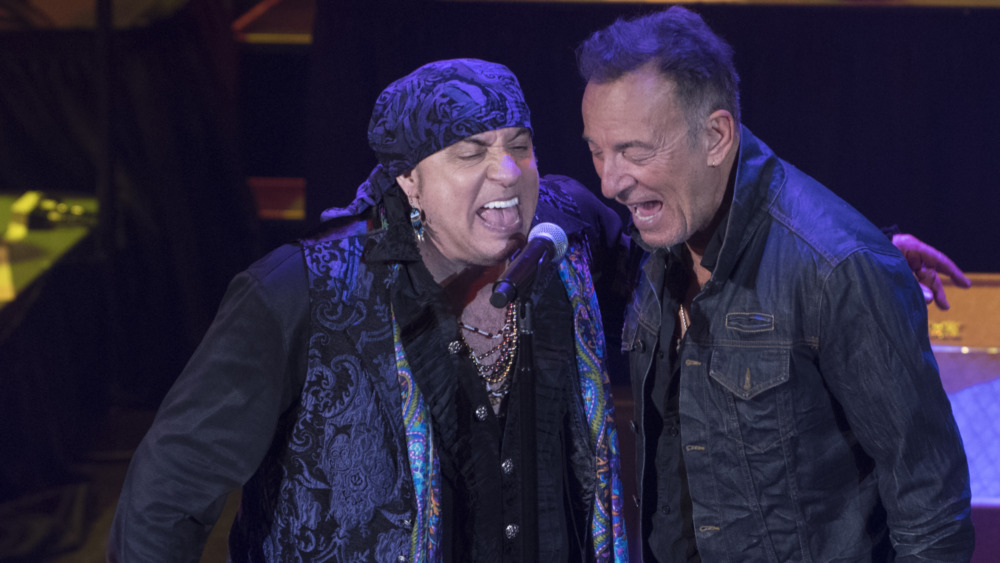 Debra L Rothenberg/Getty Images
Steven Van Zandt joined Bruce Springsteen's backing band in 1975 and played on classic albums like Born to Run, The River, and Born in the U.S.A. before leaving the band in 1984 to focus on his solo career. He rejoined when Springsteen regrouped the band in 1999, and has been in it ever since. He's performed on several late-period Springsteen albums, including Magic, Wrecking Ball, and High Hopes, and joined the Boss on several concert tours. He performed with Bruce Springsteen & the E Street Band at the Super Bowl in 2009.
Zandt also released two solo albums: 2017's Soulfire and 2019's Summer of Sorcery. He also continues to host his long-running radio show Underground Garage and oversee its satellite radio station spin-off of the same name. Underground Garage is dedicated to garage rock, a raw, high-energy subgenre of rock and roll that emerged in the '60s, and its offshoots, like certain types of punk rock, power pop, and psychedelic rock.
Little Steven has stayed busy since the end of The Sopranos, and he's still rocking hard at age 70.