Henry Cavill's James Bond Remarks Will Have Fans Freaking Out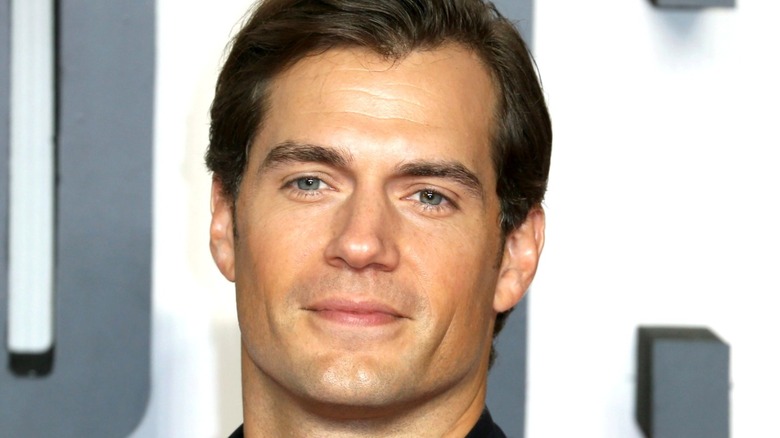 Cubankite/Shutterstock
There are days where it feels like this is Henry Cavill's world and we are just living in it. Since 2013, he's been the DCEU's Man of Steel and even appeared earlier this year in "Zack Snyder's Justice League," which featured what is, arguably, Cavill's most classically straightforward Superman performance to date.
On top of his ongoing superhero work, Cavill continues to star as Geralt of Rivia in Netflix's beloved series adaptation of "The Witcher." The actor appears as Sherlock Holmes in the ongoing "Enola Holmes" film franchise as well, and, lest we forget, there was also that time he cocked his arms like they were guns in "Mission: Impossible — Fallout." Altogether, it's clear just how stellar of a career Cavill is carving out for himself right now, one just made all the more impressive by the fact that some of his early screen work involved starring in a straight-to-video "Hellraiser" sequel.
Looking at his experience in spy films like "The Man from U.N.C.L.E." and "Mission: Impossible — Fallout," it also becomes easy to see why so many fans like to think Cavill may try stepping into the world of James Bond next. After all, with Daniel Craig saying goodbye to the franchise in the upcoming "Bond" film "No Time to Die," everyone is wondering right now who might take on the role of 007 next.
With that in mind, could it be that Henry Cavill will be the next James Bond? Well, the actor himself recently weighed in on the possibility of him joining the most famous of spy franchises.
Henry Cavill is still open to playing James Bond
When it comes to who might replace Daniel Craig as James Bond, Henry Cavill has been rumored to be in the running for a while now. In fact, Cavill actually auditioned for the part at some point in the 2000s. In an interview with Men's Health, Cavill revealed he even did a screen test that involved him walking out of a bathroom while wrapped in only a towel, which didn't go particularly well.
"I probably could have prepared better," Cavill revealed. "I remember the director, Martin Campbell, saying, 'Looking a little chubby there, Henry.' I didn't know how to train or diet. And I'm glad Martin said something, because I respond well to truth. It helps me get better." 
Obviously, Cavill isn't "chubby" by anyone's definition of the word these days, so what does he have to say now about the possibility of him taking on the role of 007? "If [producers] Barbara [Broccoli] and Michael [G. Wilson] are interested me in any capacity to be a part of their movies, then I will gladly have that discussion, and that would be something I'd be very keen to explore further," Cavill said during an interview with The Movie Dweeb.
While that's far from a confirmation that he'll ever take on the role, Cavill's comments do show that he still has an interest in playing some part in a future "Bond" film. Fortunately, if this truly is Cavill's world, then it seems like a very real possibility he'll one day appear, in some form or another, in the popular spy franchise.